AGILENT STRENGTHENS COLLABORATION WITH USM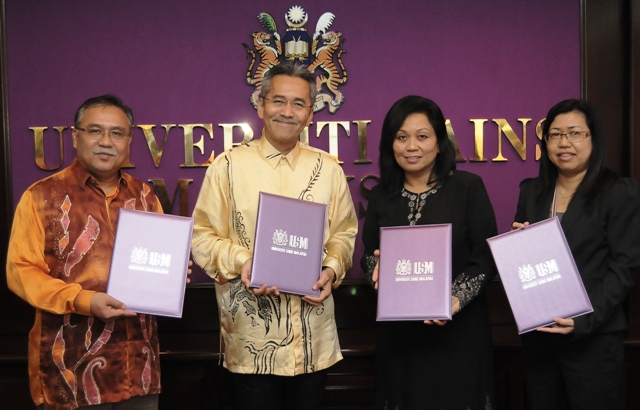 PENANG, 3 January 2013 - Strategic partner from industry, Agilent Technologies Microwave Products (M) Sdn. Ltd. continues its collaboration with Universiti Sains Malaysia (USM) through the signing of another Memorandum of Agreement (MoA) here today.
The MoA among others form the basis of the collaborative efforts of Agilent and USM to raise high-performance human capital through the disbursement of scholarships to students at degree level in critical areas such as engineering and computer sciences.
Through the signing of the MoA, Agilent has agreed to fund a total RM 5,000 per semester each for at least 10 students with potential and excellent academic qualifications.
USM Vice-Chancellor, Prof. Dato' Omar Osman said that the university is committed to join the industry in producing highly skilled young generation with the ability to be a leader of the future.
He said that the development of human capital should not be looking at academic achievements alone but it must be accompanied by the students' ability to adapt their skills in fulfilling the responsibilities of their career.
"We need to see these things more thoroughly and from a broader perspective. It is better to develop human capital that can be the best of the best rather than training those whose talents and performance have reached the maximum potential," he said.
He was speaking during the signing of the MoA here today. Agilent was represented by the Managing Director-cum-Vice-Chairman, Pn. Shidah Ahmad. Also present was the Deputy Vice-Chancellor of Student Affairs and Development, Prof. Adnan Hussein.
Commenting on the involvement of the industry in the higher education sector, Omar said that since 1970 there are more than 20 companies and individuals were interested in and provided education loans for students to pursue their undergraduate studies.
"Now we have to move to another level whereby we provide scholarships and convertible loans to students, not education loans that will burden them as soon as they finished their studies," he said. Text: Marziana Mohamed Alias / Photo: Mohd. Fairus Md. Isa / Translation: Yong Check Yoon