USM VC JOINING THE RANKS OF KEELE UNIVERSITY COLLEGE OF FELLOWS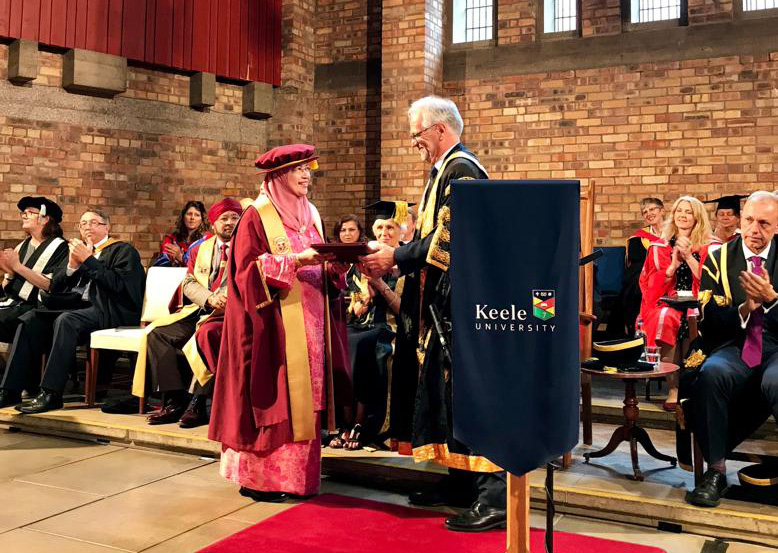 STAFFORDSHIRE, ENGLAND, 18 July 2019 – In recognition of her outstanding achievements, expertise and contributions to society and being an exemplary figure in the field of education locally and abroad, the Vice-Chancellor of Universiti Sains Malaysia (USM), Professor Datuk Dr. Asma Ismail has been appointed to the Keele College of Fellows by Keele University, United Kingdom at a ceremony held at the university recently.
Asma, who was also the recipient of the 2017 Keele University Honorary Degree Doctor of the University, and a truly outstanding female role model, has been admitted as a new member to the College of Fellows at the Summer Graduation Ceremony on Wednesday.
The Keele College of Fellows represents a small group of advocates for the University, drawn from individuals who have excelled in their own areas of expertise and professions. They provide a hugely valued informal forum in support of the University's advancement. Appointment to Keele College of Fellows is the highest award conferred by the University.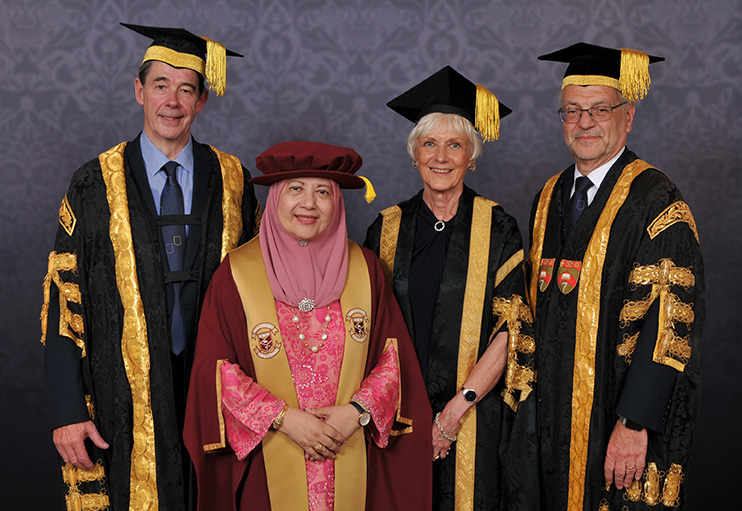 Asma said, "It's a great honour to be back here and welcomed into the College of Fellows as part of the university's truly rich history. I am extremely honoured and humbled to be acknowledged at this magnitude once again and like before, the privilege to be here alongside distinguished academics, families and graduands is a great honour."
In her acceptance speech, Asma touched on the need for a balanced education of knowledge and character-building, being the key towards the transformation of knowledge and mindset change to build a better society for the future.
"It is imperative that universities train future citizens of the world to be responsible and inclusive life-long learners, who are multi-dimensional yet balanced with a love for nature, humanity, technology and with values internalised.
"The education that we strive for today is the kind of education that emphasises on providing worldview experiences so that future graduands can aspire to make an impact rather than just make a living.
"Be a "think out of the box" thinker. Make an impact to the larger society so that the wealth of the world can be shared in a more utilitarian way, allowing a fairer chance for others to live their lives," said Asma.
In her speech, she also advised all the graduands to start planning a career either as a job creator or a job seeker.
She added, "In charting the success of their future career, there is no magic spell or shortcut to achieve it. They will still have to climb the ladder one step at a time; but if the graduands approach everything that they do with passion, dedication and discipline, success will be within their grasp eventually."
Asma is among 20 others who have been selected to be members of the Keele College of Fellows by the university in view of her extensive experience and contributions in her field of expertise.
Earlier in his opening speech, Keele University Vice-Chancellor, Professor Trevor McMillan said, "The admission of appointees to our Keele College of Fellows this year is due to their outstanding contributions in the respective fields, among which as scholars, humanitarians and leaders. We are very proud that you are becoming part of the Keele community."
Text & photo: Mu'azzah Ismail