USM FOOD TECHNOLOGY STUDENTS VICTORIOUS IN NFSTC 2019 WITH 2 GOLD, 3 SILVER AND 1 BRONZE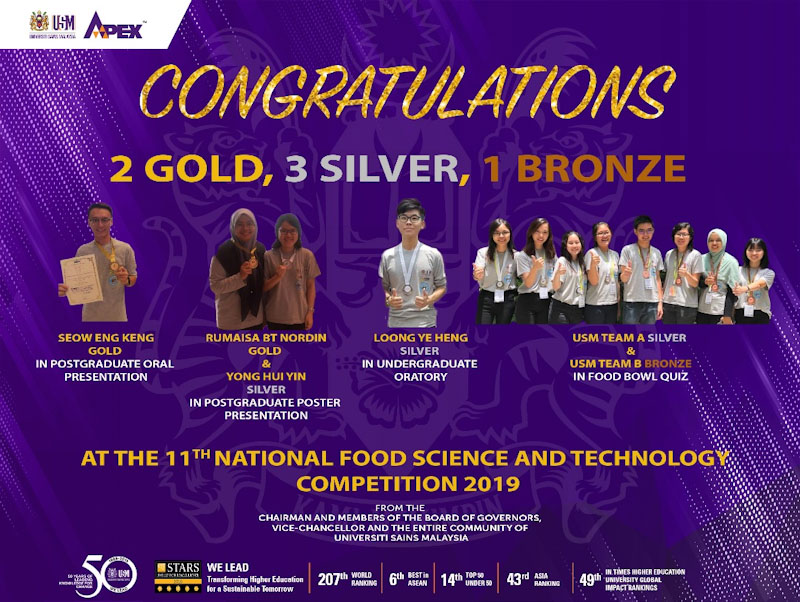 KAMPAR, 8 April 2019 – The team of postgraduate and undergraduate students from the Universiti Sains Malaysia (USM) School of Industrial Technology recently made a name for themselves when they garnered 2 Gold, 3 Silver and 1 Bronze medals at the 11th National Food Science and Technology Competition 2019 (NFSTC 2019) held at Universiti Tunku Abdul Rahman (UTAR), here from 6-7 April 2019.
Seow Eng Keng, currently pursuing his PhD in Food Technology under the supervision of Professor Dato' Dr. Azhar Mat Easa, won a Gold medal in the Postgraduate Oral Presentation category. With that win, Eng Keng has earned a place to represent Malaysia at the ASEAN Food Conference, scheduled to be held in October 2019 for the Postgraduate Research Oral category.
In the Postgraduate Poster Presentation category, Rumaisa bt. Nordin bagged a Gold while Yong Hui Yin took home a Silver medal.
Others who won and did the School of Industrial Technology and USM proud were:
Category: Undergraduate Oratory Competition
- Loong Ye Heng (Silver)

Category: Undergraduate Food Bowl Quiz
USM Team A (Silver)
- Wong Man Yee
- Chong Wen Qi
- Monica Koay Su May
- Chuah Sin Yian

USM Team B (Bronze)
- Chan Lik Hao
- Tey Rui Ke
- Loo Ri Ying
- Aisyatul Syahira bt. Mohamad Arshad

Top Scorer for Food Bowl Quiz
- Chuah Sin Yian
The National Food Science and Technology Competition (NFSTC) is a biennial event organised by the Malaysian Institute of Food Technology (MIFT) for undergraduate and postgraduate students, and this year's competition was hosted by the UTAR's Faculty of Science.

Its main objectives are to explore new perspectives in the area of food science and technology; to develop a research culture in students; to encourage critical and creative thinking skills; and to promote networking among students, researchers and the industry.
This year's NFSTC attracted more than 400 participants from 16 public and private institutions of higher learning, which included UKM, UPM, UMS, UMK, UTHM, UiTM, UniSZA, Taylor's University, Monash University, USM and the host institution, Universiti Tunku Abdul Rahman (UTAR).
Text: Tan Ewe Hoe/Artwork: Ebrahim Abd. Manan