USM VC DATO' ASMA APPOINTED NEW MQA CHAIRPERSON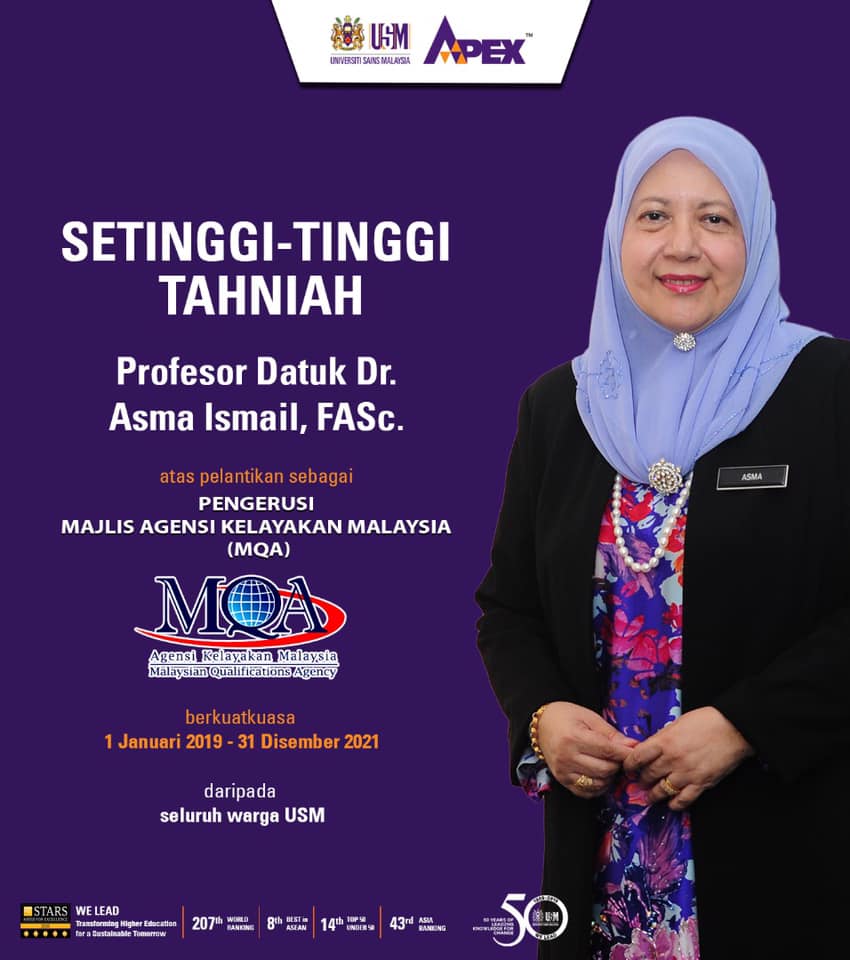 PENANG, January 2019 – Universiti Sains Malaysia (USM) Vice-Chancellor, Professor Datuk Dr. Asma Ismail has recently been appointed as the Chairperson of the Malaysian Qualifications Agency (MQA) for three years, effective 1 January 2019 till 31 December 2021.
In a press statement issued by MQA on 11 January 2019, it was announced that Asma took over from the previous chairperson Professor Emeritus Tan Sri Dr. Abu Hassan Othman, who ended his service in December last year.
With her vast experience in higher education, Asma is the right person in helping MQA to strengthen and empower the quality of higher education in the country and also at the international level.
Asma is a woman of many firsts. She currently serves as the first female Vice-Chancellor of USM and was the first female VC of Universiti Sains Islam Malaysia (USIM) in 2012, making her the first woman to be appointed twice as the VC of a public university.
She has also served as the country's first female Director-General of Higher Education and is currently the first female President of Academy of Sciences Malaysia (2016-2019).
She holds a BSc. degree in Biology from the University of Nevada, Reno (UNR), M.A. in Microbiology from Indiana University, Bloomington and Ph.D in Cellular and Molecular Biology from UNR.
Established on 1 November 2007, MQA is the main quality assurance and accrediting body in Malaysia and plays a vital role in assuring the quality of higher education in both public and private institutions.
Text: Tan Ewe Hoe