APUCEN MOVING TOWARDS GLOBAL ENGAGEMENT IN LINE WITH SDGs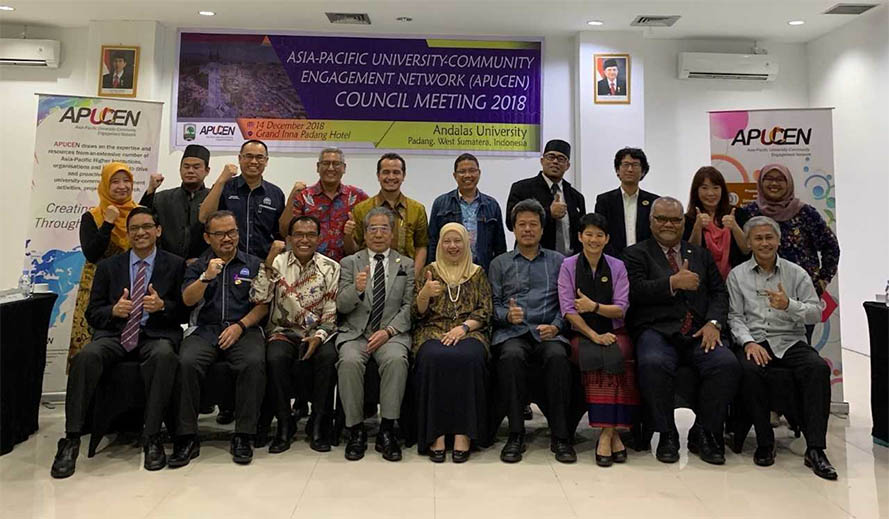 PADANG, INDONESIA, 14 December 2018 – The Regional Council of the Asia-Pacific University-Community Engagement Network (APUCEN) has now achieved its global recognition and known as a Global University, which is no longer about one university but about the combined strength of all APUCEN members to successfully conduct impactful global engagement to solve global issues.
This statement was made by the President of APUCEN, who is also the Vice-Chancellor of Universiti Sains Malaysia (USM), Professor Datuk Dr. Asma Ismail, at the 13th Regional APUCEN Council meeting here today, which was attended by 9 of its 13 Council Members.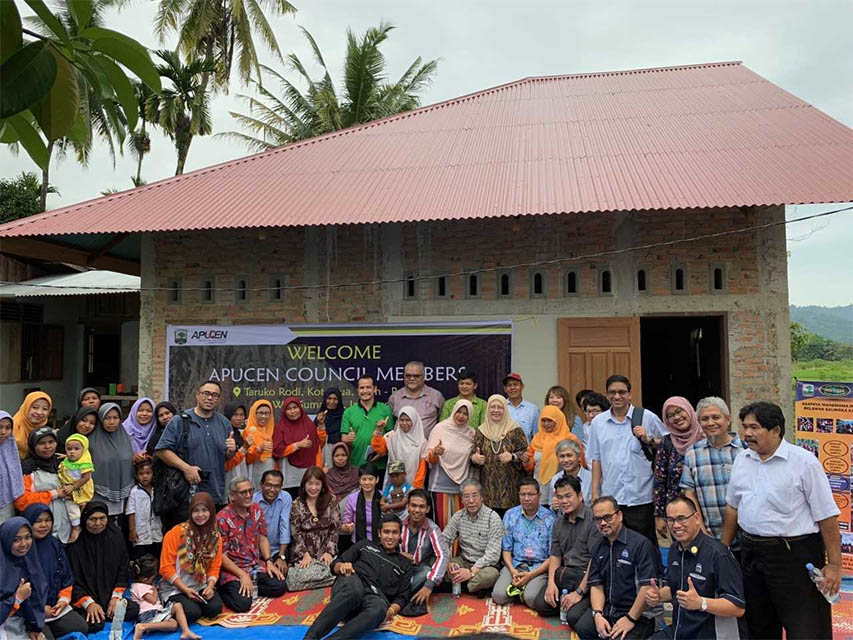 "APUCEN believes that the partnership among all members will give a more significant impact on the implementation of the United Nation's Sustainable Development Goals (SDGs) globally through community engagement.
"The partnership between members from different countries will shed new light in solving today's challenges through innovative directions.
"I am confident that through the combined efforts from different institutions and countries, APUCEN is moving towards combined solutions for global problems," said Asma.
Asma, who chaired the meeting added, APUCEN will work closely with all member institutions, NGOs and corporate members, and it is all about "us" together moving the Global Engagement Agenda.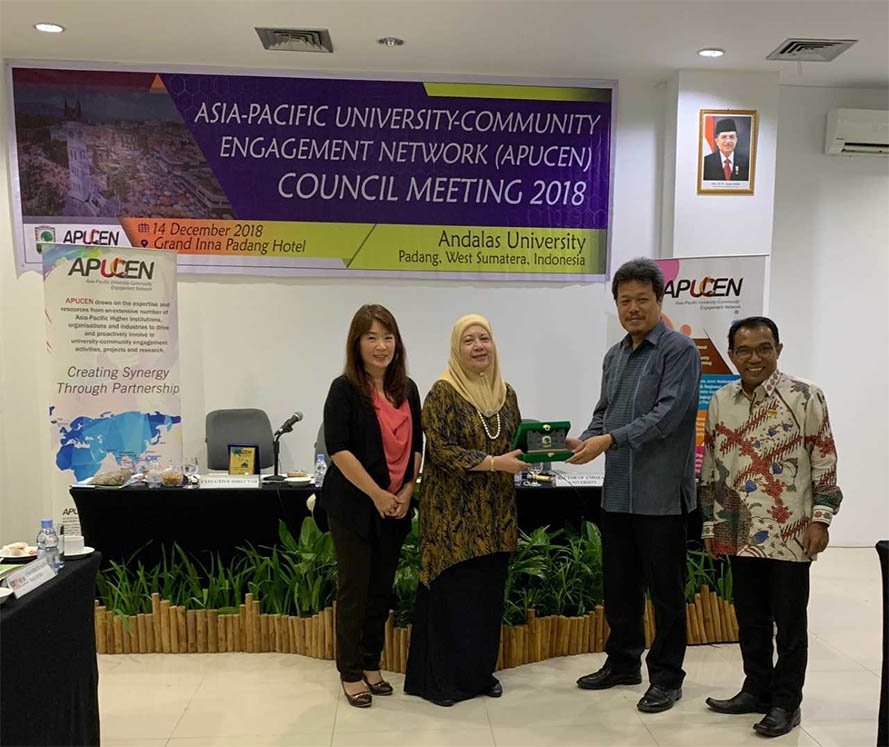 The President also said, "It is important to have proper documentation and all community engagement activities should be quantified and monitored in order to show "impact" to the communities that we reach out to."
"With proper documentation, success stories can be replicated and duplicated in other countries, according to the needs and culture of the country.
"Furthermore, the progress of all community engagement projects should be monitored and properly documented towards achieving the SDGs in community-based and -engaged research," she added.
The other important matter raised was APUCEN's support for students' involvement in volunteerism and entrepreneurship, moving towards youth empowerment, where students will play a more significant role in making changes in communities.
All member institutions are supportive in conducting workshops on social innovation and social entrepreneurship, and APUCEN will look into this programme in detail with its member institutions.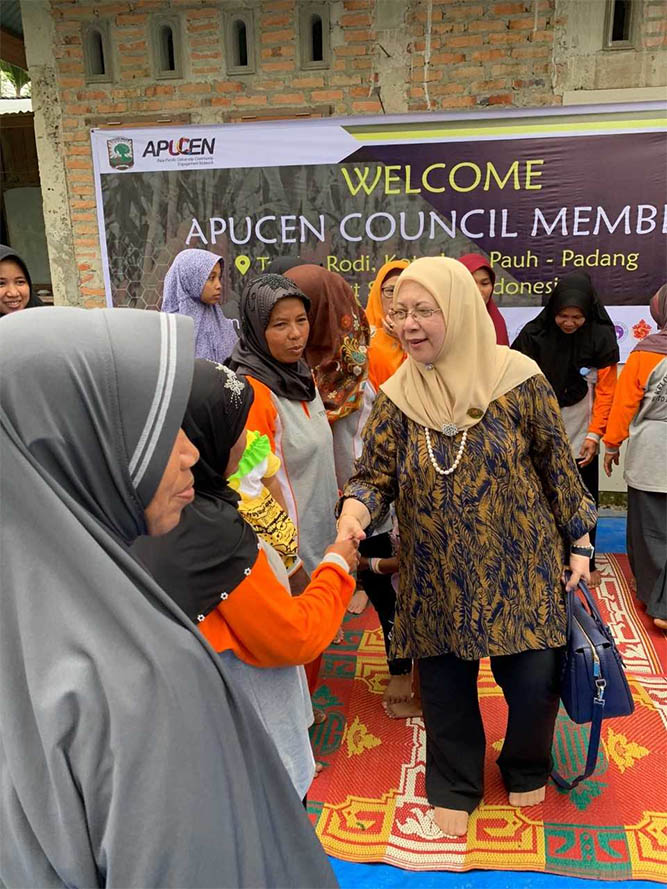 The Meeting was attended by representatives from Universiti Sains Malaysia (USM), Kyoto University of Foreign Studies (KUFS), Universiti Sains Islam Malaysia (USIM), Universiti Utara Malaysia (UUM), Chiangmai University (CMU), Universitas Andalas (UNAND), Universitas Pendidikan Indonesia (UPI), Universitas Surabaya (UBAYA) and Kolej Universiti Perguruan Ugama Seri Begawan (KUPUSB).
Asma also mentioned that APUCEN has been moving actively and had conducted community engagement projects both nationally and internationally with its members.
She expressed her sincere thanks and congratulations to all the institutions and members involved in all these projects, either by leading the projects or by partnering in the projects.
"This is the true spirit of APUCEN on moving forward together through partnerships.
"APUCEN has now grown with 95 members from 20 countries, expanding beyond the Asia-Pacific region. This is a reflection that APUCEN has grown from strength to strength, partnering with open-minded institutions.
"APUCEN is encouraging corporate sectors as well as NGOs to be members, aiming to work together to conduct Corporate Social Responsibility (CSR) projects," she said.
Asma added, on behalf of APUCEN, she would like to record her sincerest thanks to Universitas Andalas for hosting the meeting and sharing its students' community engagement project with the women community at Taruko Rodi, Koto Lua, Pauh-Padang, where the women folks were trained to be farmers and guided to optimise the usage of every space of land in the village for agriculture.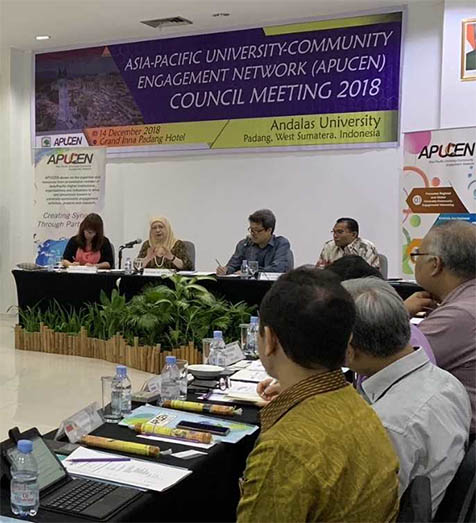 APUCEN Council members had the opportunity to visit the village and were very impressed with the success achieved by the community with the combined effort of the government, private sector, students and the academics.
Besides Asma, USM were also represented by the Deputy Vice-Chancellor Research and Innovation, Professor Ir. Dr. Abdul Rahman Mohamed; Executive Director of APUCEN, Professor Dato' Dr. Aileen Tan Shau Hwai; and Director, Office of Community Network, Tuan Syed Yusof Syed Kechik.
Original Text: Prof. Dato' Dr. Aileen Tan Shau Hwai/Editing: Tan Ewe Hoe