USM HONOURS ACADEMICIANS WITH EMERITUS PROFESSOR TITLE AT 56th CONVOCATION CEREMONY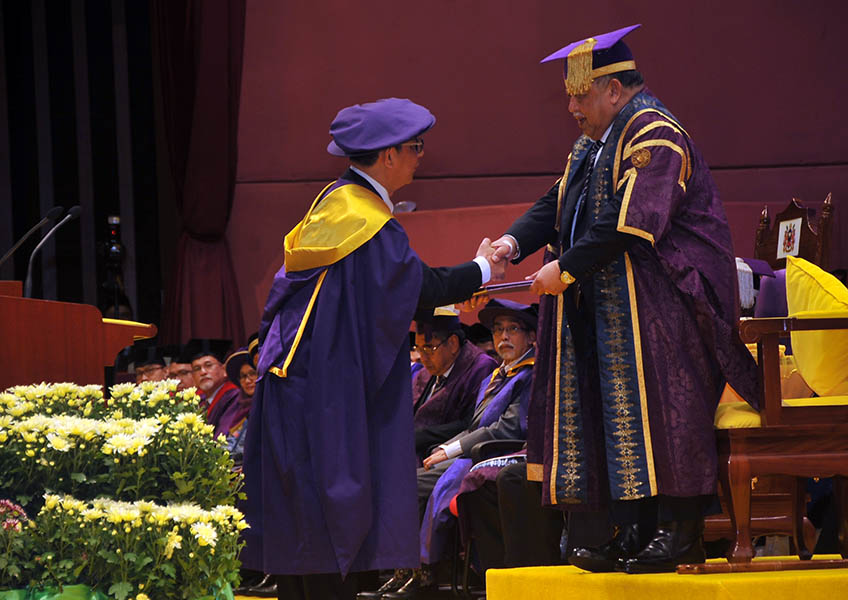 PENANG, October 2018 – Universiti Sains Malaysia (USM) recently held its 56th Convocation Ceremony. The ceremony, held from 23-28 October 2018, was graced by the Chancellor, HRH the Raja of Perlis, Tuanku Syed Sirajuddin ibni Al-Marhum Tuanku Syed Putra Jamalullail. The Tuanku Chancellor officiated the ceremony and presented the Doctoral and Master's degrees in the First Session of the convocation.
In the First Session, two academicians were also honoured as Emeritus Professors. Both were academics at the university previously and have contributed greatly to the university as well as to their respective fields. They were Professor Tan Sri Dato' Dzulkifli Abdul Razak and Professor Dr. Mashhor Mansor.
Professor Tan Sri Dato' Dzulkifli Abdul Razak, a USM alumnus, began his academic career lecturing at the USM School of Pharmaceutical Sciences. He then moved up the ranks to become the Deputy Dean of the school, later as the Founder/Director of the National Poison Centre located at USM. He was then appointed as Deputy Vice-Chancellor (Student Development Affairs), and later in 2000 as USM fifth Vice-Chancellor, where he served for eleven years.
He made numerous improvements and changes to the university during his tenure. Among them were establishing USM as the base for one of the first seven Regional Centres of Expertise on Education for Sustainable Development (RCE-ESD) recognised by the United Nations University (UNU) in Tokyo, and to be the only RCE in ASEAN at the time (2005). He also steered USM to become a Research University (2006) and later as the only APEX (Accelerated Programme for Excellence) university in the country (2008).
Apart from USM, he was also appointed as the inaugural Vice-Chancellor of Al-Bukhary International University (2011-2013) and as a Distinguished Visiting Professor at the International Islamic University Malaysia (IIUM). He was also the first holder of the Islamic Leadership Chair at Universiti Sains Islam Malaysia (USIM; 2014-2016) and later appointed as Chairperson of USIM Board of Governors (2016-2018). Recently he has been appointed as the 6th Rector of IIUM.
He has served as an academic and consultant on education and related fields at many different institutions locally and globally. At the local front, he has been involved with the Malaysian Innovation Agency (AIM), National Biotechnology Implementation Committee, Malaysian Examination Council, National Higher Education Research Institute (IPPTN), Institute of Democracy and Economic Affairs (IDEAS), an Honorary Fellow at the Centre for Policy Research and International Studies (CenPRIS) at USM, a Fellow at the Academy of Sciences Malaysia (FASc) and was recently appointed as a Board Member of Majlis Amanah Rakyat (MARA). The Government of Malaysia bestowed him the highest award in higher education, the 'Tokoh Akademik Negara' (National Academic Laureate) in 2017 for his immense contribution to higher education.
Globally, he has been part of various agencies and institutions, in leading, as a consultant/advisor or Board Member with the World Health Organisation (WHO), Association of Southeast Asia Institutions of Higher Learning (ASAIHL), International Association of Universities (IAU), Regional Advisor to the RCE Community, Ubuntu Committee of Peers for RCEs, a member of the Asia-Europe Meeting (ASEM), Chair of the Steering Committee of the Right Livelihood College at University of Bonn in Germany and participated, under special invitation, in a dialogue at the Nobel Laureate Prize Award Ceremony in 2015. He is also an Honorary Professor at the University of Nottingham, UK since 2015 and currently on the Board of UCSI University, a leading private university in the country. He is the current President of USM Alumni since 2016.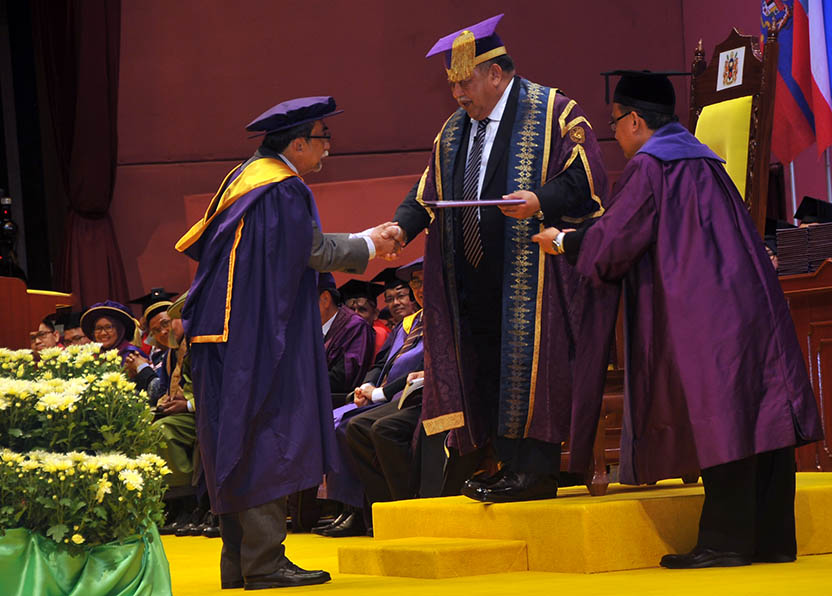 The next academician, Professor Dr. Mashhor Mansor previously served in USM at the School of Biological Sciences in 1982. He then moved up, becoming a Professor in 1997 and later appointed as the Dean in 2000 for six years. After he retired in 2006, he continued to serve USM as an Honorary Professor until May 2018.
He has been a member of the USM Local knowledge Committee, Centre for Global Sustainability Studies (CGSS) and Polar@USM. He was also involved with the Malaysian Nature Society (MNS) as Chairman on the Policy Advisory Committee and explored Antarctica with an exploration group from Argentina.
He is an ecologist, an Honorary Professor, co-founder of the Malaysian Primatological Society (MPS) and the Southeast Asian Limnological Network (SEALNet) and has been highly involved in various joint researches, locally as well as globally. He has collaborated with Kyoto University, University of North Sumatra, Hasanuddin University, Bandung Institute of Technology and Borneo Orangutan Rescue Foundation (BOSF), to name a few.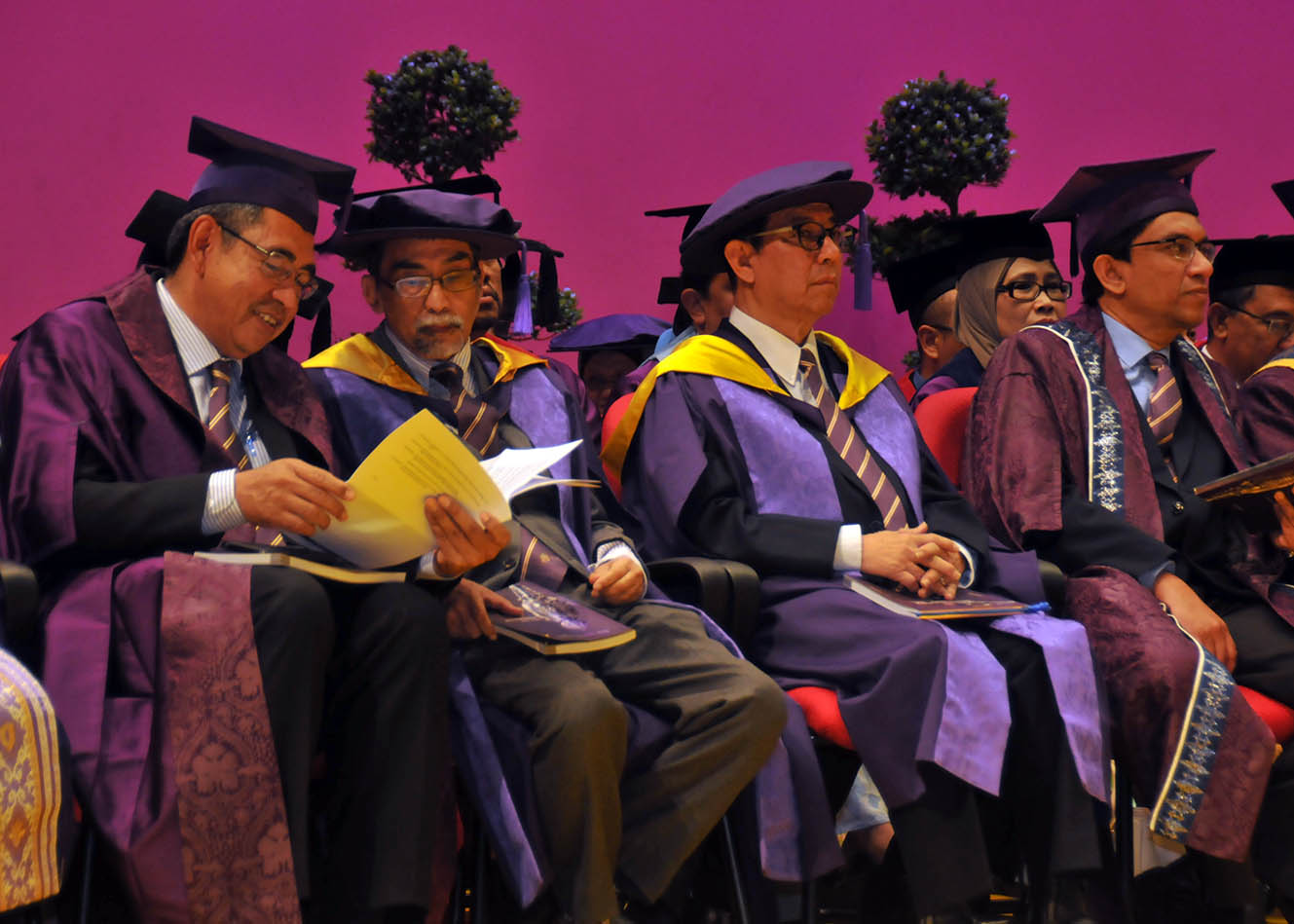 He has been awarded various funding for his academic and research endeavours. Among them were from Fulbright, the British Commonwealth, the European Commission and the University of Copenhagen. In addition, he has delivered keynote addresses at international conferences on biodiversity and wildlife conservation in Indonesia and has provided consultations at the Yangon University and on forest reclamation efforts in Indonesia. His determination and perseverance has made it possible for Malaysia to host the 2022 International Primatology Congress.
His other collaborations include research efforts with Palangkaraya University on wetlands and peatlands, the Mekong Valley Research Network, with the Louisiana State University in USA and the Indonesian Institute of Sciences which has led to the setting up of SEALNet. He has embarked on many other researches and he aims to continue his expedition of the Maluku Islands, tracing the journey of Alfred Wallace to rewrite the Malay Archipelago from a local scientist's point of view.
Mashhor has also achieved success with his publications and books on bioscience, ecological conservation and primates. He was awarded the Best Book of Science, Technology and Medical award for his book entitled "Cryptocoryne of Peninsular Malaysia: A Portrait of an Enchanting Plant Genus" by the Malaysian Scientific Publications Council (MAPIM). He is also a pioneer and Editor-in-Chief of the Bioscience Journal or now known as Tropical Life Science Research (TLSR).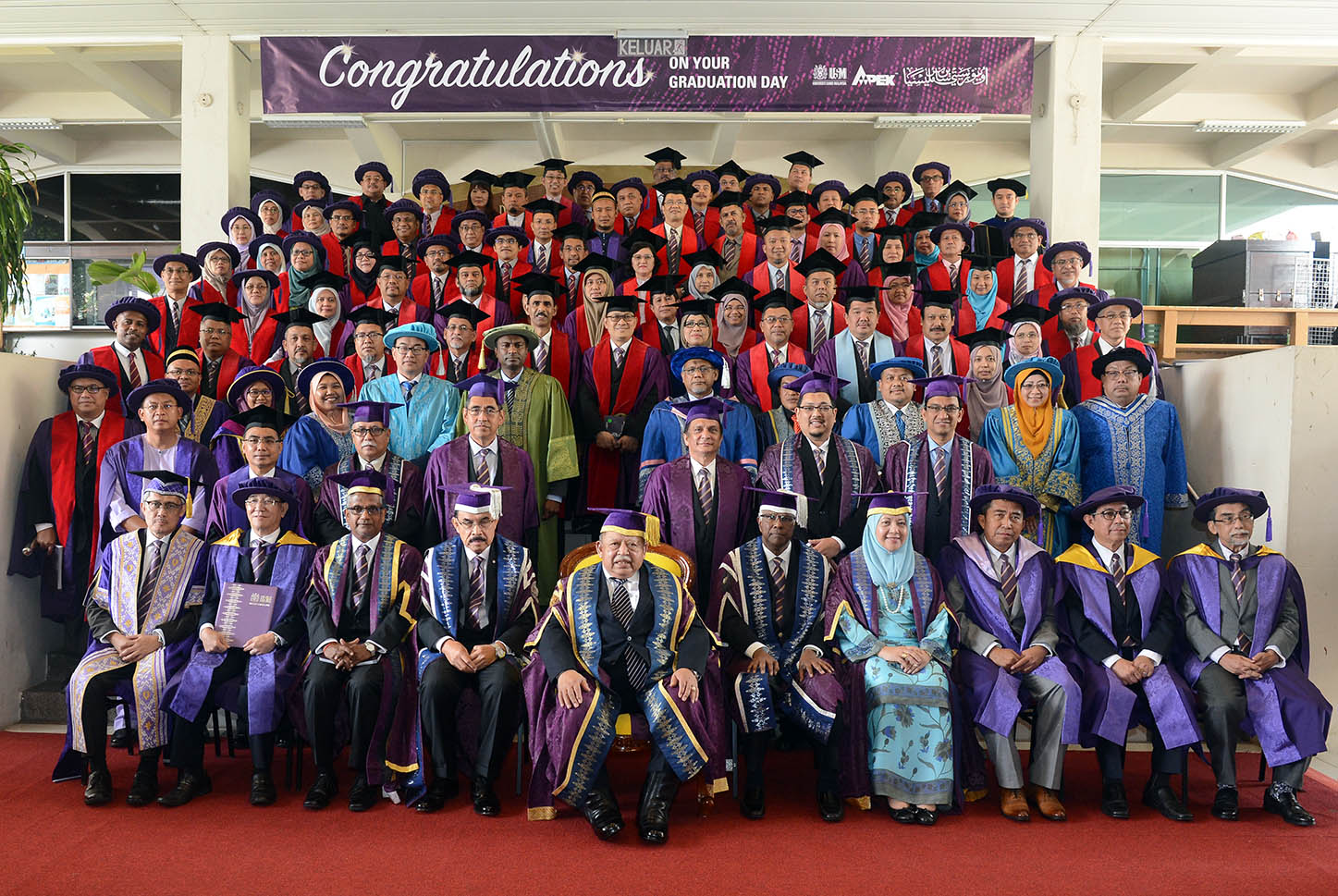 Others who were present at the ceremony include the USM Pro-Chancellors, Tan Sri Datuk Mustafa Mansur and Tan Sri Dato' Dr. Jegathesan Manikavasagam; Chairman of USM Board of Governors, Dr. Hari Narayanan P. Ondiveeran; USM Vice-Chancellor, Professor Datuk Dr. Asma Ismail; Board of Governors members, Senate members, Heads of Departments, distinguished guests and key university officials.
Text: Mazlan Hanafi Basharudin