GOLD FOR USM AT LEARNX IMPACT AWARDS 2018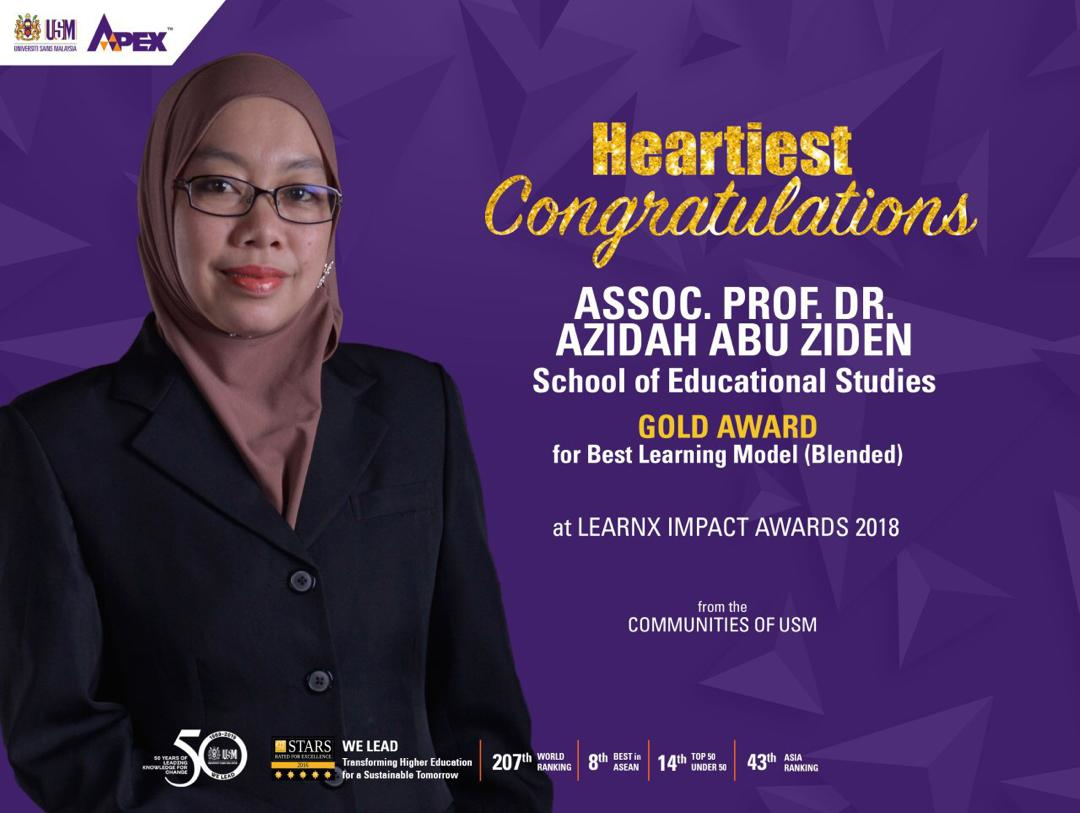 MELBOURNE, 30 October 2018 – The Deputy Director of Universiti Sains Malaysia (USM) Centre for Development of Academic Excellence and Student Development (CDAE), Assoc. Prof. Dr. Azidah Abu Ziden today won Gold for Best Learning Model (Blended) Category at the Learnx Impact Awards 2018, held at the Melbourne Convention & Exhibition Centre in Australia.
The USM School of Educational Studies (PPIP) lecturer who represented USM won Gold alongside other winners, namely the New South Wales Local Government and the Royal Bank of Scotland.
The LearnX Impact Awards is an international awards programme that recognizes various fields within talent management across both educational and corporate sectors. Categories for the 2018 awards included Learning, Performance and Capability, Learning Models and E-Learning Design.
The well-known Australian-based organization is a fantastic platform for businesses and in acknowledging their people. LearnX therefore encourages sharing, learning, networking and above all, celebrating the best works around.
Azidah this year made the university proud when she was selected for the Venus International Foundation 'Distinguished Woman in Humanities and Social Sciences' Award and also being last year's recipient of the 'Anugerah Akademik Negara in Teaching' Award.
Text: Hafiz Meah Ghouse Meah