'KEBAYA QUEEN' FROM RUSSIA THRILLED AT USM CONVOCATION CEREMONY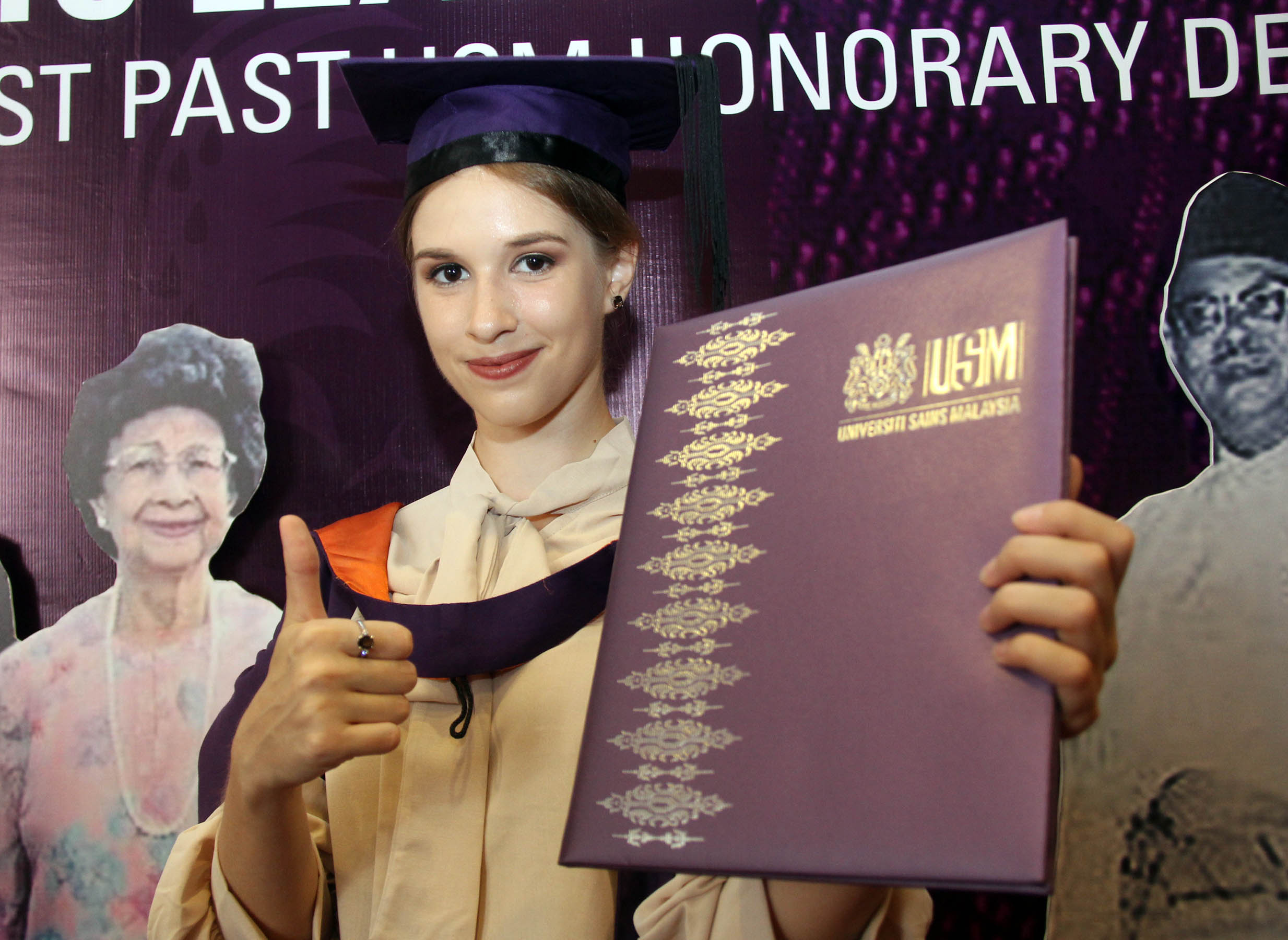 PENANG, 27 October 2018 – Winner of the Penang 'Ratu Kebaya' last year, who hails from Russia, was thrilled when she completed her studies and received her degree at the 56th Universiti Sains Malaysia (USM) Convocation Ceremony here today.
Ksenia Kondratenko, 24, completed her Bachelor in Social Science (Political Science) studies and received her degree during the ceremony's Ninth Session, which was chaired by the USM Vice-Chancellor, Professor Datuk Dr. Asma Ismail.
Ksenia said, the experience gained at USM has created a great impact at an important phase in her life and which has shaped her character towards becoming a more responsible person.
"I came here with the sole intent of seeking knowledge and throughout the five years of being here, I have learnt a lot, including in identifying the various cultures in this country and celebrating the uniquely Malaysian society that can be found nowhere else," she said.
As the only child to Eduard, 45 and Olga, 44, Ksenia added that even though her parents could not be with her on this wondrous and meaningful day, she did not feel alone as she has her friends around her.
"It was not a mistake to choose USM and if I were to have my own children, I would encourage them to choose USM as the place for higher education," she said.
Ksenia is now attached to a non-governmental organisation (NGO) providing community service to the less-privileged and displaced groups including the indigenous communities.Specialising in Political Science, she truly loves what she is doing now, which is to empower the 'bottom billion' communities by teaching the English language and technical skills for free, which would be beneficial in their lives.
She took part in the local 'kebaya' beauty competition last year and emerged as the winner. 'Kebaya' comprises a traditional blouse-dress combination made from delicate materials and worn with a 'sarong' by the women in Indonesia, Malaysia, Singapore, Brunei and other nearby nations.
Text: Mazlan Hanafi Basharudin