USM RECEIVES RM50,000 FOR STUDENT FUND FROM TUN SARDON FOUNDATION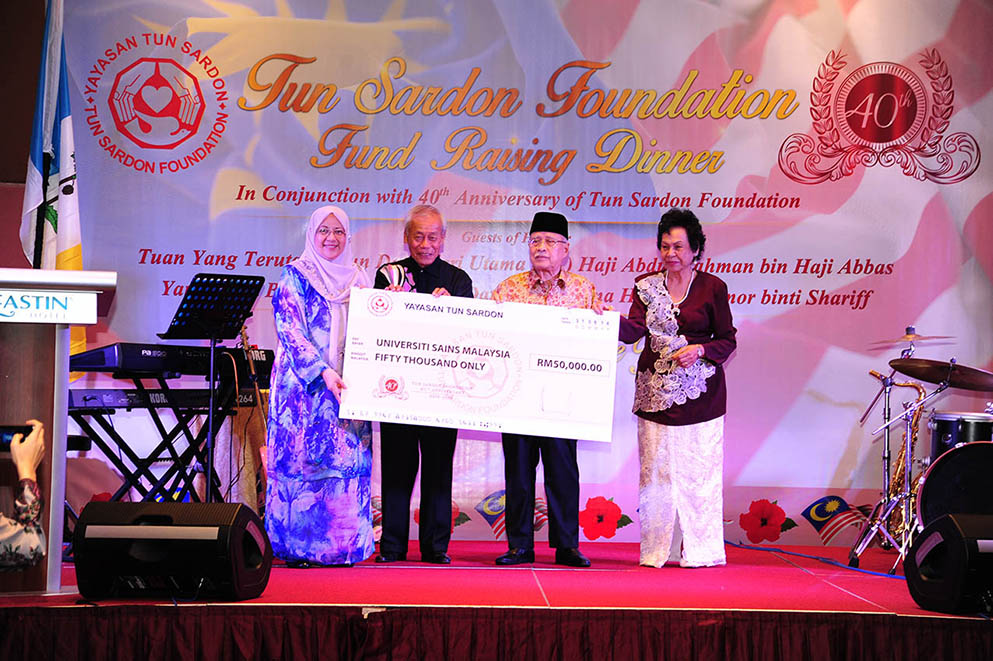 PENANG, Sept. 2018 – The Vice-Chancellor of Universiti Sains Malaysia (USM), Professor Datuk Dr. Asma Ismail was invited as a special guest by the Tun Sardon Foundation (TSF) at the TSF Fund Raising Dinner in conjunction with its 40th Anniversary Celebration held at Eastin Hotel, here recently.
The guest of honour for the evening were Penang Yang di-Pertua Negeri, TYT Tun Dato' Seri Utama (Dr.) Haji Abdul Rahman Haji Abbas and YABhg. Toh Puan Datin Seri Hajjah Majimor Shariff. Also present was the Chairman of TSF, Dato' Mohd Rizal Al-Amin Tun Sardon.
At the dinner, the Vice-Chancellor received a mock cheque of RM50,000 on behalf of USM for the student endowment fund, from the Penang Yang di-Pertua Negeri.
The sum was the final disbursement of RM250,000 endowment fund from TSF, as stated in the Memorandum of Understanding (MoU) signed between USM and TSF in November 2011,
The fund, managed by USM Student Development Affairs and Alumni division (BHEPA), was to help support deserving students from struggling families to ensure that they would not be deprived of higher education opportunities.
Also present were the Vice-Chancellor's husband, Professor Dato' Dr. Ahmad Zakaria; Deputy Vice-Chancellor (Student Development Affairs and Alumni), Professor Dato' Dr. Adnan Hussein and Director of USM Foundation Advancement Office, Professor Dato' Ir. Dr. Mahyuddin Ramli.
Text: Tan Ewe Hoe/Photo: Ebrahim Abdul Manan