2006 NOBEL PRIZE WINNER RETURNS TO USM, ZEROING IN AT WORLD ISSUES WITH THREE ZEROS: ZERO POVERTY, ZERO UNEMPLOYMENT AND ZERO CARBON EMISSION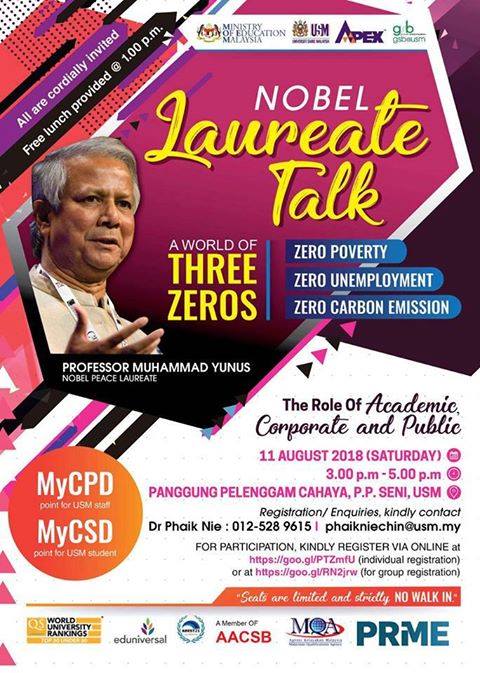 Note: Due to overwhelming response, the venue for the Talk has been changed to Dewan Budaya.
Universiti Sains Malaysia (USM) will be featuring the 2006 Nobel Peace Prize winner Professor Muhammad Yunus exclusively to present a talk on Saturday, 11 August 2018, at 3.00 pm, to be held at Dewan Budaya, USM Penang.
The Nobel Laureate, who hails from Bangladesh, was responsible for setting up Grameen Bank to eradicate poverty through microcredit and micro-financing, and in doing so has improved the socio-economic conditions of the bottom billion communities globally.
Muhammad Yunus also is no stranger to USM as he has shared his expertise with USM in establishing a microcredit scheme to the deserving staff members, to assist them in improving their economic standing and in turn, their quality of life.
As the recipient of the USM Honorary Doctorate in Economics (2007), he would be sharing on the topic of 'A World of Three Zeros -The Role of Academic, Corporate and Public'.
The programme which is organised by the USM Graduate School of Business (GSB), aims to promote the awareness on the sustainable nature of the human spirit, and is open to academics, members of the corporate, students and the public.
It also aligns with the objective and efforts of USM towards realising the concept of sustaining the economic growth of the bottom billion. Additionally, this special talk serves as a way for GSB towards strategic differentiation, in establishing itself further as a prestigious graduate business school in the country.
Text: Mazlan Hanafi Basharudin