DR. NOORUL AINUR APPOINTED AS NEW CHAIRPERSON OF USM BOARD OF GOVERNORS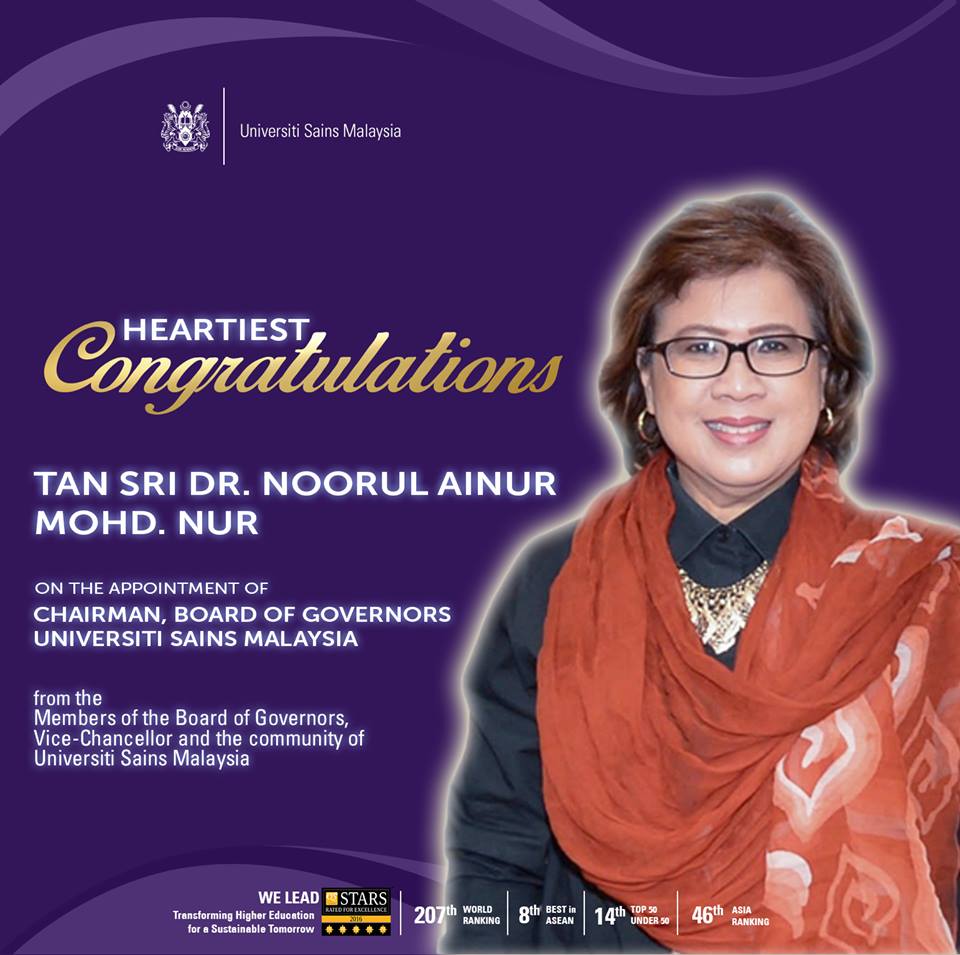 PENANG, July 2018 – The former Secretary-General of Ministry of Higher Education (MOHE) Malaysia, Tan Sri Dr. Noorul Ainur Mohd. Nur has been appointed as the Chairperson of the Board of Governors, Universiti Sains Malaysia (USM), for three years beginning 29 May 2018 until 28 May 2021.
Noorul Ainur, 60, replaced Tan Sri Datuk Dr. Zulkefli A. Hassan, who had held the position since April 2012.
She obtained her Ph.D in Political Science at the Graduate Center, City University of New York in 2001 and her Master of Social Science (Development Administration) from University of Birmingham, United Kingdom in 1992. She was also a recipient of the Goldman Sachs Visiting Research Fellow at University of Oxford in 2002.
Noorul Ainur, who was born in Bentong, Pahang, started her career in the public sector in 1983 and received her Diploma in Public Management from the National Institute of Public Administration Malaysia (INTAN) in 1988.
Besides serving as the MOHE Secretary-General, she was also the Secretary-General of Ministry of Science, Technology and Innovation Malaysia (2014–2016) and Ministry of Women, Family and Community Development Malaysia (2010-2014). She also held key positions in the Ministry of Finance Malaysia, Ministry of Information Malaysia and INTAN.
Being an expert in the fields of development, administration and economics, she headed the World Trade Organisation (WTO) Unit under the Ministry of Finance Malaysia and was also the Senior Project Coordinator at the Economics Centre, INTAN as well as an in-house lecturer on international economics, poverty, gender, globalisation and human resource development.
She was also selected to be a CEO Faculty member who has contributed significantly in imparting her vast knowledge and experiences and sharing her ideas in the development of education locally and abroad.
In the international arena, she has served as the Senior Advisor in the Southeast Asia Group for the World Bank in Washington D.C. (2006-2008) and Malaysia's representative to the ASEAN Commission on the Promotion and the Protection of the Rights of Women and Children (ACWC) (2010-2014).
Her significant contribution to social transformation has led to her appointment as the Vice-President of Intergovernmental Council of the Management of Social Transformations Programme (MOST IGC Bureau) of UNESCO for Asia and the Pacific region (2013-2015).
Noorul Ainur was also elected as the President of Science Commission, United Nations Educational, Scientific and Cultural Organisation (UNESCO Paris) (2015-2017), a first for Malaysia, during the 38th UNESCO General Conference.
The University extends its congratulations to Noorul Ainur on her recent appointment, believing that her leadership traits and extensive experiences would be able to continue to drive USM's achievements and excellence to a higher level, hence making USM a Preferred University by design.
Text: Tan Ewe Hoe