RELAY FOR LIFE PENANG: USM RETURNING TO JOIN IN THE FIGHT AGAINST CANCER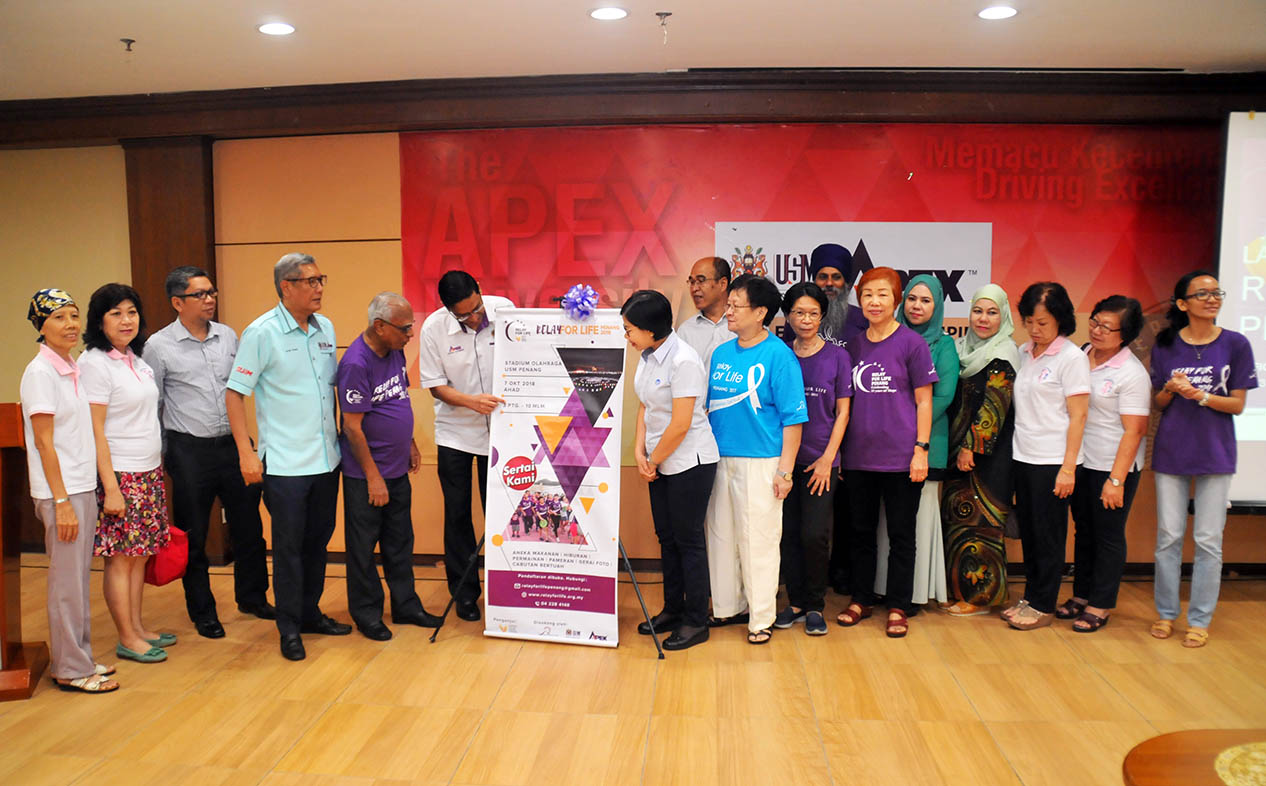 USM, PENANG, 3 July 2018 – Universiti Sains Malaysia (USM) is once again giving support to an event organised by the National Cancer Society of Malaysia Penang Branch (NCSMPG).
The event, 'Relay for Life Penang 2018', also has the support of Penang Hospice Society (PHS), with USM involving its staff as well as students, both as participants and volunteers.
"It is indeed an extraordinary community effort in the fight against cancer, and USM takes pride in being part of this special programme," said Professor Ir. Dr. Abdul Rahman Mohamed, Deputy Vice-Chancellor Research and Innovation who represented the USM Vice-Chancellor to officiate the launch of the event.
"I believe we share the same strong desire to reduce the burden of cancer and we have the abilities, resources and influence to make an impact to society in the future," he added.
This campaign is aiming to raise awareness about cancer and to raise funds from participants, sponsors and other supporters. This is the 14th year that the event is being held in Penang.
Statistics from the International Agency for Research on Cancer (IARC) showed that there are 14.1 million new cases and 8.2 million related deaths in 2012. However, by 2035 new cases of cancer are expected to increase to 24 million.
This 'Relay for Life Penang 2018' is part of an effort to break the fear and ignorance surrounding cancer. FOUR key messages about cancer are highlighted in this campaign:
Practice a healthy lifestyle to reduce the risk of getting cancer;

Early detection and proper treatment saves lives;

Many cancers are treatable;

You are not alone. Everyone is at risk of getting cancer.
This campaign is held over 3 months, culminating in the Relay event at the USM Sports Stadium on Sunday 7 October 2018, from 3.00 pm until it ends with the closing ceremony at 10.00 pm.
It is a fabulous event with people of all ages and backgrounds coming together to take part in a 'relay' around the tracks.
USM has also embarked on a campaign promoting fitness, eating a healthy diet and regular physical exercise called #USMFIT, which was launched early this year, specially catered to its staff and students to practice a healthy lifestyle.
'Relay for Life Penang' has had a variety of sponsors and this year, the sponsor is IJM Land.
The campaign was pioneered in Penang in 2005. Over the years, Kuala Lumpur and Melaka have followed suit. It is now part of 'Relay for Life Malaysia', which is in turn part of the worldwide 'Relay for Life' movement.
It originated in the United States of America in 1984, and the International Relays are now held in 27 countries around the world.
Text: Puteri Najwa Othman (MPRC intern)/Editing: Mazlan Hanafi Basharudin