CWUR RANKINGS 2018/19: USM AMONG THE NATION'S TOP INSTITUTIONS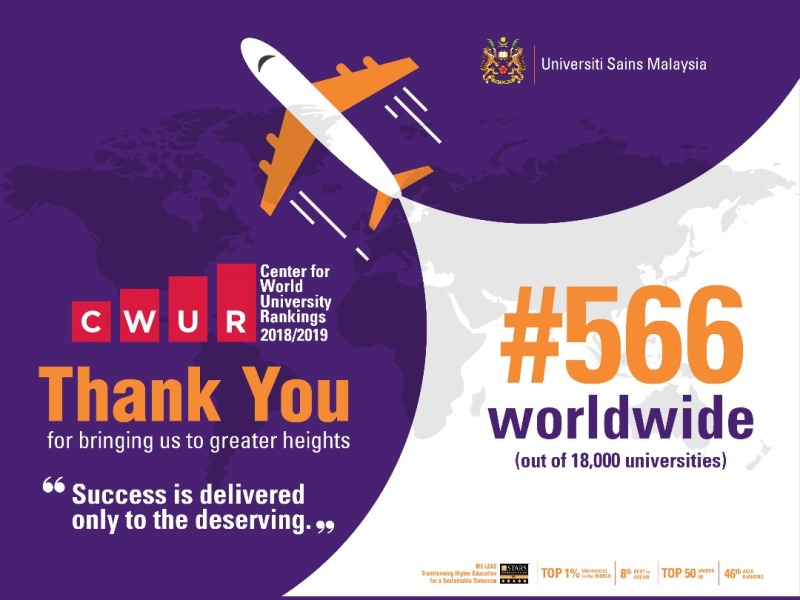 PENANG, 29 May 2018 – Universiti Sains Malaysia (USM) is ranked #566 among the 18,000 universities worldwide in the 2018/19 Center for World University Rankings (CWUR) results released yesterday.
This also placed USM at the second spot among the five Research Universities (RU) in Malaysia - the others being UM, UPM, UKM and UTM - all of which made it to the world's top 1,000 universities list.
This puts USM at the forefront among other well-known universities, such as University of South Australia, National Sun Yat-Sen University,Royal Melbourne Institute of Technology (RMIT), Keele University, University of Delhi, and other notable institutions.
USM Vice-Chancellor, Professor Datuk Dr. Asma Ismail, when receiving the news from the President of CWUR, Dr Nadim Mahassen via email, extended her congratulations to the entire campus community for the latest achievement, and thanked everyone for all the hard work and dedication given towards driving excellence in the nation's higher education sector.
CWUR is a Saudi Arabian-based consulting organisation that publishes annual rankings of world universities since 2012. It rates 18,000 universities worldwide, making it the largest academic ranking exercise of global universities. CWUR currently has its headquarters in the United Arab Emirates (UAE).
CWUR rankings grade universities on seven factors/indicators, without relying on surveys and university data submissions. The factors assessed are quality of education (15%), alumni employment (15%), quality of faculty (15%), research output (15%), quality publications (15%), influence (15%) and citations (10%). The methodology has been enhanced further this year, with research now accounting for 70% of the total score.