USM CONGRATULATES TUN DR. MAHATHIR AS NEW PM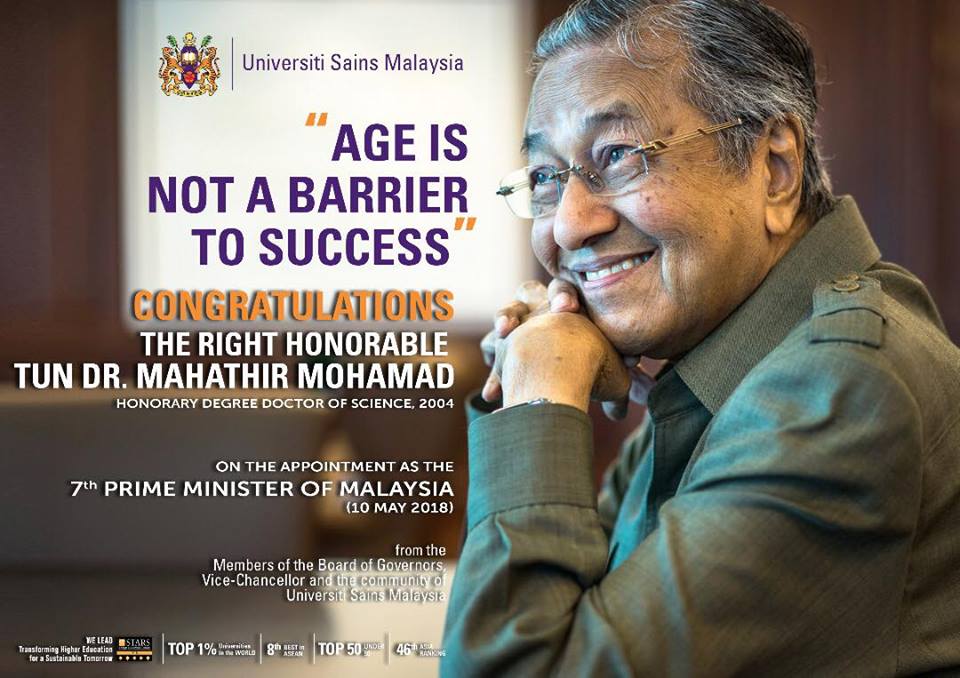 PENANG, 11 May 2018 – Universiti Sains Malaysia (USM) congratulates Tun Dr. Mahathir Mohamad on being appointed as the 7th Prime Minister of Malaysia.
USM warmly welcomes the appointment and has total trust in the extensive experience, wisdom and capabilities of Mahathir, 93, in carrying out his duties as the Prime Minister with full commitment, in leading the country towards renewed growth, excellence and glory and fulfilling the wishes of the people.
USM is truly proud to witness the appointment of Mahathir, who was a recipient of the Doctor of Science (Hon.) from the university, accorded to him at the 33rd Convocation Ceremony in 2004.
USM, as the nation's sole APEX (Accelerated Programme for Excellence) University involved in transdisciplinary research, will continue to strengthen the nation's higher education system in aligning it with development of the country, in line with the aspirations and governance of the new leadership and requirements as stated in the Federal Constitution.
At 93, Mahathir created history by becoming the oldest Prime Minister in the world to be elected into office at Putrajaya, 15 years after he left it in 2003.
This is the second time he will be the Head of Government; he was first elected as the fourth Malaysian Prime Minister in 1981 when he was 56 years old and then retired in 2003, after heading the government of the day for 22 years.
Congratulations once again to Honourable Tun and to the new lineup of leaders at his side. We pray for Tun to be blessed with good health and under God's care to continue steering this country to greater heights of peace, unity, prosperity and growth.