USM VC APPOINTED AS NEW ISC'S EC MEMBER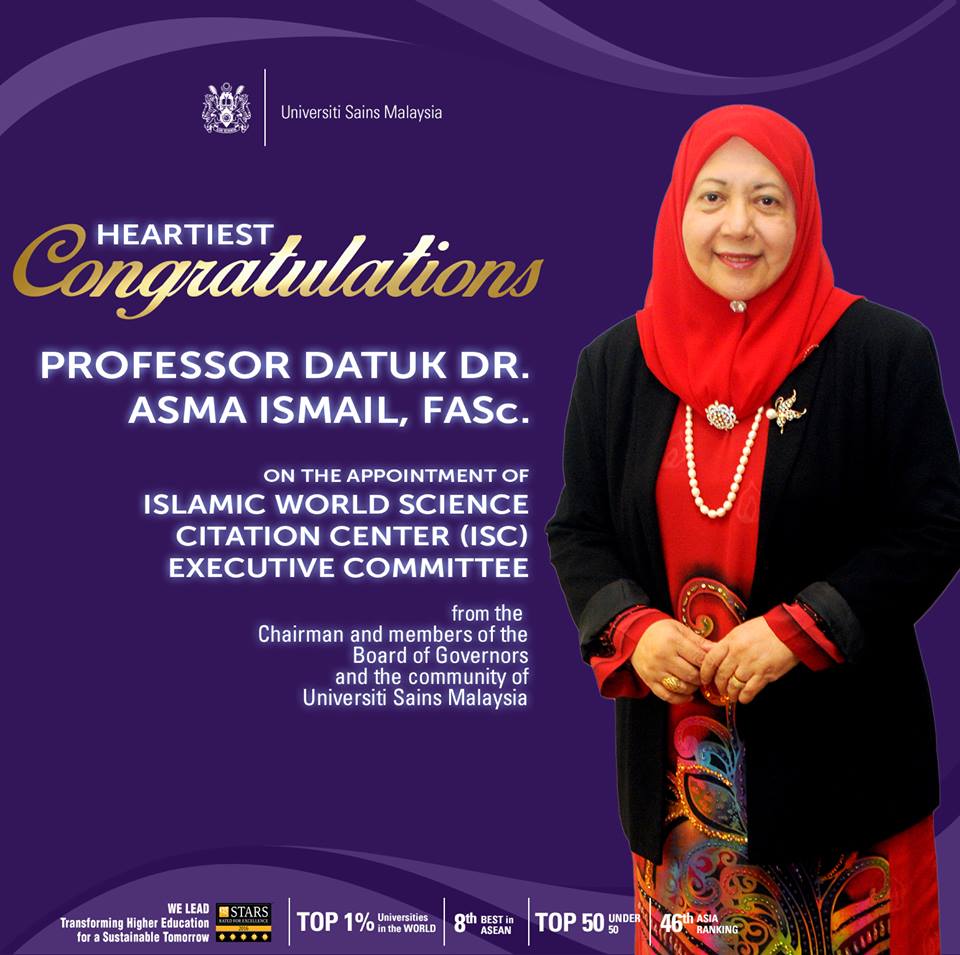 PENANG, 8 April 2018 – The Universiti Sains Malaysia (USM) Vice-Chancellor, Professor Datuk Dr. Asma Ismail has recently been appointed as a new member of the distinguished Islamic World Science Citation Center (ISC) Executive Committee (EC).
The appointment is for a period of one year and takes effect from 14 March 2018.
The appointment was conveyed in a letter from the ISC President, Dr. Mohammad Javad Dehghani, and was made in accordance with the ISC Charter.
Commenting on the appointment, Mohammad Javad said, "Professor Asma's outstanding academic status, vast experiences in academic and research endeavours as well as the zeal for enhancement of science and technology in the OIC region and especially Malaysia (through ISC) will be of tremendous value to the Islamic world in particular."
"I believe that through this position, she will be able to contribute significantly along with ISC to build upon the successes already obtained and introduce suitable grounds so as to fulfil ISC's wider interests and objectives as defined in its Charter for Malaysia," the ISC President added.

"Furthermore, this is also in line with ISC's decision to expand its EC membership, with the aim of accelerating ISC's role and contribution in bringing about substantial research, scientific and technological development in the OIC region."
ISC, based in Shiraz, Islamic Republic of Iran, was established to promote technical and scientific cooperation among Muslim scientists and Muslim countries worldwide, especially in making scientific publications accessible throughout the Islamic world. Besides promoting academic and scientific cooperation among Islamic countries, it also fosters cooperation between the Islamic world and other counties as well.