USM MOVES UP IN QS WORLD UNIVERSITY RANKINGS BY SUBJECT AREAS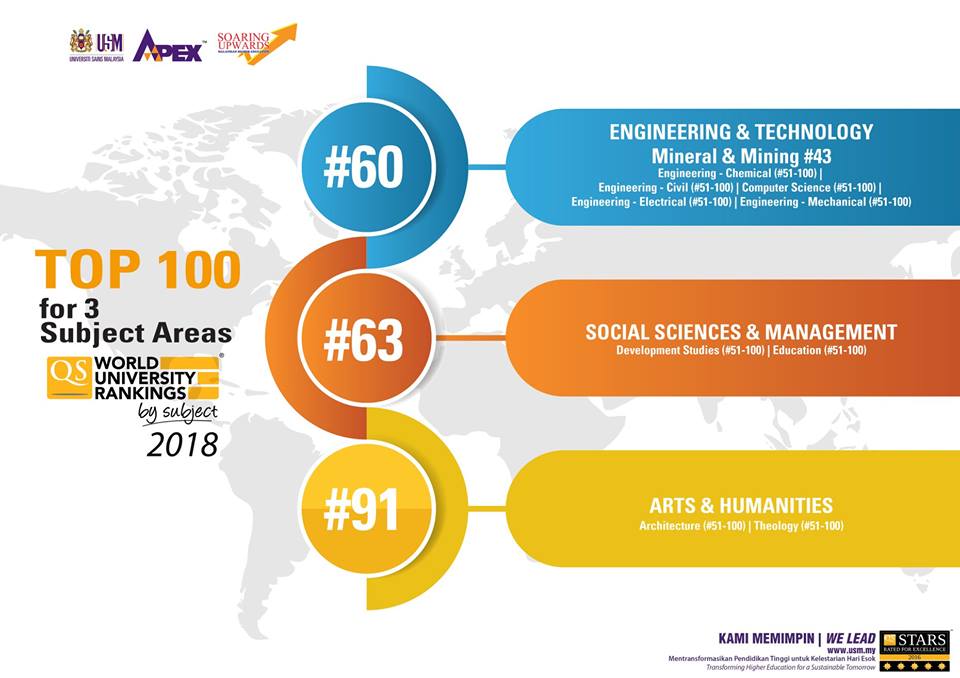 PENANG, 1 March 2018 – Universiti Sains Malaysia (USM) made significant improvement in all five Subject Areas of the QS World University Rankings (QSWUR) by Subject 2018 announced yesterday. Three of the five Subject Areas also made it to the top 100, compared to only 1 in 2017.

The three subject areas in the top 100 are Engineering & Technology (ranked #60), Social Sciences & Management (ranked #63), and Arts & Humanities (ranked #91). In 2017, they were ranked #93, #106, and #144, respectively. The other two Subject Areas are Natural Sciences (ranked #197 up from #232) and Life Sciences & Medicine (ranked #234 up from #269).

For the 2018 rankings, QS analysed over 22 million published papers and close to 200 million citations. 1,130 institutions were ranked across 48 subjects in 5 broad Subject Areas, creating 14,000 published entries. These figures reflect the huge scale of this undertaking, and for USM to be ranked in all five broad Subject Areas reflect the university's competitiveness to be on par with other world-renowned universities.
In terms of subject ranking, the university attained 1 subject (Mineral & Mining Engineering) in the top 50 and 12 subjects in the top 100. USM sees the rise in all 5 Subject Areas as the testimony of the global recognition for the academic and research programmes offered by the university.

"This realises the fact that USM is a research university that is comprehensive and multidisciplinary, and not merely focusing in certain areas. USM is capable of providing a balanced system of education, combining the Sciences and the Arts," said the USM Vice-Chancellor, Professor Datuk Dr. Asma Ismail.
"We always strive to be the best in all disciplines while positioning USM as the preferred university. However, currently education is becoming more competitive due to an increase in the number of institutions globally."
"Education is also being made more competitive as now there are various platforms offering education at the global stage. Although USM has made significant improvements in the broad Subject Areas, certain subjects have slipped slightly from previous rankings. I believe that remaining within the Top 10 list of best universities in Malaysia is testimony of USM's ongoing efforts in providing the best education in the country," said the Vice-Chancellor.
"The university aims to continue designing its pathway towards excellence by implementing new initiatives and ensuring that the community will be provided with the education geared for the future. The university will also continue to strive in other endeavours relating to research and community engagement towards a more sustainable future," she added.
In total, the 8th edition of the QS World University Rankings by Subject exercise has seen an increase in 48 subjects being ranked, compared to 46 in the previous year.