USM SPREADING ITS WINGS FOR EXTENSIVE COLLABORATION WITH JAPANESE TOP INSTITUTIONS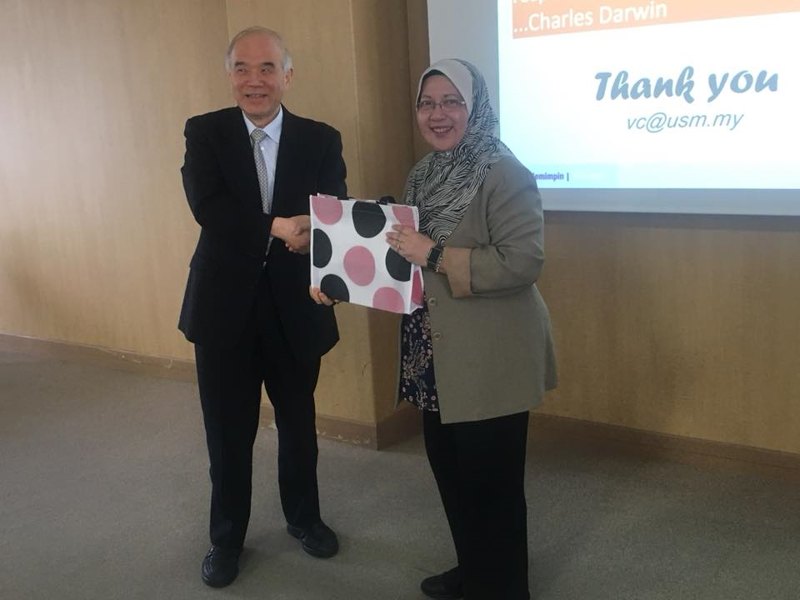 TOKYO, JAPAN, 1 February 2018 – In Malaysia, the academia and the industry are regarded as one. Through the implementation of the 2u2i programme, students would spend 2 years at the university and another 2 years in the industry, to provide practical value for the students in the future that would meet the current demands and requirements of the Fourth Industrial Revolution (4IR).
This was emphasised by the Universiti Sains Malaysia (USM) Vice-Chancellor, Professor Datuk Dr. Asma Ismail at the 5th Council Meeting for the Promotion of Education and Research in Technology in Tokyo, Japan yesterday.
In addition, Asma urged everyone to be action-oriented in their work and to work with the community, as this could be the way for the students to realise and learn about identifying opportunities, and its importance in creating new businesses and new ideas.
"The learning experience, to explore and to learn are the new ways of doing things and most importantly is experiential learning, because people nowadays love to share their experiences with others," she said this in front of an audience comprising representatives from the Nagaoka University of Technology (NUT), National Institute of Technology (KOSEN) and Toyohashi University of Technology (TUT) in Japan.
Asma also welcomed the cooperation in the move for double degrees, joint-degrees, and dual degrees, not only with the Japanese universities, but also with other universities in the world, in the drive towards globalisation and internationalisation.
This programme is a Tri-Institutional Collaborative Educational Reform Project by the Japanese Ministry of Education, Culture, Sports, Science and Technology (MEXT), aimed at establishing an educational programme to foster globalised, practical yet innovative Japanese engineers for the country.
Through this programme, MEXT hopes to produce "Globally-Engaged, Practical and Innovative Engineers" in order to ensure successful operations and to help make Japanese companies overseas to be competitive in this globalised era.
Meanwhile in a different occasion, Asma urged all concerned to work together because by doing so, everyone can better understand each other's culture and education system, as collaborative economy in the way to go for the future now.
She added that, from this initiative, everyone can co-learn in order to co-create something new and challenging, thus giving the added value to future generations.
"It is important that the education delivered would create broad-minded and adaptive thinkers, who would be flexible in facing and adapting to future challenges," she said.
The emphasis would not be on creating job-seekers, but more towards job creators with an entrepreneurial and global mindset, and more importantly, the students would fit into the global market and would be able to find jobs anywhere globally.
Also present at the meeting in Japan was the USM Deputy Vice-Chancellor (Industry and Community Network), Professor Ir. Dr. Abdul Rahman Mohamed.
The Vice-Chancellor is currently in Japan on a working visit to establish new partnerships and strengthen existing links between USM and Japanese higher education institutions and industries.
Text: Hafiz Meah Ghouse Meah