USM-KLE TO OFFER MORE COURSES AT INDIA CAMPUS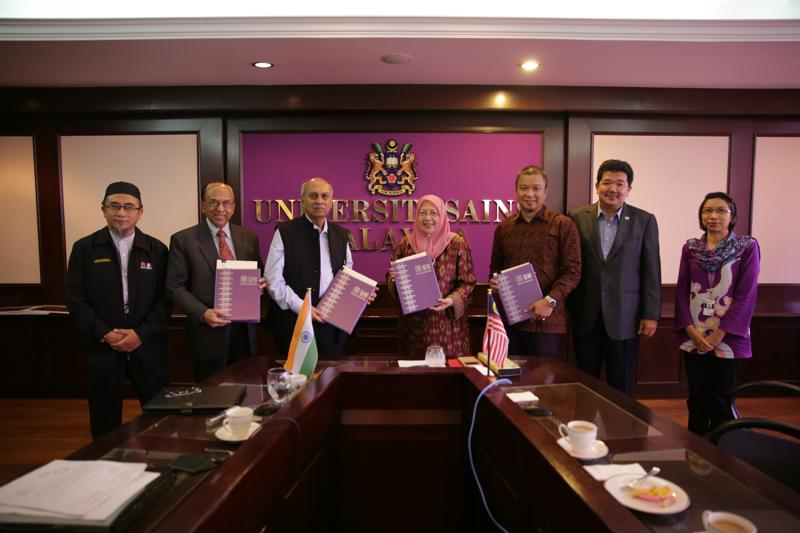 USM, PENANG, 18 January 2018 – Universiti Sains Malaysia (USM) Private Campus, USM-KLE IMP in Belgaum, India continues to expand with future plans to offer courses such as pharmacy and dentistry.
"It is important that we maintain continued relations with the KLE Society for long-term benefits as well as in being more creative in the variety of study courses offered at USM-KLE," said the USM Vice-Chancellor, Professor Datuk Dr. Asma Ismail prior to the signing of a Memorandum of Agreement (MoA) between USM and KLE Society, India here yesterday.
With the agreement, the medical programme will be continued for the next five years.
The USM-KLE IMP International Doctor of Medicine programme successfully took off in September 2010 with its first intake of 44 students.
KLE Society was represented by its Chairman, Dr. Prabhakar Kore, who was the recipient of the USM Honorary Doctorate in Education Degree at the USM 52nd Convocation Ceremony in November 2015.
He welcomed the move by USM in offering additional study courses at USM-KLE in India and would continue to provide the support needed and to be fully committed towards USM.
Also present at the signing ceremony were the Dean of USM School of Medical Sciences, Professor Dr. Shaiful Bahari Ismail; USM Legal Advisor, Dr. Khairul Anuar Che Azmi and Director of USM-KLE IMP, Dr. H.B. Rajashekar.
Translation: Mazlan Hanafi Basharudin