NATIONAL LAUREATE SHAHNON AHMAD PASSED AWAY, A BIG LOSS TO USM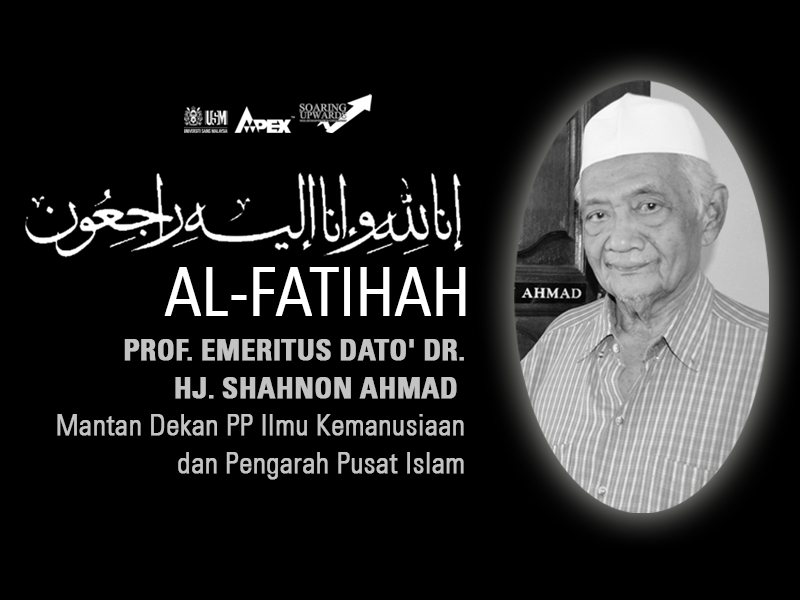 PENANG, 28 December 2017 - The recent passing away of National Laureate Emeritus Professor Dato' Haji Shahnon Ahmad was deemed a big loss to the Universiti Sains Malaysia (USM) community, and also to the nation, especially among the literary fraternity.
Shahnon's immense and significant contribution in educating the many generations of students at USM in serving for more than 20 years at the university is beyond words and his demise is a big loss to all at USM.
USM Ombudsman, Professor Dato' Seri Dr. Md. Salleh Yaapar said, the late Shahnon was very dear to the hearts of the campus community, which is saddened by his passing away.
"I've not only lost a beloved former colleague, but also a dear friend and we wish to express our deepest condolences to his family and relatives. Al-Fatihah. May Allah bless his soul.
"His love and passion for writing and literature can be seen from the many literary works that he produced in the form of novels, prose, essays, critiques and translation work that have impacted the society at large, as well as from his efforts in helping to bring the national literature onto the international stage.
"I hope that more talents like him will emerge in the near future," said Md. Salleh, when met in his office here at USM on Tuesday.
Shahnon, 84, passed away around 8.00 a.m. at KPJ Kajang Hospital in Selangor on 26th December due to pneumonia.
Shahnon was born in Sik, Kedah in 1933 and received his early education at the Sekolah Melayu, Sik and the Sultan Abdul Hamid College in Alor Setar, before pursuing his Bachelor's degree (1968-1971) studies at the Australian National University in Canberra, and later for his Master's degree at USM (1975).
He was conferred the National Laureate Award in 1982 and has served at the Sultan Idris Teachers Training College in Perak (now known as UPSI) as well as at USM.
At USM, he served as the Dean of the School of Humanities (January 1979-September 1982) and Director of USM Pusat Islam (Islamic Centre). He was bestowed the title of Emeritus Professor in 1993 by USM.
He has also won numerous awards such as the Champion of Literature (1976), Asean Literary Award (1990) and Mastera Literary Award (2010, 2011).
Shahnon will forever be remembered for his dedication and sacrifices as a true champion of national literature with affection, admiration, respect and love.
Text: Tan Ewe Hoe