VICE-CHANCELLOR RECEIVES COURTESY CALL FROM PRESIDENT OF MINJIANG UNIVERSITY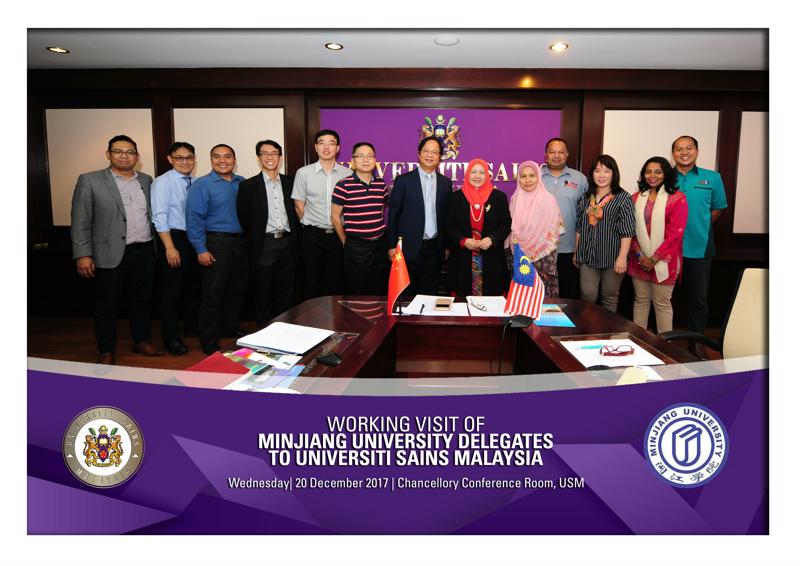 USM, PENANG, 20 December 2017 – Universiti Sains Malaysia (USM) Vice-Chancellor, Professor Datuk Dr. Asma Ismail received a courtesy call from the delegates of Minjiang University (MJU), China led by its President, Prof. Dr. Zonghua Wang today.
Accompanying the MJU President were the Dean of Fine Arts College, Professor Xin Zheng and the Chief of Study-abroad Affairs, Office of International Cooperation and Exchange, Jingrong Shi.
The aim of the visit was to discuss on potential academic and research collaborations between both universities in areas of marine biology, languages, business and management studies, fine arts as well as student and staff mobility.
In the one and a half-hour discussion held at the Chancellory Conference Room, both parties agreed to explore further the possibility of establishing a Memorandum of Agreement (MoA) which would include the setting up of some 2+2 PhD programme, exchange/mobility programme that would allow students and staff to be exposed to the cultures and languages of both countries, and research collaboration in several fields of mutual interest and strength.
Also present were the Dean and Deputy Deans of the School of Management, Dean of the School of Industrial Technology, Deputy Deans of several Schools, Director of International Mobility & Collaboration Centre (IMCC) and Director of Centre for Marine & Coastal Studies (CEMACS).
Minjiang University, situated in Fuzhou, the capital city of Fujian Province, is a public multidisciplinary university established in 2002 and has a student population of over 18,000 full-time students, 13,600 of which are undergraduates. The university offers 37 majors for undergraduate students and 38 majors for students of professional training school, ranging from liberal arts to science, engineering, management, economics, history and law.
Text: Tan Ewe Hoe/Photos: Ebrahim Abdul Manan