USM VC AMONG MALAYSIAN DELEGATION TO INDONESIA TO COLLABORATE AND ENHANCE ASEAN HIGHER EDUCATION SECTOR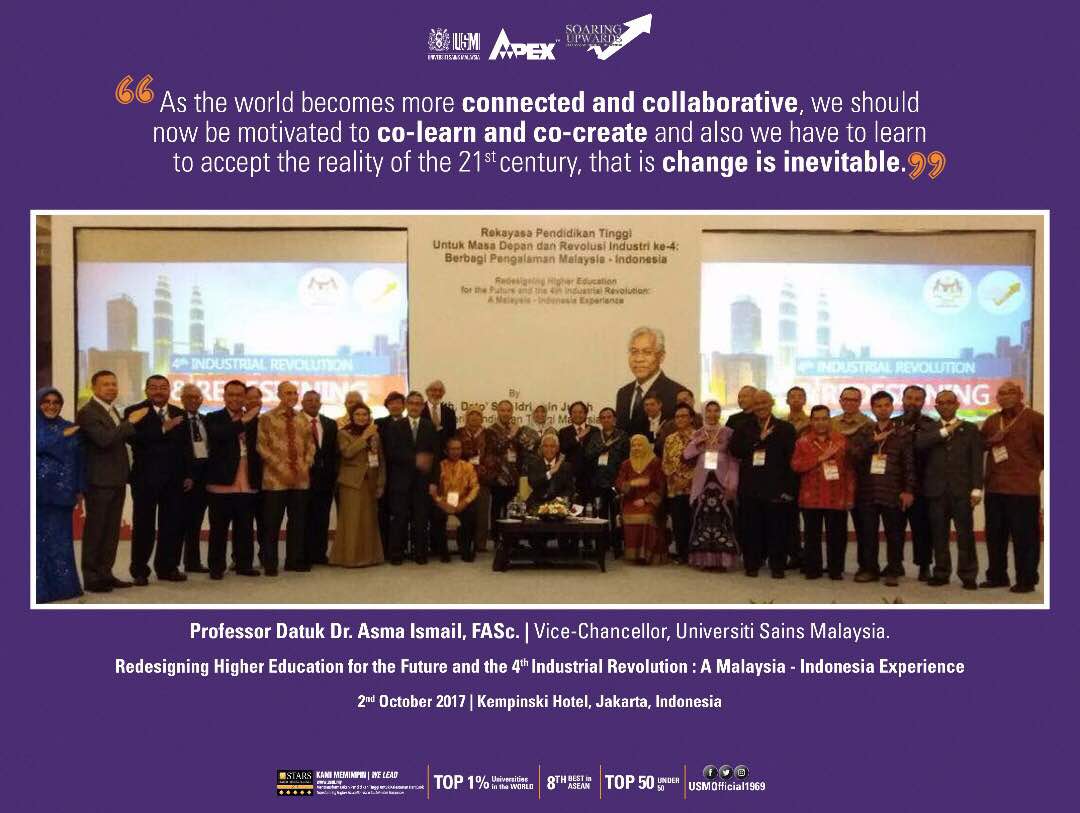 JAKARTA, 2 October 2017 – The Universiti Sains Malaysia (USM) Vice-Chancellor, Professor Datuk Dr. Asma Ismail is currently on a three-day visit to Jakarta as part of the delegation led by the Malaysian Higher Education Minister, Datuk Seri Idris Jusoh.
The aim of the visit was to strengthen the ASEAN member countries by enhancing the higher education sectors, which would ensure a more impactful community, through the sharing of information, experiences and in leveraging on each other's strength.
The delegation met some 40 Malaysian students studying in Indonesia and senior staff of the Malaysian Embassy.
Idris and his delegation had earlier paid a courtesy call on Indonesia's Minister of Research, Technology and Higher Education, Professor H. Mohamad Nasir, where the two Ministers held bilateral talks on education related matters which are of importance to both nations.
The Minister also delivered a keynote speech titled "Redesigning Higher Education for the Future and the 4th Industrial Revolution: A Malaysia-Indonesia Experience" in the afternoon, at the Future of Modern Education exhibition organised by Education Malaysia Global Services (EMGS).
Asma talked on Innovations in Postgraduate Studies, while the National Council of Professors CEO, Professor Datuk Dr. Raduan Che Rose, spoke on Education and Human Capacity Development at the exhibition.
Text: Mazlan Hanafi Basharudin