USM WON THE BEST INTERACTIVE PRESENTATION AWARD AT THE INTERNATIONAL ASTRONAUTICAL CONGRESS 2017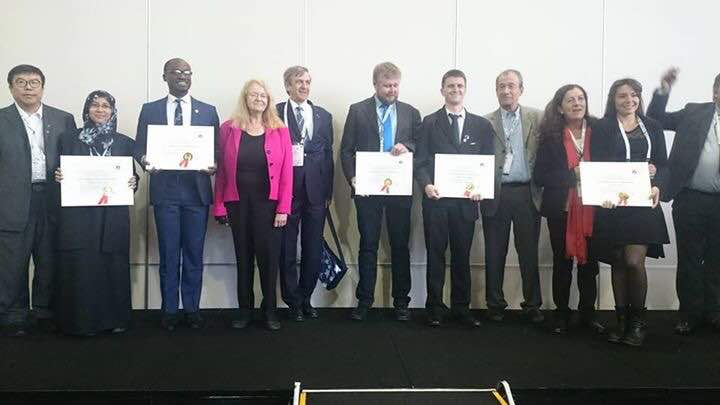 ADELAIDE, AUSTRALIA, 29 September 2017 – A Universiti Sains Malaysia (USM) School of Aerospace Engineering lecturer, Siti Harwani Md Yusoff made the university proud by winning The Best Interactive Presentation Award for Application and Operation Category at the recent International Astronautical Congress 2017 in Adelaide, Australia.
She was selected as the winner from the 278 submissions with her paper entitled 'Feasibility Study on Earthquake Monitoring and Precursor Research in South-East Asia Using Space Technology'.
As the leading platform connecting all regarding space and the people while promoting the latest space information and developments, the International Astronautical Congress is the ideal venue for scientists, researchers, engineers, decision-makers, industry experts and commerce executives, academics, students, and young professionals to present their results to a global audience of space professionals.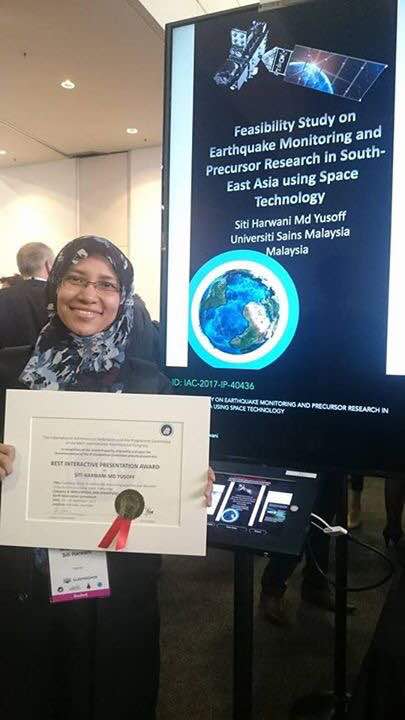 The Congress, with its multidisciplinary programme, enables abstracts to draw inspiration from a wide range of topics and aspects of:
* Science and Exploration
* Space Life Sciences; Microgravity; Space Exploration; Space Debris; Space Astronomy
* Applications and Operations
* Earth observation; Space communication and navigation; Small Satellites; Integrated Applications
* Technology
* Astrodynamics; Materials and Structures; Space Power; Space Propulsion
* Infrastructure
* Space Systems; Space Transportation; Knowledge Management; Commercial Spaceflight Safety
* Space and Society
* Space Education and Outreach; History of Astronautics; Business Innovation; Space Law
Text: Hafiz Meah Ghouse Meah