USM ACADEMICIAN THE RECIPIENT OF 2017 ANTARCTICA FELLOWSHIP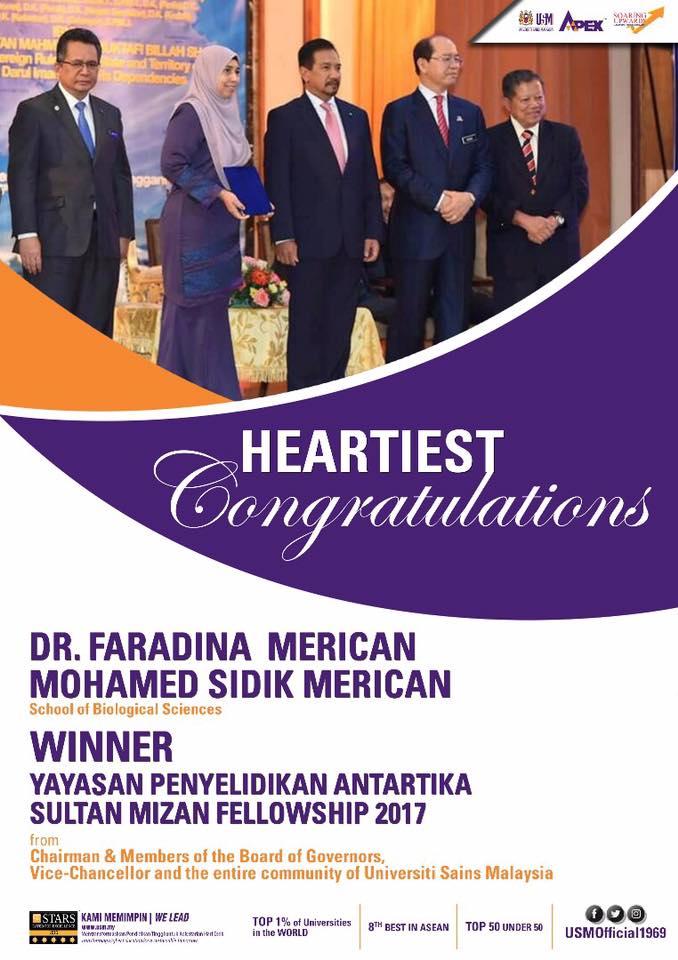 USM, PENANG, 16 August 2017 – Dr. Faradina Merican Mohamed Sidik Merican from the Universiti Sains Malaysia (USM) School of Biological Sciences has been awarded the Yayasan Penyelidikan Antartika Sultan Mizan (YPASM) Fellowship for 2017.
Faradina had previously secured a research grant under YPASM in 2016. The focus of her research is in Antarctic algae, in trying to understand their means of adapting themselves towards condition in the equator.
It is a passion that she has pursued during her days as a young MSc student, when she had the opportunity to go on a voyage to Antarctica through the Australian Antarctic Division. The opportunity to journey to the coldest land on earth piqued her interest on the continent.
After finishing her thesis under Professor Dr. Mashhor Mansor, she went on to continue her PhD at the University of Canterbury, still pursuing her interest on Antarctic algae.
Yayasan Penyelidikan Antartika Sultan Mizan (YPASM) Grants and Fellowships provides support and opportunities especially for young Malaysian scientists to pursue their research interests in Polar science.
The main aim of this scheme is to facilitate the professional development and training of early-career scientists in doing research on the Polar regions.
This fellowship allows researchers to undertake short-term visits to major international laboratories, field facilities, and/or institutes in or operated by SCAR (Scientific Committee on Antarctic Research) member countries, so as to become acquainted with the recent advances in research and/or to develop long-term scientific links and partnerships. The work must be carried out in a research group of a SCAR member country other than Malaysia.
Text: Mazlan Hanafi Basharudin