BE READY TO EMBRACE 4IR AND ADAPT TO CHANGES, LIBRARIANS TOLD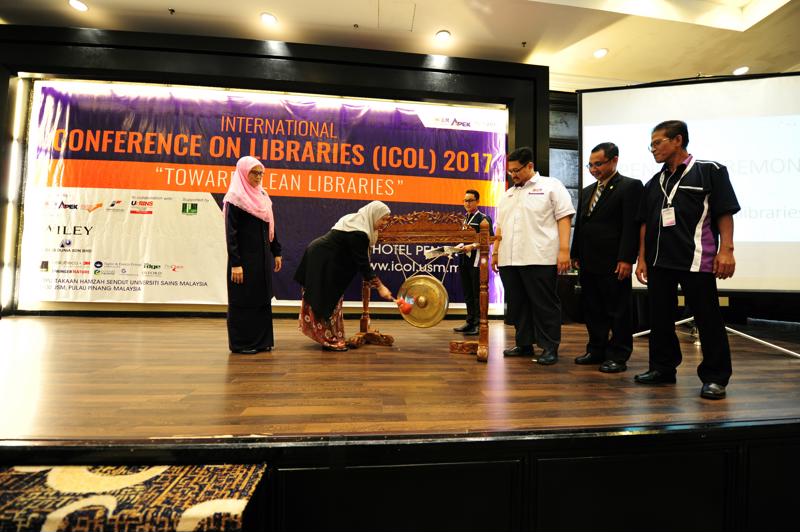 PENANG, 4 August 2017 – Universiti Sains Malaysia (USM) recently organised the 6th International Conference on Libraries 2017 (ICOL 2017) with the theme 'Towards Lean Libraries' at Vistana Hotel here.
The USM Vice-Chancellor, Professor Datuk Dr. Asma Ismail officiated the opening ceremony and in her speech, she emphasised on the advent of disruptive technology currently happening at an exponential rate rather than being linear, as she relates with the realities of the 4th Industrial Revolution (4IR).
Asma pointed out that the 4IR can have an impact on future job prospects, including librarians, as technology is now growing very rapidly.
"With the coming of the new revolution, people will start to justify the existence of libraries and librarians, as all the data and information could be managed and shared through artificial intelligence at real time," said Asma.
She also stressed that for libraries to be relevant in their role towards their stakeholders, and be able to continue to attract people of all walks of life, the entire ecosystem of the library must go through some form of transformation and be ready to face the 4IR.
"I would certainly like to see libraries providing value-added services such as data analytics to the academicians and researchers while being an enabler to produce students who have the desired HEBAT (Holistic, Entrepreneurial, Balanced, Articulate and Thinking) attributes," added Asma.
Meanwhile, the Chairperson for ICOL 2017 and USM Acting Chief Librarian, Puan Engku Razifah Engku Chik highlighted on the challenges of the 21st century in the form of rapid changes that the world is facing, due to advances in digital technology.
In her speech, Puan Engku said that, "in this era of the 4IR, people are discussing about the power of digital technology, internet of things, mobile computing, 3D printing, etc., as there is no doubt that this phenomenon will affect how people think and act, and we have no other choice but to accept the reality that change is inevitable."
Engku Razifah believes that this conference is a good platform to discuss the current issues in information services, as well as to embark on future collaboration and integration not only between organizations, but also in our country as a whole.
This conference also serves as means to introduce the current technologies available for today's libraries through products and innovation exhibition by library-related groups, which may be used to empower libraries and information offerings for the future.
Some 120 people from the library and information science community from different regions participated in this event, which was held from 2nd until 3rd August 2017.
Also present were the USM Deputy Vice-Chancellor (Academic and International), Professor Dr. Ahmad Farhan Mohd Sadullah; Universiti Utara Malaysia Perpustakaan Sultanah Bahiyah Chief Librarian, Salleh Hudin Mustaffa; USM Senior Deputy Chief Librarian, Mohd Nasir Md Rashid and principal officers of the university.
Prior to the opening ceremony, Ahmad Farhan gave the keynote address on the need for libraries of today and tomorrow to undergo radical transformational change as they move towards becoming lean libraries and gear up to face the challenges of the 4th Industrial Revolution.
Text: Nur Farrah Ezlin Mohd Suhaimi (MPRC Interns)/Editing: Mazlan Hanafi Basharudin & Tan Ewe Hoe