USM CONTINGENT CONFIDENT, DETERMINED TO WIN THE 42ND SUKUM CHAMPIONSHIP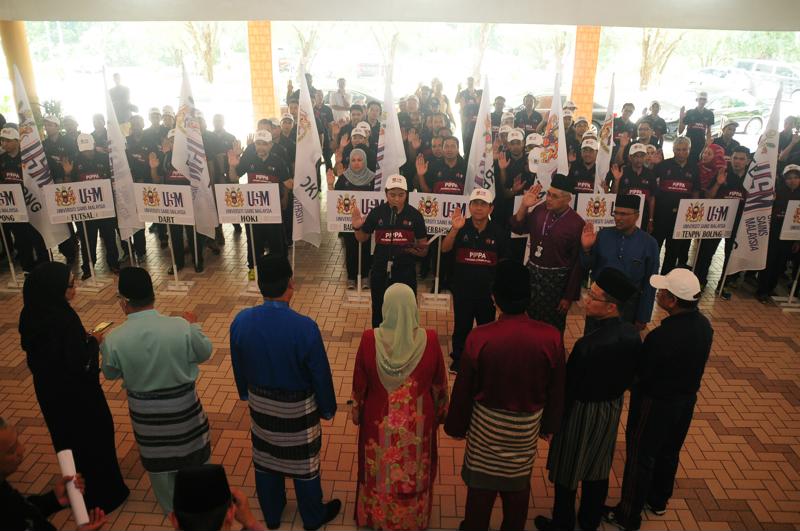 USM, PENANG, 19 June 2017 – Universiti Sains Malaysia (USM) is determined to win the 42nd Malaysian Inter-University Staff Sports Championship (SUKUM) after becoming the runner-ups in the last SUKUM.
In conjunction with the championship that would be held from 28th July to 5th August this year, USM held a ceremony to hand over the flags to each contingent, at its Main campus this afternoon.
At the ceremony, the USM Vice-Chancellor, Professor Datuk Dr. Asma Ismail and the Head of SUKUM Contingent 2017, Professor Dato' Dr. Ahmad Zakaria also shared words of encouragement to all the athletes and staff who will be competing in the sports event.
"Enter the court with the spirit of sportsmanship and the spirit of 'no defeat' to uphold the name of USM, and to put the feeling of anxiety into the competitors when you are on the field," said Asma.
"Although the day of practicing is over, I can see that your performances are now at its best. More importantly is that, we are ready to 'fight'," added Ahmad.
This year, SUKUM would be held at the Universiti Pendidikan Sultan Idris (UPSI), with a total of 21 sports events to be contested, and about 1,442 medals are up for grabs by athletes from the 20 public universities and the Ministry of Higher Education.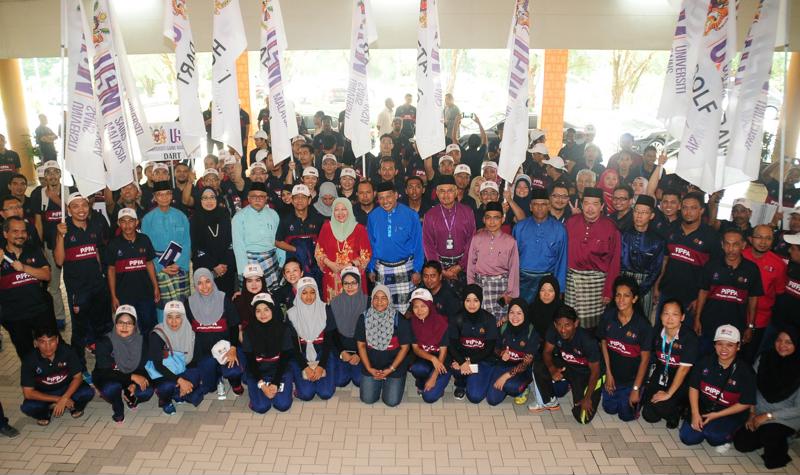 Originally, Asma has planned for USM to compete only in 5 sports events, but with the increase in enthusiasm and confidence, USM will compete in 16 sports events, with the hope of winning and becoming the champion for SUKUM this year.
Also present were the Director of USM Sports & Recreation Centre, Tuan Hj. Muhammad Mohd Hanif; Deputy Vice-Chancellors, key officers and athletes of USM.
Text: Nur Fariha Mohd Fariz (MPRC intern)/Editing: Mazlan Hanafi Basharudin