BE THE BEST OF THE BEST - LIM YEN RUEN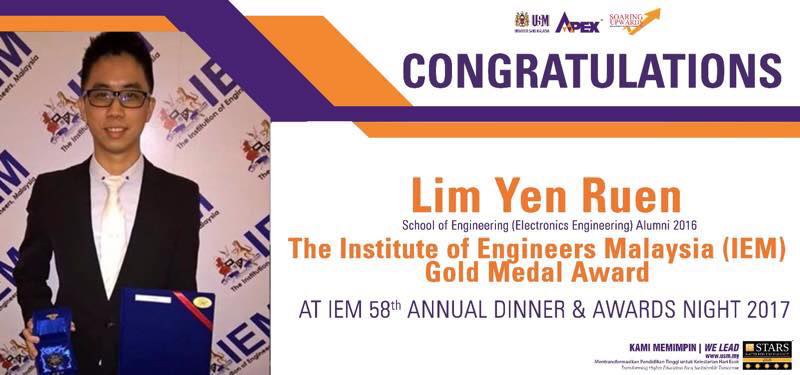 PENANG, 20 April 2017 - A Universiti Sains Malaysia (USM) alumnus, Lim Yen Ruen has made the university proud when he received The Institute of Engineers Malaysia (IEM) Gold Medal Award at the IEM 58th Annual Dinner & Awards Night 2017, held at the One World Hotel in Petaling Jaya, recently.
Lim was the recipient of the Vice-Chancellor Gold Medal award for USM 54th Convocation Ceremony, an award given to the best student in all fields.
According to the alumni member of Electronic Engineering (2016), the IEM award was given to every top final year student in the engineering course for each local university and he thanked USM for nominating him to receive this prestigious award.
Lim also shared tips on how to become a good student, which are:
· need to be hardworking,
· need to have self-discipline,
· need to be passionate,
· need to set achievable goals for oneself,
· and, need to be persistent
Also present at the event was the Minister in The Prime Minister's Department, Y.B. Datuk Ir. Dr. Wee Ka Siong.
The event was held to celebrate the 58th birthday of IEM and to foster closer rapport amongst engineers, consultants, professionals, academicians, property developers, contractors, building manufacturers and suppliers, as well as others who are related to the engineering fraternity.
Text: Hafiz Meah Ghouse Meah