DO NOT JUDGE A BOOK BY ITS PLASTIC COVER
https://www.thestar.com.my/news/nation/2021/07/10/do-not-judge-a-book-by-its-plastic-cover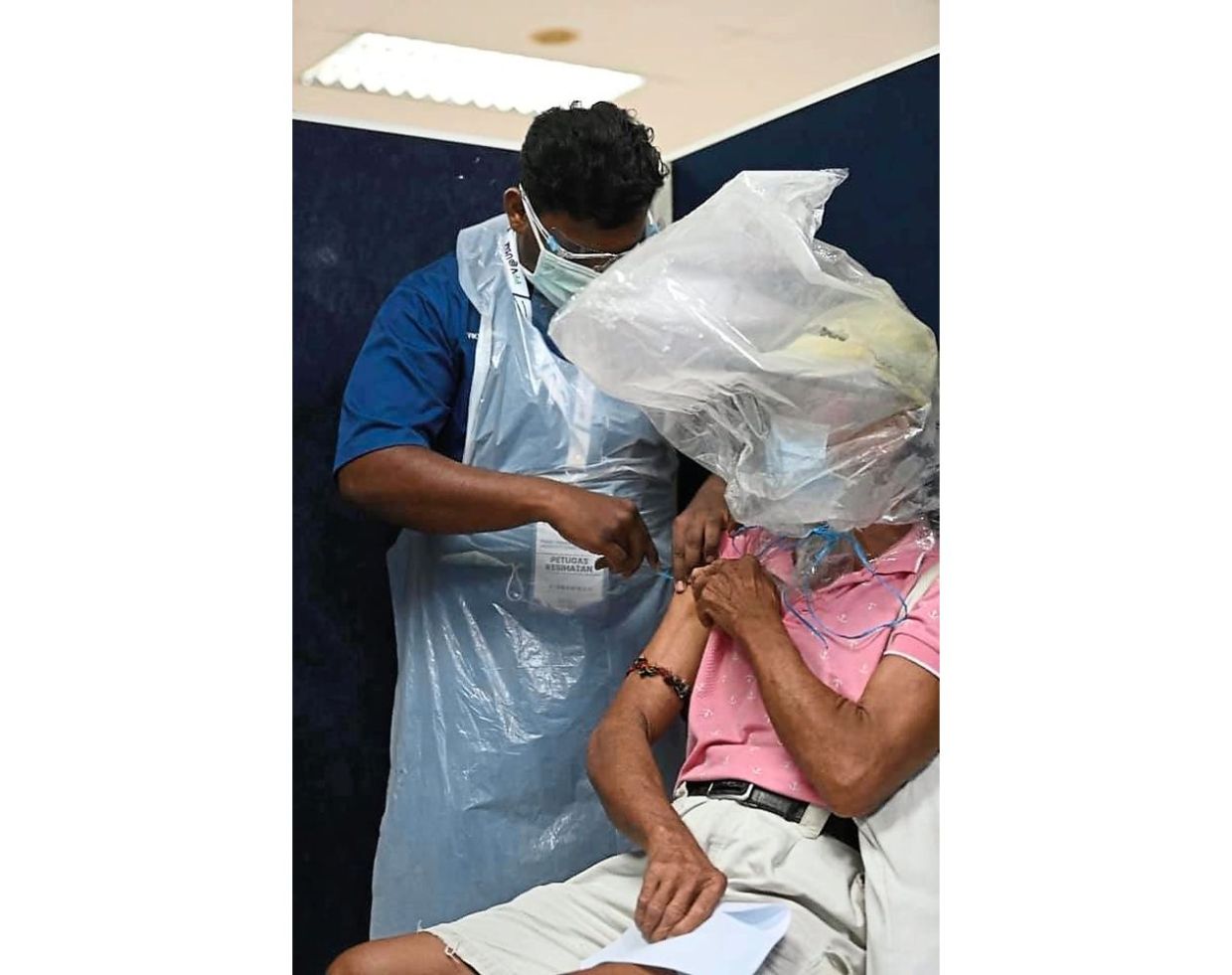 Feels safer: Hor getting his jab at the USM vaccination centre. — Photo courtesy of USM
By LIEW JIA XIAN
NATION
Saturday, 10 Jul 2021
GEORGE TOWN: A 63-year-old cleaner who wore a plastic bag over his head when he went to a vaccination centre immediately grabbed attention.
And after his jab, he warmed the hearts of everyone watching when he gave RM400 to the frontliners and told them lunch was on him.
Hor Boon Chung said he simply felt safer using the plastic bag as a shield and did not bother about what people thought of him.
"I wanted to treat the frontliners to lunch because I really respect their hard work and sacrifice.
"As a father, I would not encourage my children to be on the front lines because there is so much risk. I'm not rich but I want to show my respect for them," he said.
Hor said when it was time to go for his second jab, he would get RM1,000 ready for the frontliners to "give them an even better lunch".
A doctor at the Universiti Sains Malaysia (USM) vaccination centre, Dr Haafiz Kassim, 38, said Hor arrived at 11am on Thursday with a plastic bag over his head.
They quickly advised him to take it off.
"We were worried he might suffocate. We gave Hor a face shield during consultation and he did take out the plastic bag for a while before getting his jab.
"But he put the plastic bag back on during the jab. Then during the observation period, he used the face shield," said Dr Haafiz.
When he was chatting with Hor, he realised that Hor felt safer and more comfortable with the plastic bag on.
"To not discourage him from getting his vaccine, I decided to let Hor do so but I asked all volunteers to keep a close watch on him and make sure he was safe the whole time he was with us," the doctor said.
Despite Hor's peculiarity, he was cooperative and friendly throughout the process.
"He insisted on giving us money to get lunch. He expressed his appreciation to us and his worry for our health.
"All 137 volunteers here, including 34 students, were touched by Hor's kind deed. It is a lesson for us not to judge a book by its cover.
"Hor was nervous about being vaccinated but he did his part as a responsible citizen and got his jab," he said.
USM is a special vaccination centre for economic frontliners.
- Source from The Star Online