FOSTERING COLLABORATIVE GROWTH: UMPSA'S INSIGHTFUL VISIT TO USM EXPLORES FINTECH AND ACADEMIC SYNERGIES
USM PENANG, 12 September 2023 – Universiti Sains Malaysia (USM) today received a working visit from the top management of Universiti Malaysia Pahang Al-Sultan Abdullah (UMPSA), with the aim of strengthening the bond and enhancing strategic cooperation between the two universities.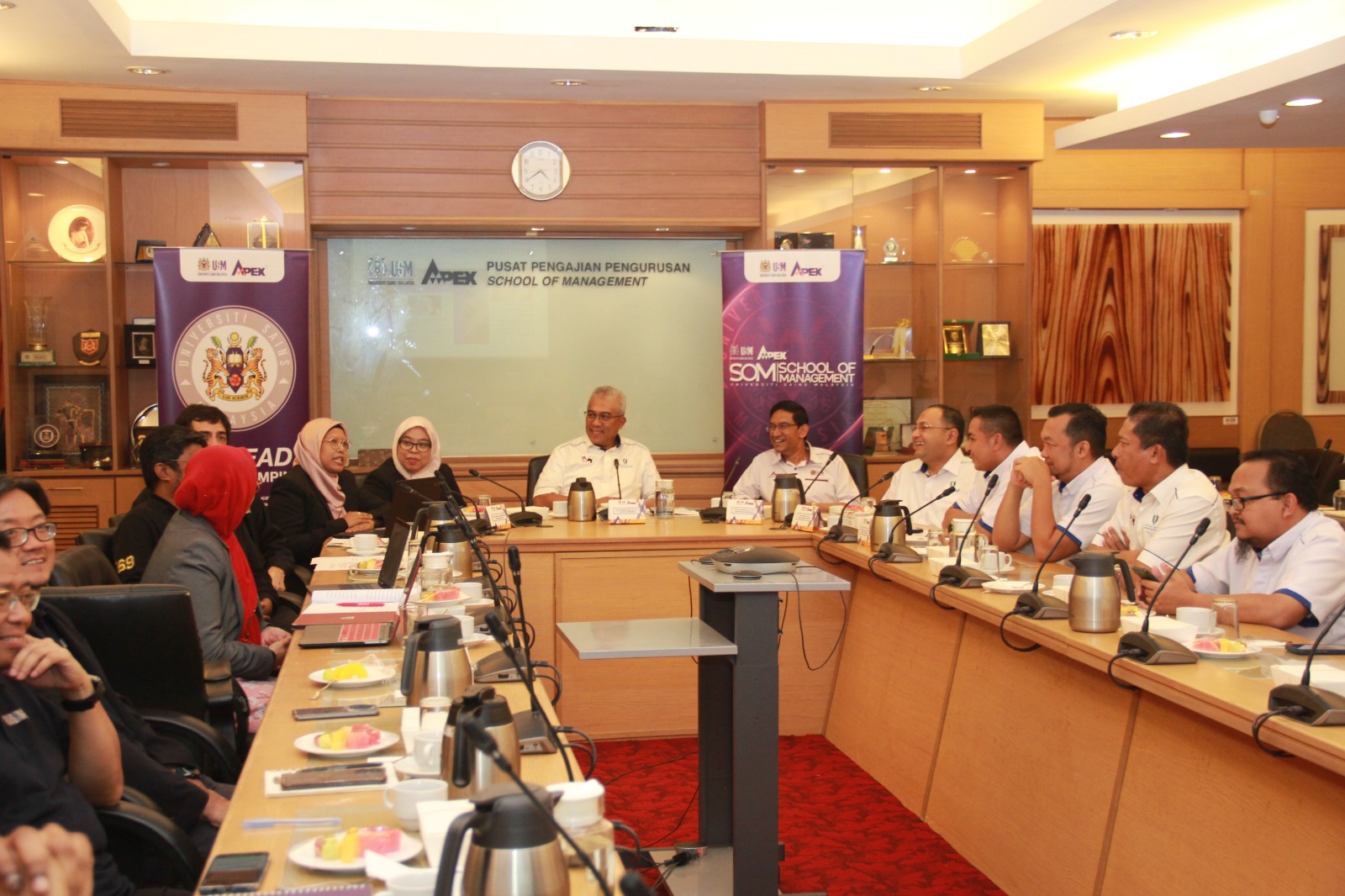 The UMPSA delegation was led by its Vice-Chancellor, Profesor Dato' Ts. Dr. Yuserrie Zainuddin, and consisted of 20 academic and non-academic members.
The purpose of their visit was to study and further discuss Financial Technology (FinTech) and Micro-Credentials initiatives by the USM School of Management (SOM), and the implementation of the Graduate School of Business (GSB) at USM.
According to Yuserrie, UMPSA is keen to learn more about FinTech, as the institution is interested in understanding the programmes offered for potential implementation.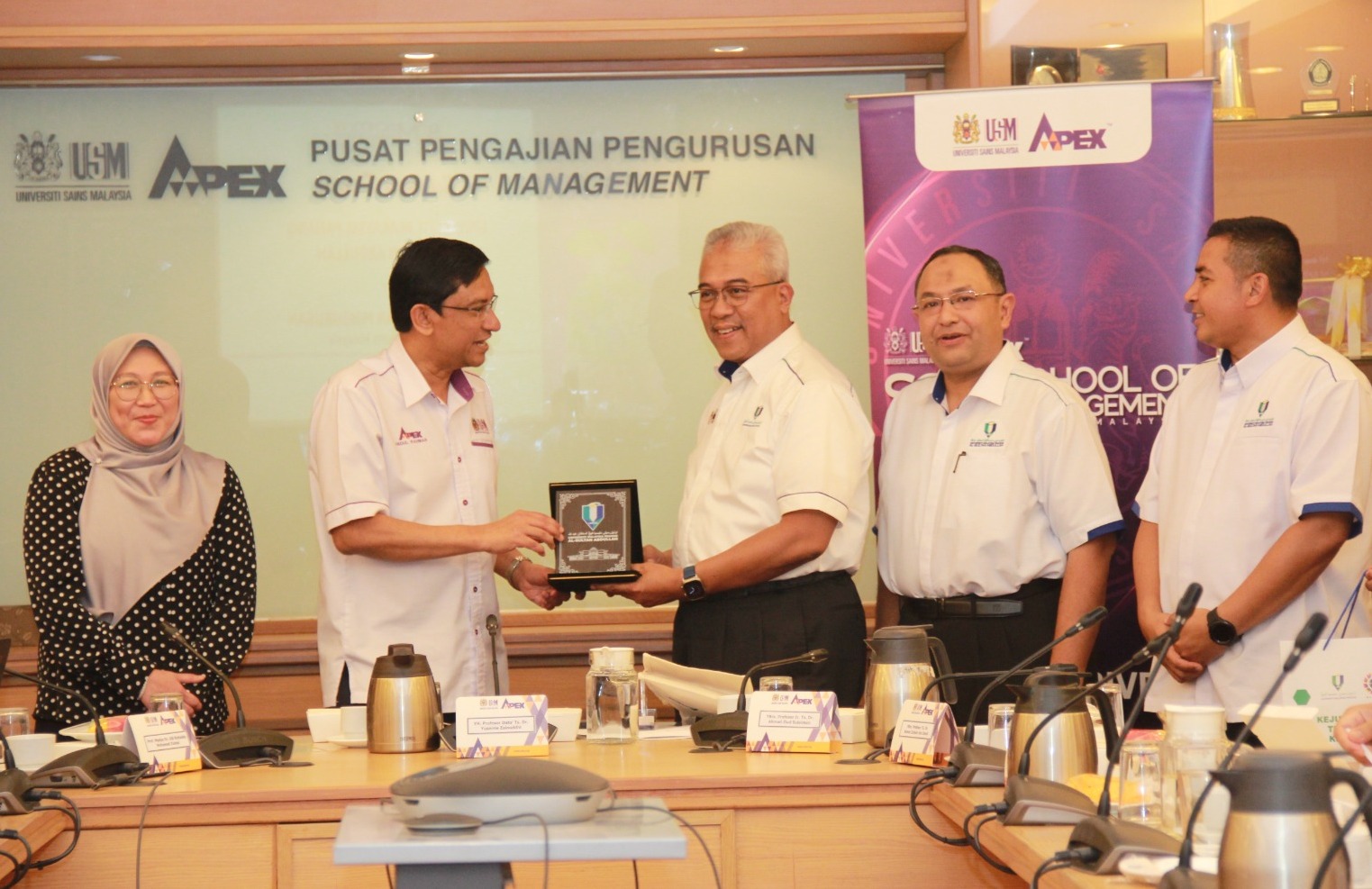 USM Vice-Chancellor, Professor Dato' Ir. Dr. Abdul Rahman Mohamed extended an opportunity to UMPSA for a collaborative partnership, emphasising that by joining forces, both institutions could initiate efforts with specialised expertise in specific areas.
The Deputy Dean of Academic, Career and International Affairs at USM SOM, Associate Professor Dr. Siti Rohaida Mohamed Zainal, who represented the Dean, gave an overview of the School's profile and background. She also led the main discussion, focusing on Micro-Credentials and FinTech programmes.
"This school is dedicated to equipping students with the knowledge and skills necessary to navigate and excel in the rapidly evolving financial technology industry. It offers programmes, courses, and resources tailored to the unique demands and innovations within the FinTech sector," said Siti Rohaida.
Siti Rohaida also highlighted USM SOM's achievements, its international and industry collaborations, and the programmes offered by SOM, including offshore programmes held in Egypt and Turkey.
"Micro-Credentials have transformed the education sector by providing a flexible, pertinent and easily accessible route for acquiring essential skills and knowledge.
"This initiative empowers individuals to adeptly navigate the dynamic job market, yielding benefits for both individuals and society at large," she said.
USM SOM now offers a comprehensive selection, including accredited and professional programmes in Micro-Credentials, boasting a total of 16 Massive Open Online Courses (MOOCs) and 17 Micro-Credentials.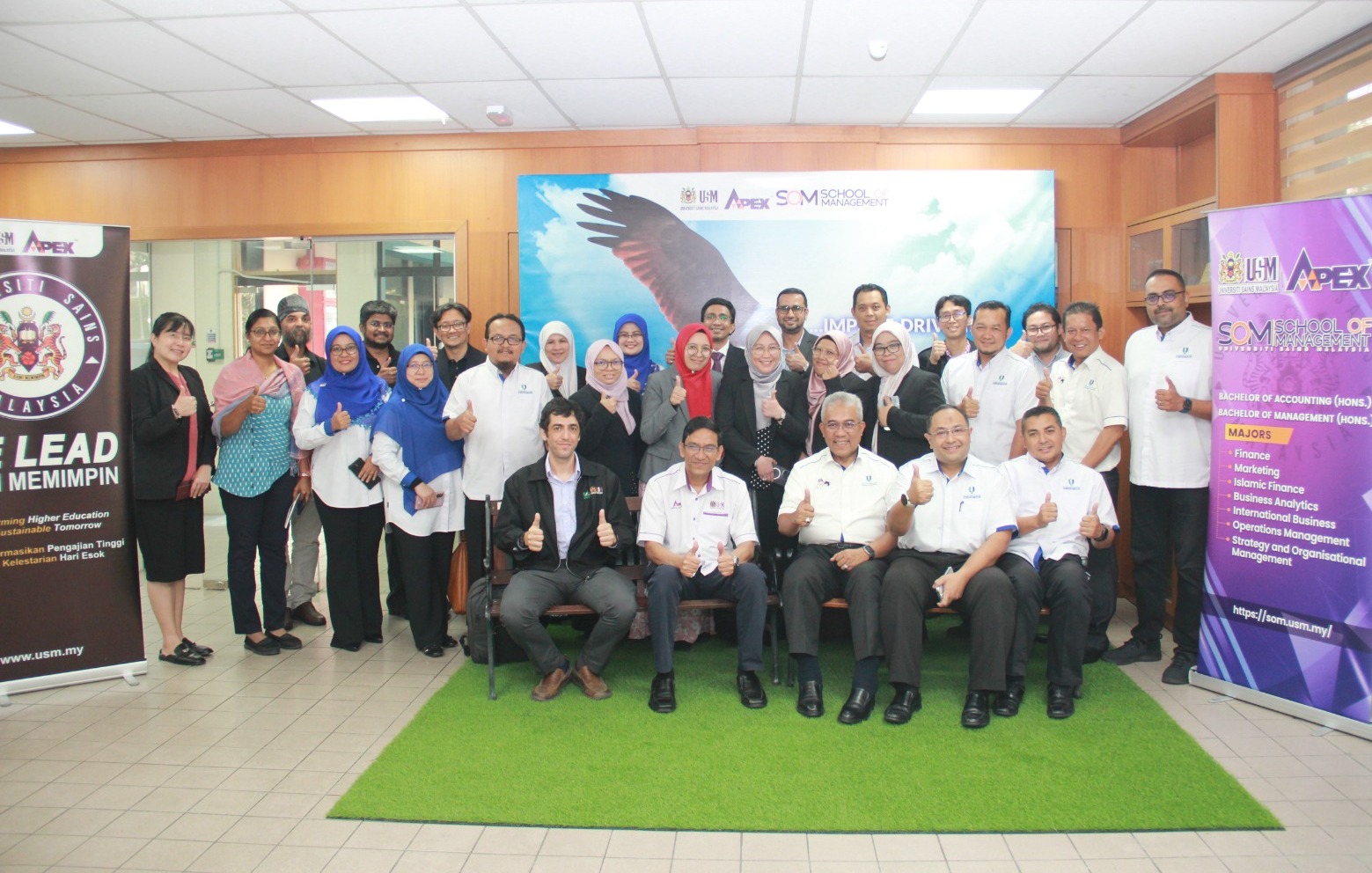 Meanwhile, the Deputy Dean of Research, Innovation and Industry Community Engagement at USM GSB, Dr. Christopher Johann Roland Richardson, who represented USM GSB's Dean, presented the academic programmes offered by the school, the school's talent strength, and the accreditation received by the school.
GSB has recently received the Association to Advance Collegiate Schools of Business (AACSB) accreditation, a prestigious global ranking, for the next five years from 2023 to 2028. The AACSB accreditation recognises institutions that have demonstrated a focus on excellence in all areas, including teaching, research, curriculum development, and student learning.
Also present during the visit were UMPSA Deputy Vice-Chancellors, and academicians from USM SOM and GSB.
Text: Nur Farrah Ezlin Mohd Suhaimi/Photo: Mohd Fairus Md Isa