USM INKS MoU WITH INTEL MICROELECTRONICS TO STRENGTHEN UNIVERSITY-INDUSTRY COOPERATION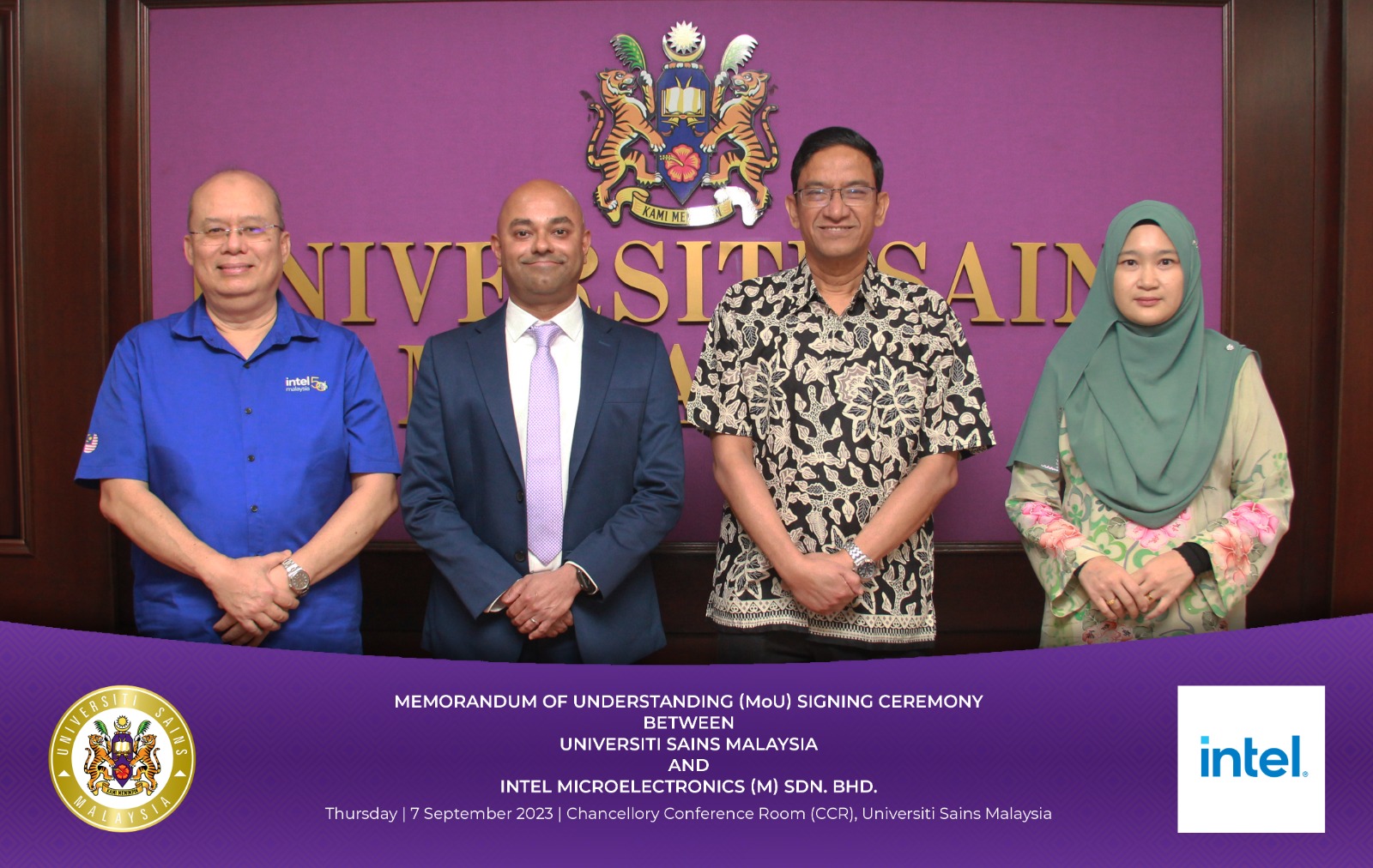 USM PENANG, 8 September 2023 – Taking another significant step forward in its pursuit to strengthen its ties with the industry players, Universiti Sains Malaysia (USM) has signed a Memorandum of Understanding (MoU) with Intel Microelectronics (M) Sdn. Bhd. yesterday at USM main campus.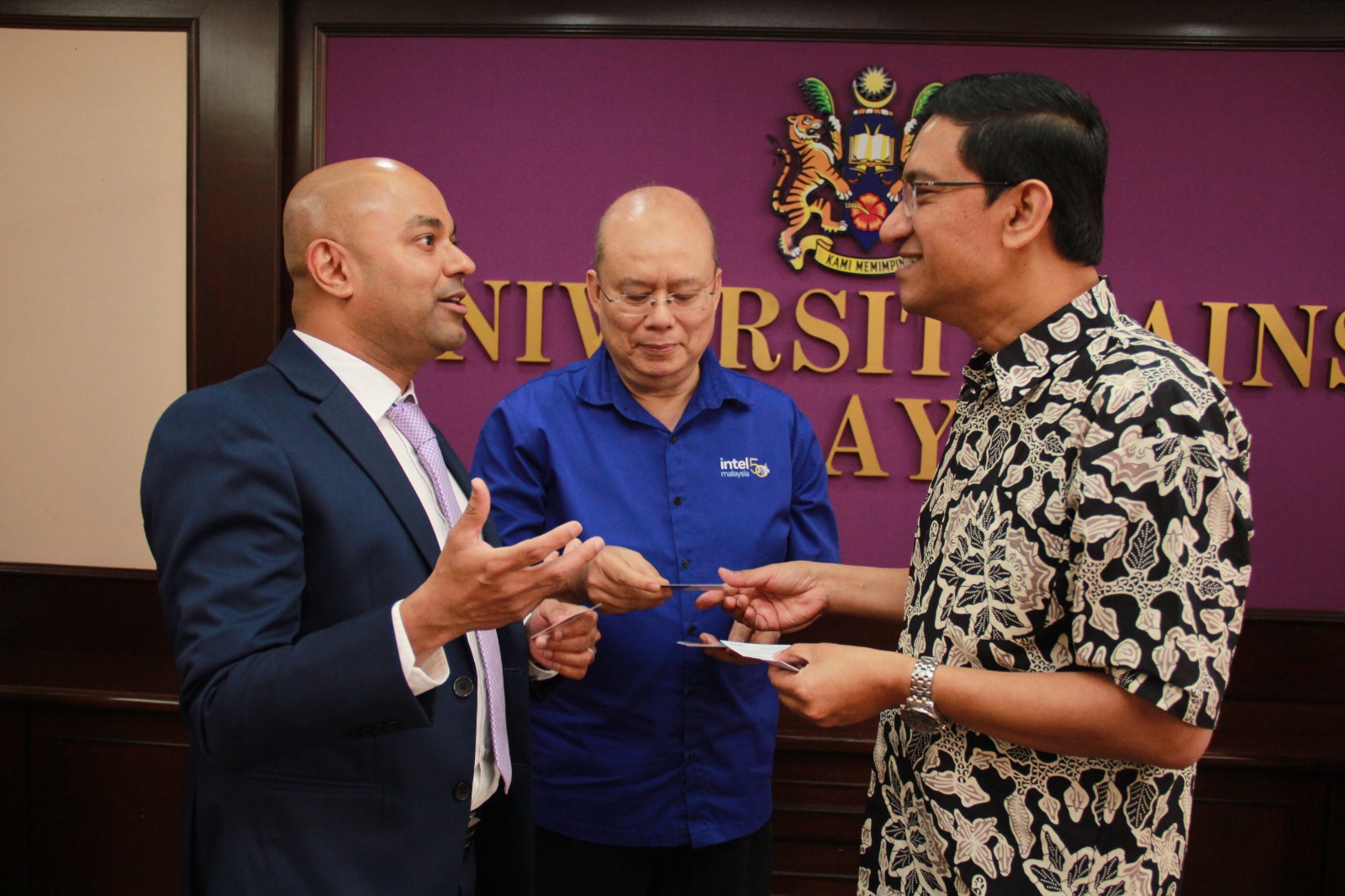 The collaboration will involve joint programmes in research and development (R&D), academic, training, workshops and seminars; exchange of publications, exchange of students and/or staff, as well as other forms of commitments that will be mutually identified and agreed by both parties.
Signing on behalf of USM was the Vice-Chancellor, Professor Dato' Ir. Dr. Abdul Rahman Mohamed while Intel Microelectronics (M) Sdn. Bhd. was represented by the Vice-President Intel Corporation and GM Intel Malaysia Design Center, Suresh Kumar Dass; in the presence of the USM Director of Industry Network, Assoc. Prof. Dr. Shaizatulaqma Kamalul Ariffin; and Intel Malaysia Public Affairs Director, Amran Mohamad Dom.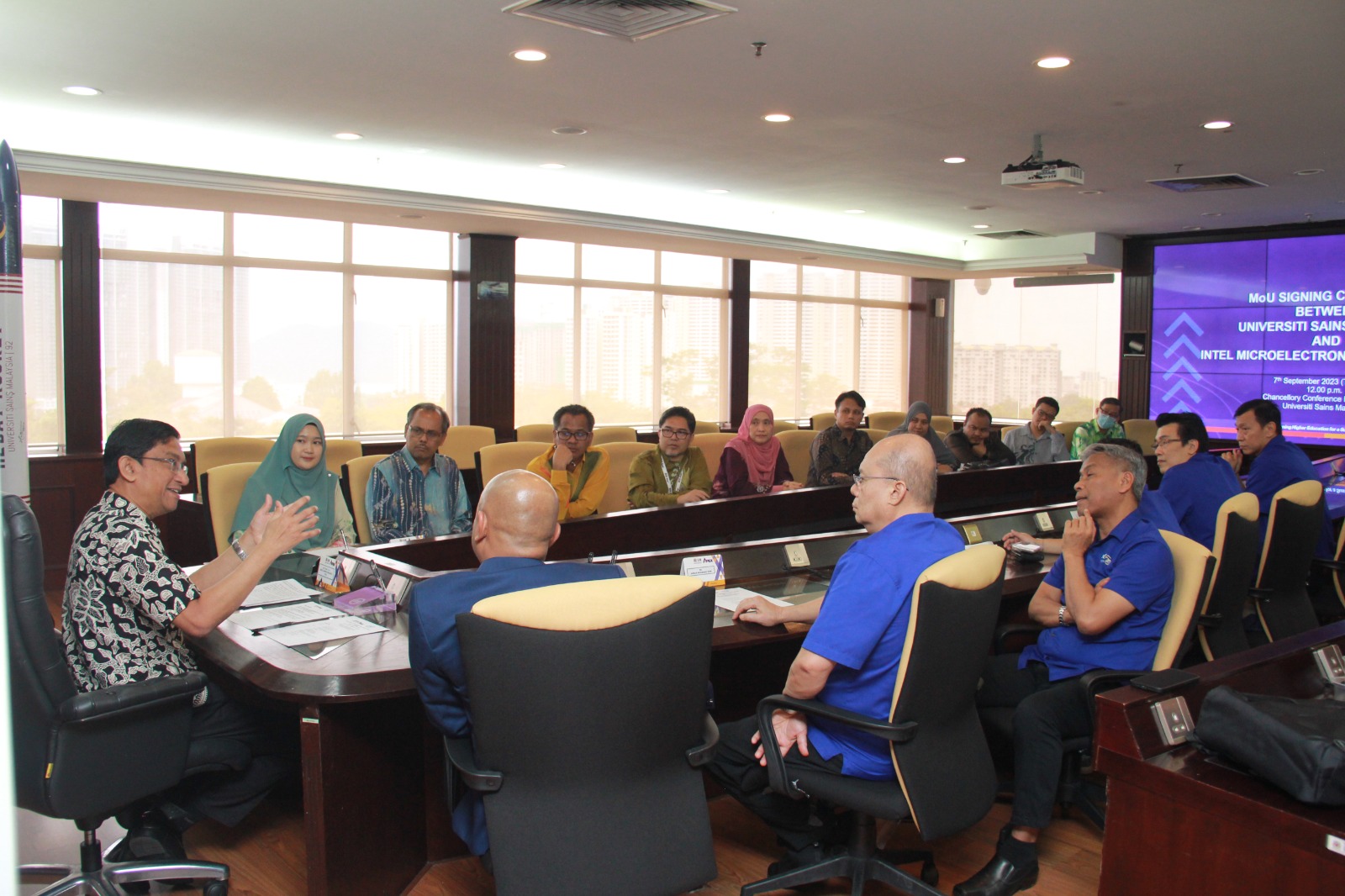 According to Abdul Rahman, the MoU was another significant milestone in USM's efforts in strengthening cooperation with its industry partners, and he was well pleased for USM to partner up with Intel, the world's largest semiconductor chip maker.
"USM is enthusiastic in collaborating further with Intel. The university hopes to extend its expertise and talents to establish further connection in producing quality, future-ready graduates that would meet the IR4.0 industry needs, and relevant academic programmes," he said.
Both teams discussed on the Intel research grant, namely the Intel Pelican Grant and on research collaborations in the fields of chemical, material, mechanical, physics, electrical & electronic, artificial intelligence and data science.
"USM believes that the Intel Pelican Grant will provide an opportunity to the researchers to further boost the university-industry cooperation in research and technological innovation that would benefit both sides," added the Vice-Chancellor.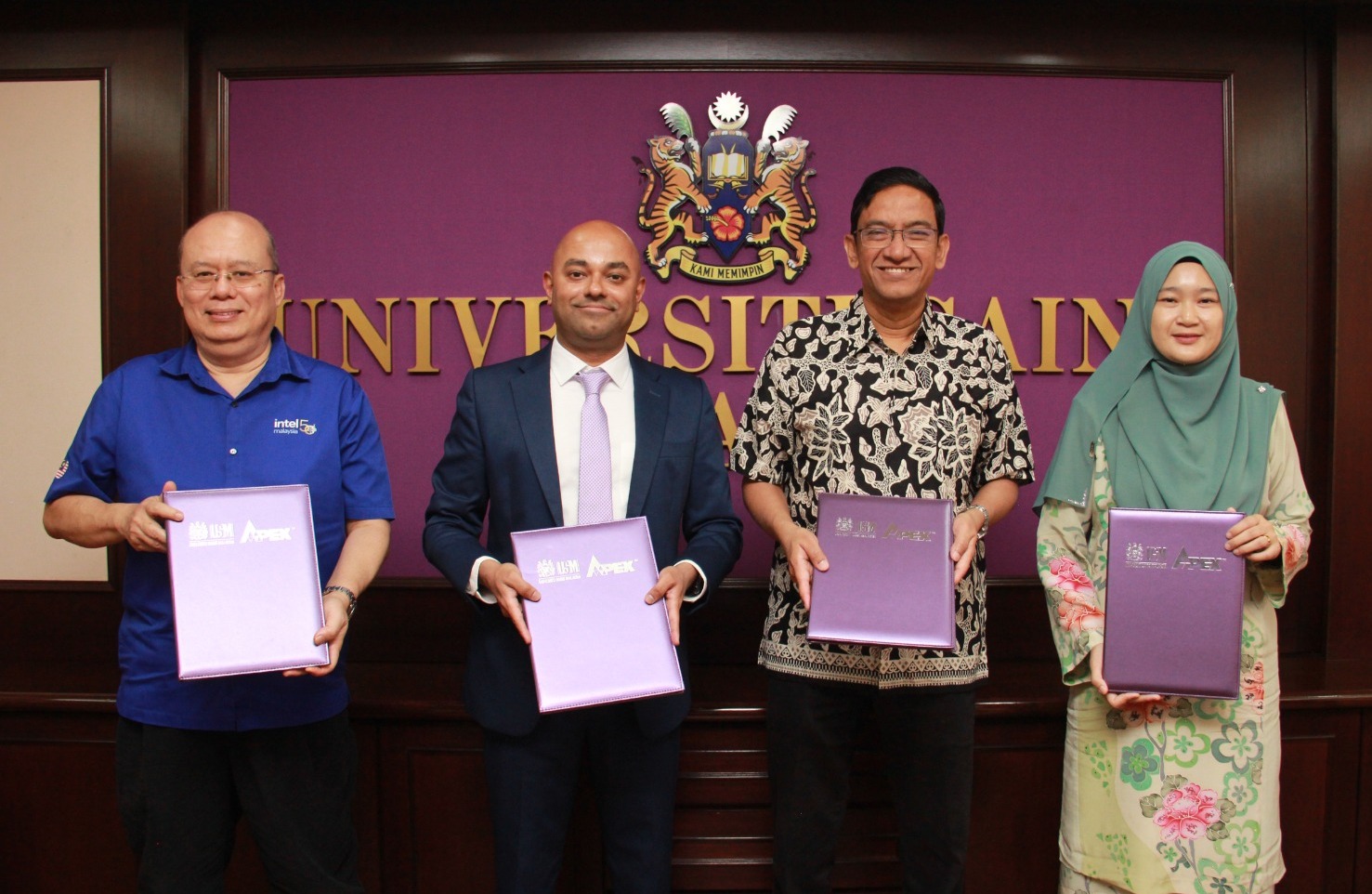 Suresh Kumar said, "Intel has been a pioneer investor in the E&E sector in Malaysia for more than 50 years. As part of our long-term growth plans in areas of Advanced Packaging, Assembly Test Manufacturing, Design & Development and Shared Services, Intel requires more graduates from Engineering and multiple other disciplines."
"We have observed the positive development of additional new FDIs and local investments in Malaysia. As a result, we believe that closer collaboration between industry players and universities is key to building talent in the right quantity and of the right calibre for the country.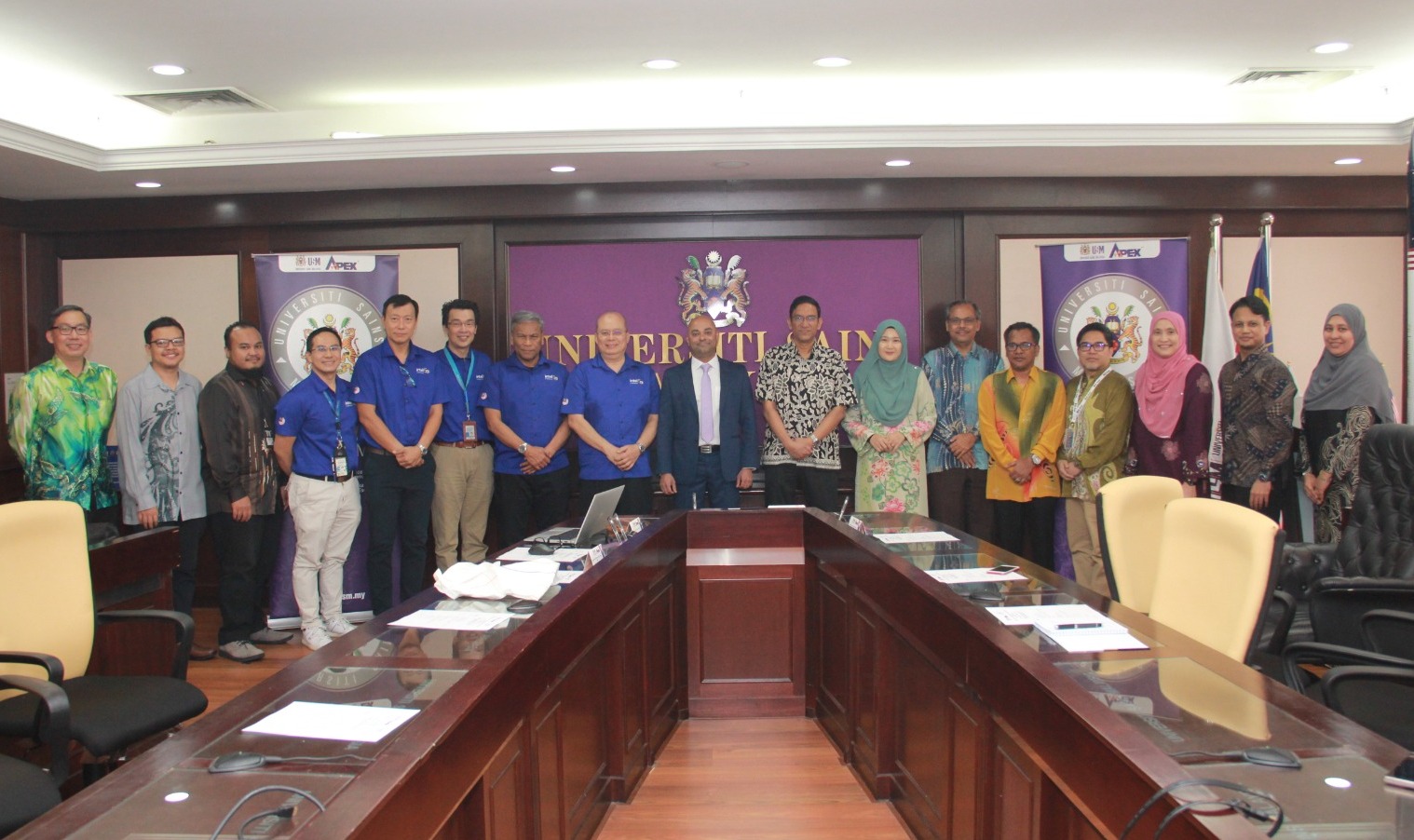 "Hence, the MoU signed today between Intel and USM is expected to further strengthen collaboration between us, to achieve these objectives for the collective good of the country," he said.
Also present at the ceremony were Intel senior management, and the deans of several schools and directors of research centres that are collaborating with Intel.
Text: Siti Fatimah Abu Mansor & Tan Ewe Hoe/Photo: Mohd Fairus Md Isa/Infographic: Muhamad Ihsan Abu Bakar