USM AND ADRC JOIN FORCES FOR ESG PROJECT
USM PENANG, 7 September 2023 – Universiti Sains Malaysia (USM) and the Advance Dispute Resolution Centre (ADRC) signed a Memorandum of Agreement (MoA) to collaborate on a joint Environmental, Social and Governance (ESG) project here recently.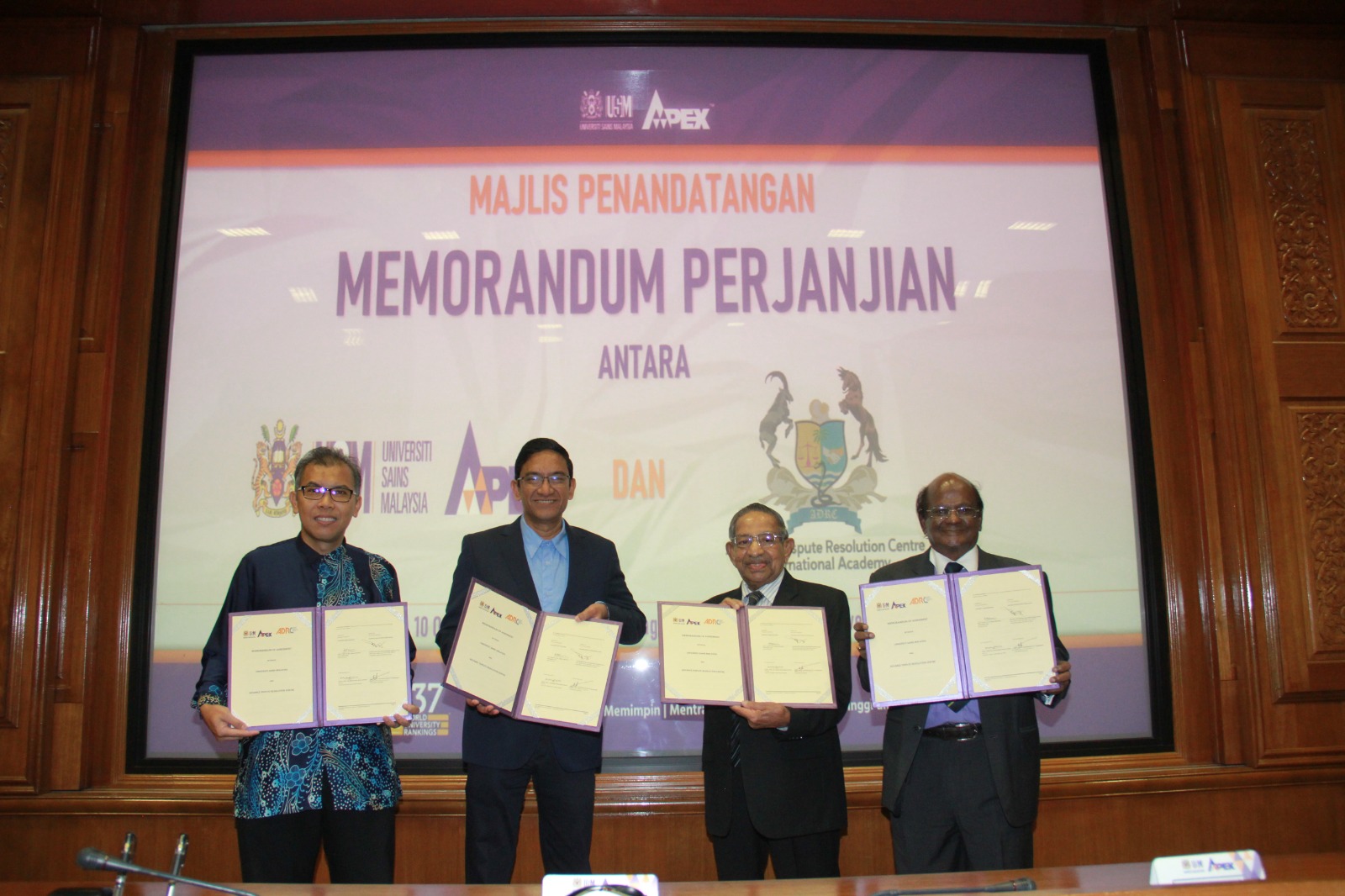 Under this strategic alliance, both parties will launch an ESG Pioneer Award project to be jointly organised and assessed by them and endorsed by Yayasan Amal Tuan Yang Terutama Pulau Pinang.
USM Vice-Chancellor, Professor Dato' Ir. Dr. Abdul Rahman Mohamed signed the MoA on behalf of the university while Tan Sri (Dr.) Hj Mohd Yussof Latiff, Senior Honorary Advisor of ADRC, signed for the NGO.
The MoA signing ceremony held on 10 August 2023, was witnessed by ADRC Honorary Advisor Dato' Seri R. Arunasalam V. Ramasamy and the Director of USM's Centre for Global Sustainability Studies (CGSS), Associate Professor Dr. Mohd Wira Shafiei.
In his remarks, Abdul Rahman hoped that the MoA would encourage industries to support the Sustainable Development Goals (SDG) agenda and domestic policies through their involvement and adherence to ESG standards.
"I believe this partnership will further strengthen networking between USM and industries through education, research, IP/innovation, publications, consultation and training besides producing an ESG working framework for various industrial sectors.
"Hopefully all our noble efforts will support and facilitate the expansion of economic activities and contribute to the socioeconomic growth of the country, as well as towards the regional and global sustainability agenda," he added.
The event also witnessed the presentation of certificates to advisors and subject matter experts related to the project.
Meanwhile, Mohd Yussof said the ESG Pioneer Award can serve as a catalyst for promoting sustainable business practices and recognising corporate leadership in this area.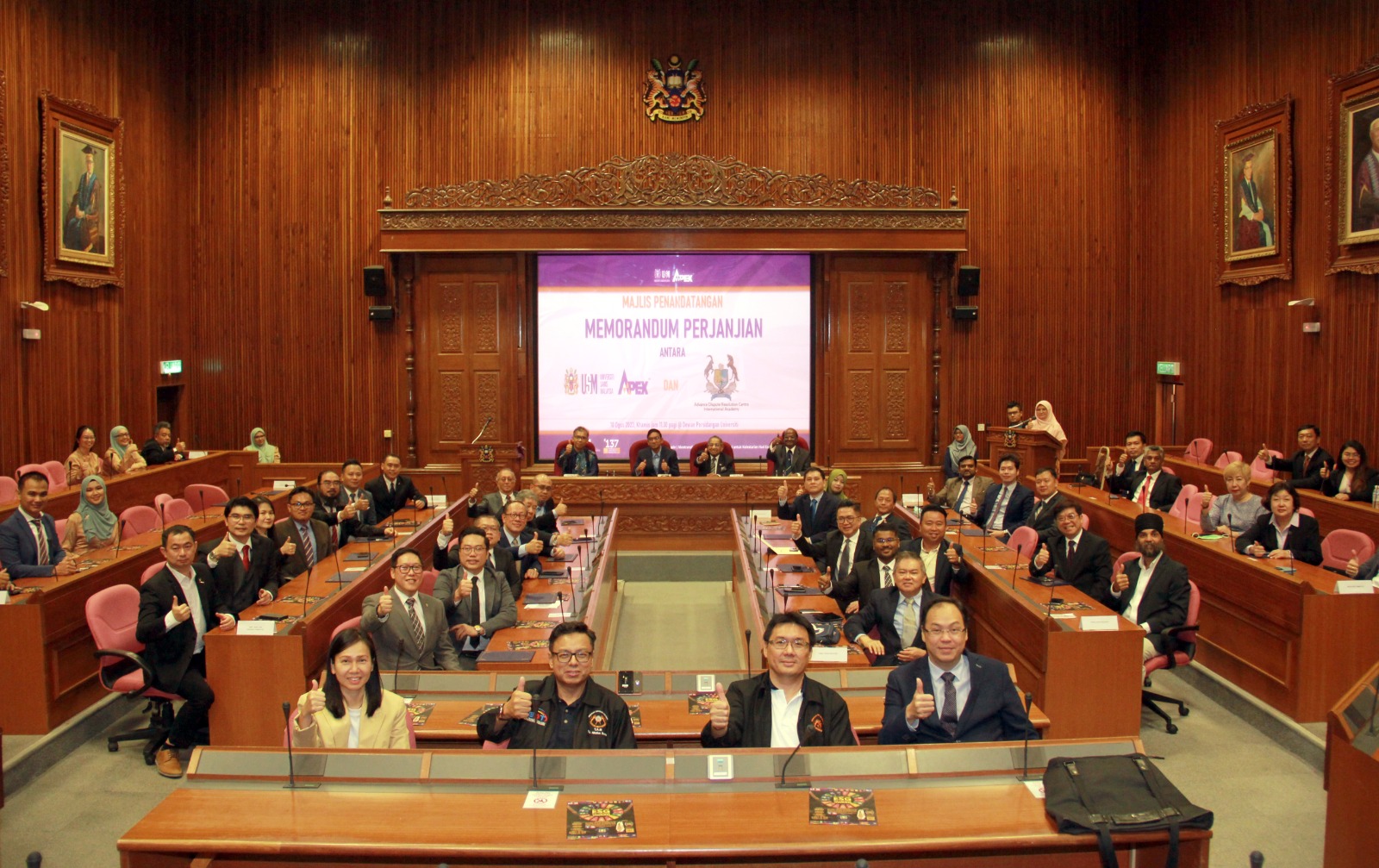 "The award is to recognise organisations that had made significant contributions to the advancement of sustainable business practices through incorporating ESG factors in their operations and decision-making processes.
"By highlighting best practices of organisations as well as their ESG readiness, the award can also encourage more organisations to prioritise sustainability and create a positive impact on society and the environment," he said.
Mohd Yussof, who is also President of the Penang State Goodwill Consultative Council (Muhibbah) in which ADRC is also affiliated, hoped the collaboration would focus on managing the social pillar of ESG and encourage organisations to contribute towards the social-related project on a long-term basis.
Also present were the USM Deputy Vice-Chancellor of Industry, Community Network and Institutional Sustainability, Profesor Dr. Azlan Amran; principal officers of USM and ADRC; and ADRC strategic partners.
Text: Tan Ewe Hoe