USM, LEAVE A NEST EMBARK ON JOINT RESEARCH PARTNERSHIP TO ADVANCE SCIENCE AND TECHNOLOGY
USM PENANG, 28 August 2023 – Universiti Sains Malaysia (USM) today held a Memorandum of Understanding (MoU) signing ceremony to strengthen ties with Leave A Nest Malaysia Sdn. Bhd.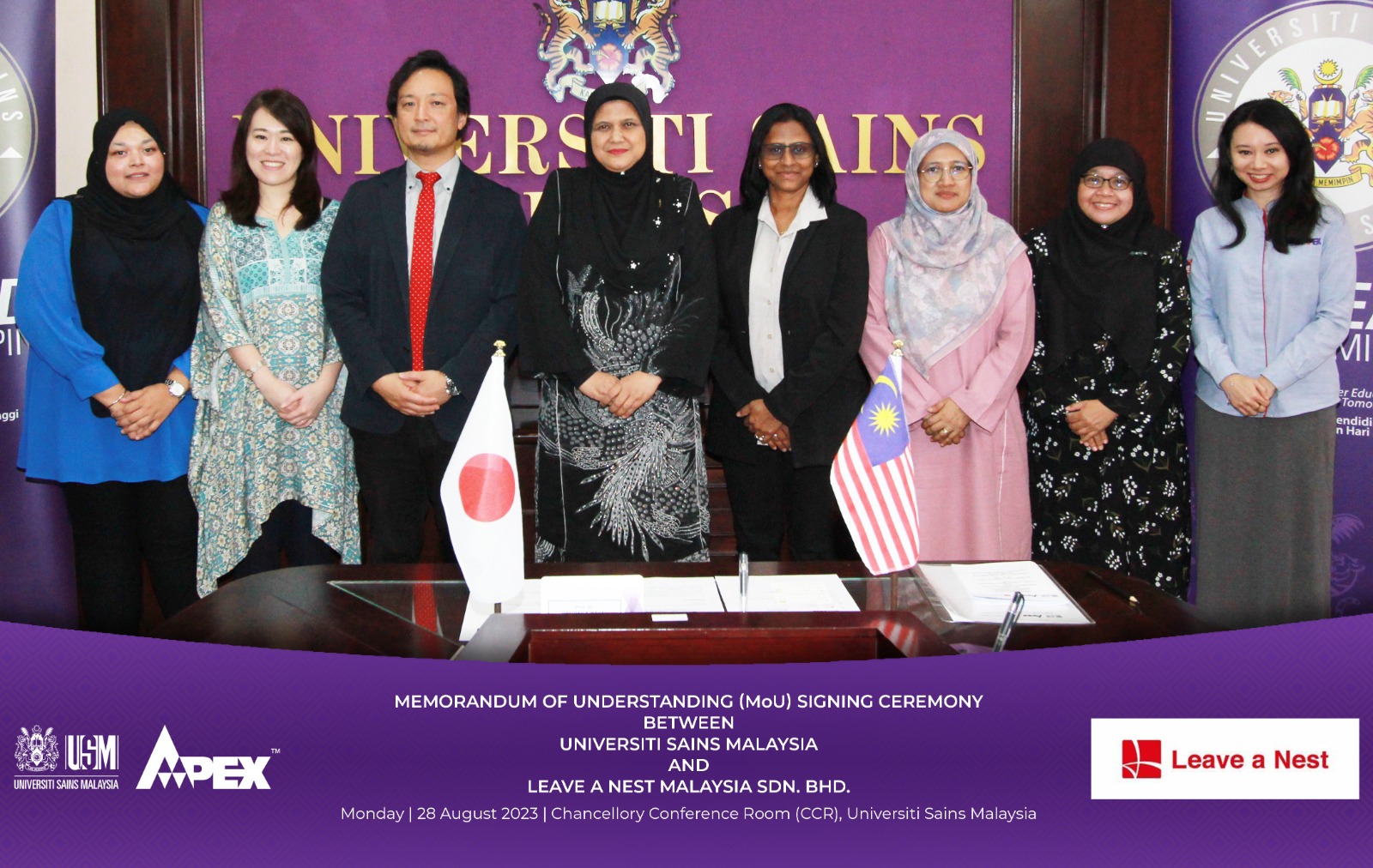 The MoU between USM and Leave A Nest Malaysia (LVNMY) is aimed at facilitating the necessary measures to foster, advance, and establish research, education, and training initiatives between the two entities.
This MoU underscores USM's commitment towards exploring potential opportunities for collaborative research and partnerships in the advancement of science and technology.
This agreement will allow both parties to cooperate in key areas, namely;
Research opportunities for USM students at Leave a Nest or its affiliates;

Joint research collaboration in science and technology development;

Assisting USM by nurturing researchers and start-ups to commercialise R&D products;

Lectures and other educational input by experts from LVNMY;

Mutual participation in academic meetings and collaborative projects to enhance educational programme development;

Co-organising related seminars and conferences; and

Any other academic linkages and cooperation that will be mutually identified and agreed by the parties from time to time.
Signing on behalf of USM, representing the Vice-Chancellor was the Deputy Vice-Chancellor Research and Innovation, Professor Dr. Habibah A Wahab, while Leave A Nest Malaysia Sdn. Bhd. was represented by Dr. Yukihiro Maru, Chief Executive Officer, Leave A Nest Japan.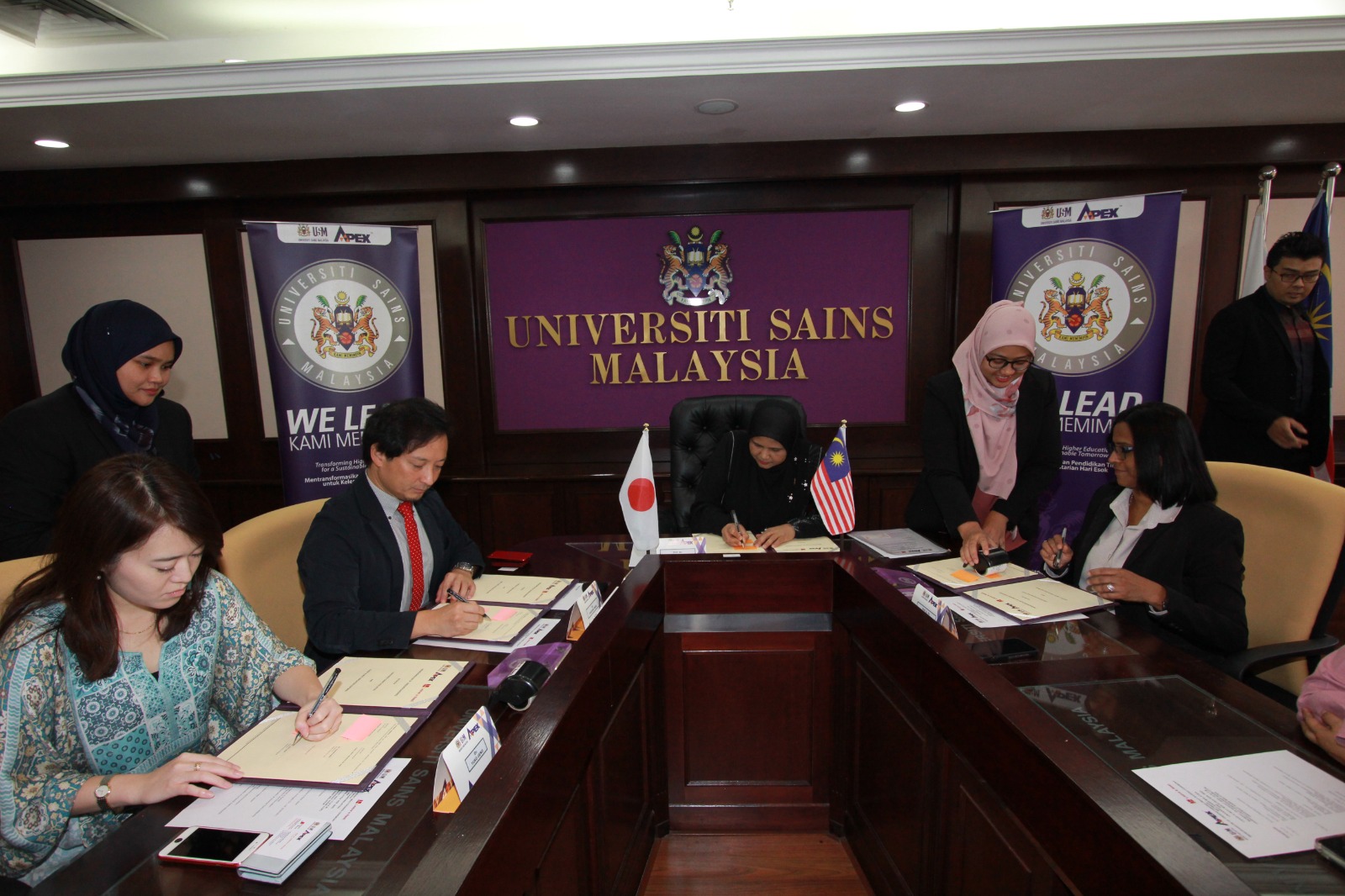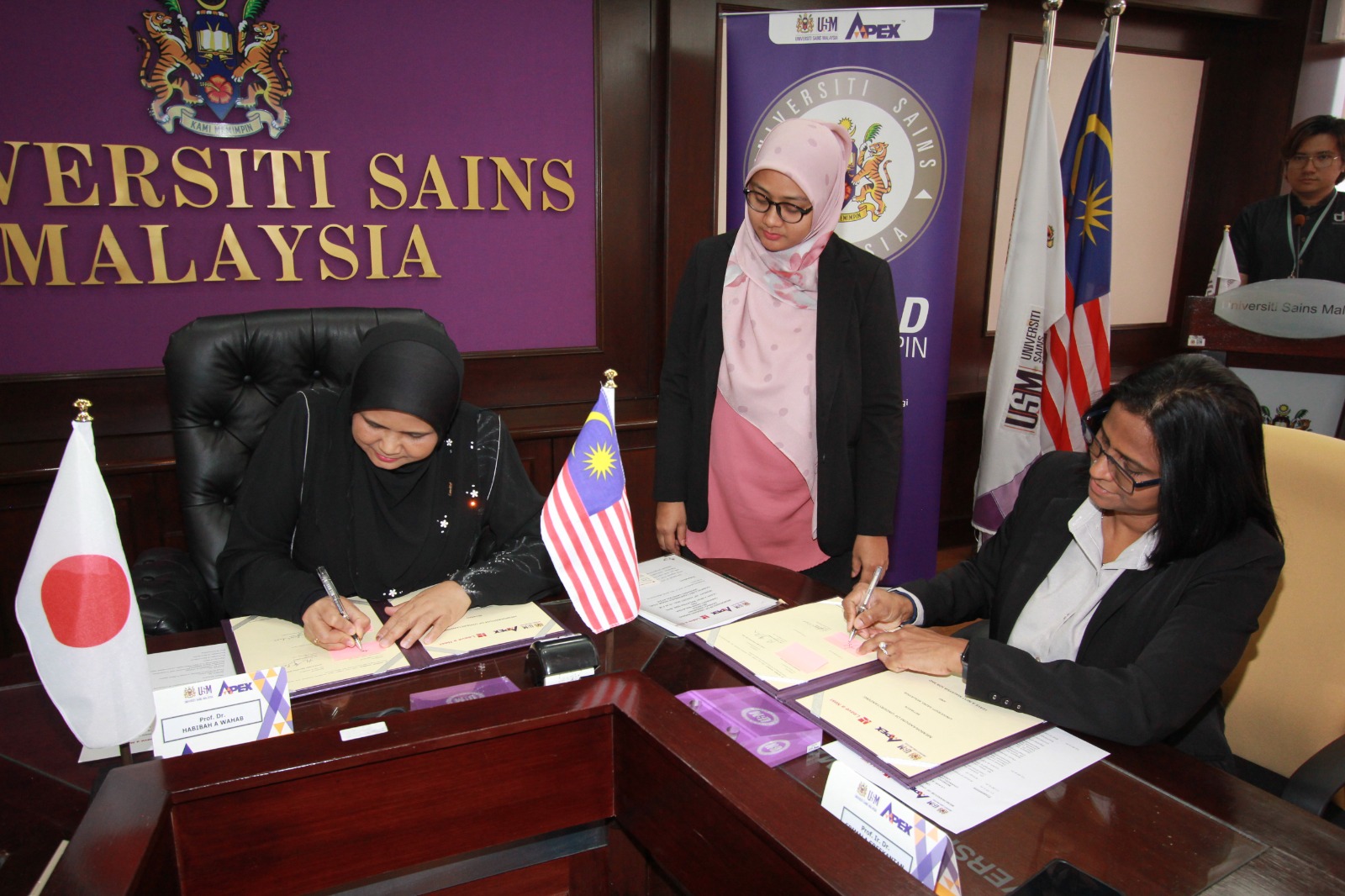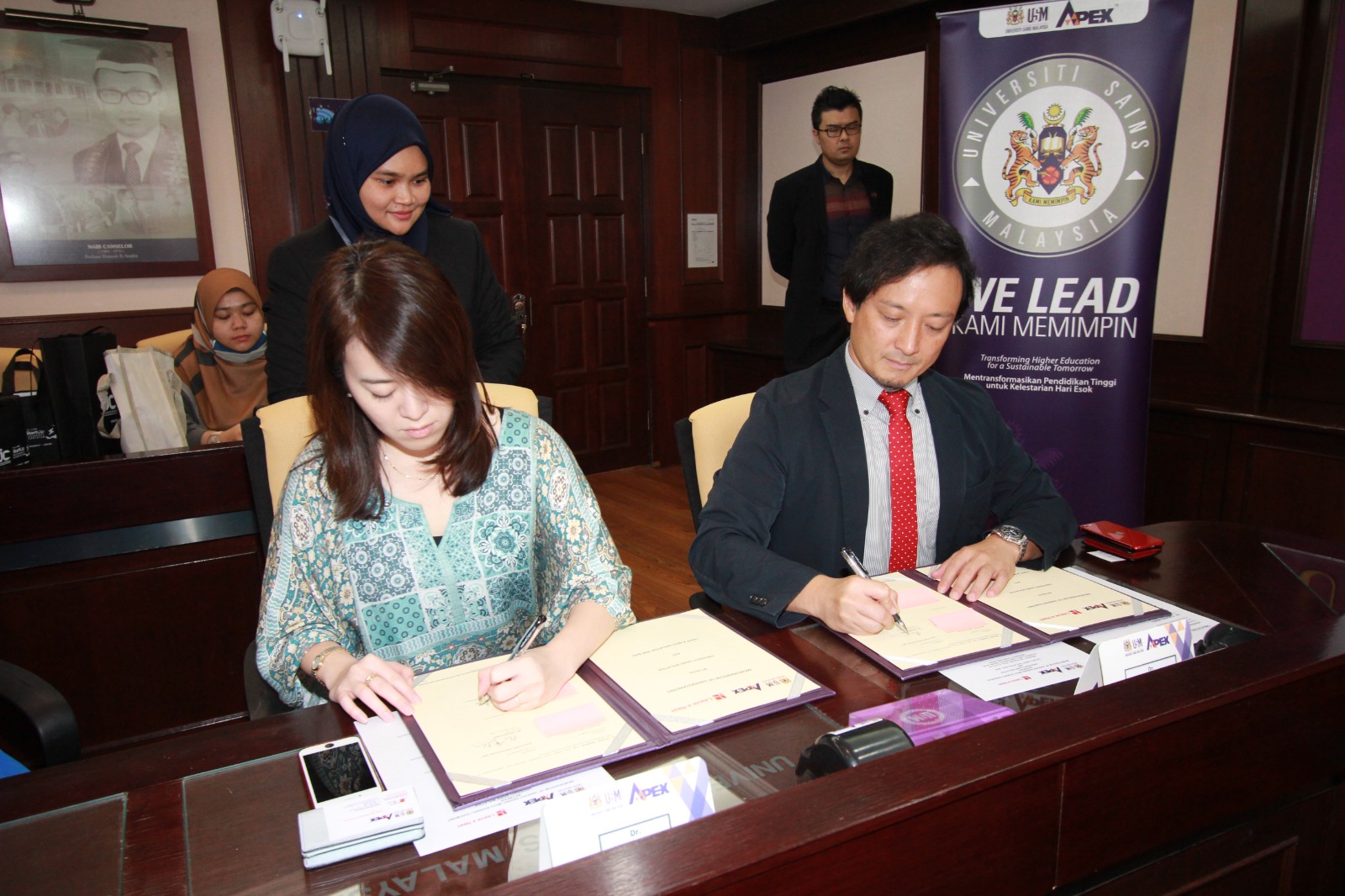 Habibah stated that USM is well pleased to receive support from Leave A Nest in cultivating the researchers and start-ups to effectively bring research and development products to the commercial realm.
"This timely collaboration with Leave A Nest aligns perfectly with the aspirations of USM.
"USM anticipates that this partnership will further amplify the influence of its fundamental principles on both society and the industry. USM holds firmly to the belief of forging a sustainable future that would empower the bottom billion, in line with its APEX agenda." she said.
"As a result, USM is optimistic that both entities will discover shared objectives and progress collaboratively."
Meanwhile, Yukihiro said that this opportunity would allow them to introduce more innovations to the university.
"Malaysia is one of their target areas and Malaysia provides good opportunities for them to bring in more innovations and knowledge from Japan," he added.
He further said, "there is a resonance in Leave A Nest's vision of "Advancing Science and Technology for Global Happiness," which harmonises seamlessly with USM's vision and mission."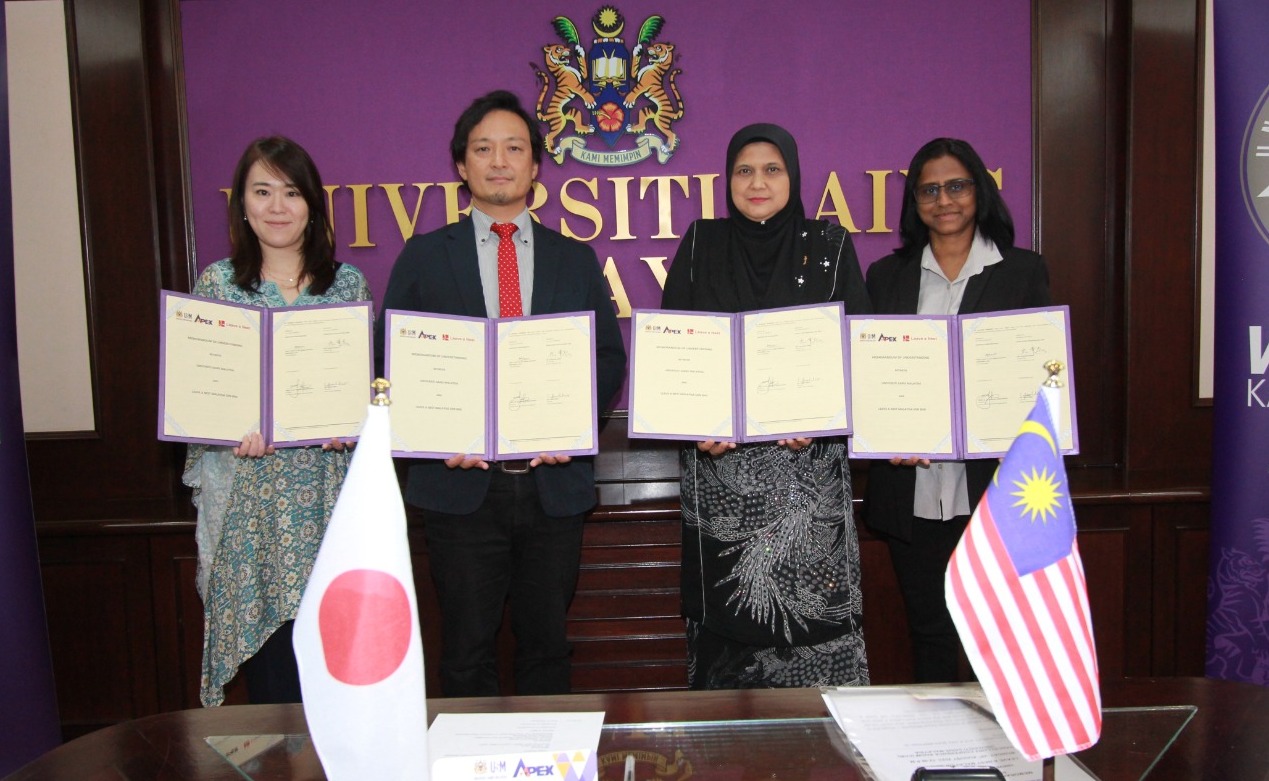 Also present were Shiro Ueyama [Managing Director, Dainihon Jochugiku Co., Ltd. (KINCHO)]; Professor Ir. Dr. Srimala Sreekantan (Director, Centre for Innovation & Consultation, USM); Dr. Yuko Ueno (Director, Leave a Nest Malaysia); principal officers of Leave a Nest Japan, Leave a Nest Malaysia, KINCHO and USM.
Text: Siti Fatimah Abu Mansor/Editing: Mazlan Hanafi Basharudin/Photo: Mohd Fairus Md Isa