USM RESEARCHERS ACHIEVED 'TEN OVER TEN' SUCCESS AT ITEX 2023
KUALA LUMPUR, 13 May 2023 – The group of researchers from Universiti Sains Malasyia (USM) have once again excelled by successfully winning 10 gold medals out of the 10 participations in the recently-held 34th International Invention, Innovation and Technology Exhibition (ITEX) 2023.
In addition to garnering another 100% achievement in the number of medals won, USM through Associate Professor Dr. Mohd Hazwan Hussin also won the Asian Invention Excellence Award, which is an award given to the invention with the highest score for the entire ITEX competition.
ITEX 2023 which took place from 11 – 12 May 2023, at the Kuala Lumpur Convention Centre (KLCC) is an important platform for researchers in highlighting their innovations and technologies designed to protect the environment.
With the theme 'Technology Reversing Climate Change', ITEX 2023 received approximately 700 submissions, across public and private varsities nationwide.
The list of USM researchers and their innovations is as follows:
1. Associate Professor Dr. Mohd Hazwan Hussin (School of Chemical Sciences) -- LIGNO XP-PRIMER - An Excellent Green Preservative for Archaeological Metals and recipient of the Special Award (Asian Invention Excellence Award)
2. Professor Ir. Dr. Srimala Sreekantan (School of Materials and Mineral Resources Engineering) -- BIOEYFE – A New Generation Blood Bag to Combat Dehp Issues in PVC Blood Bag
3. Dr. Mohd Nadhir Ab Wahab (School of Computer Sciences) -- iPASSENGER – Smart Passenger Analytic System
4. Ts. Dr. Nur Azlina Mohamed Mokmin (Centre for Instructional Technology and Multimedia) -- VIHAB – Virtual Intelligent Health Hub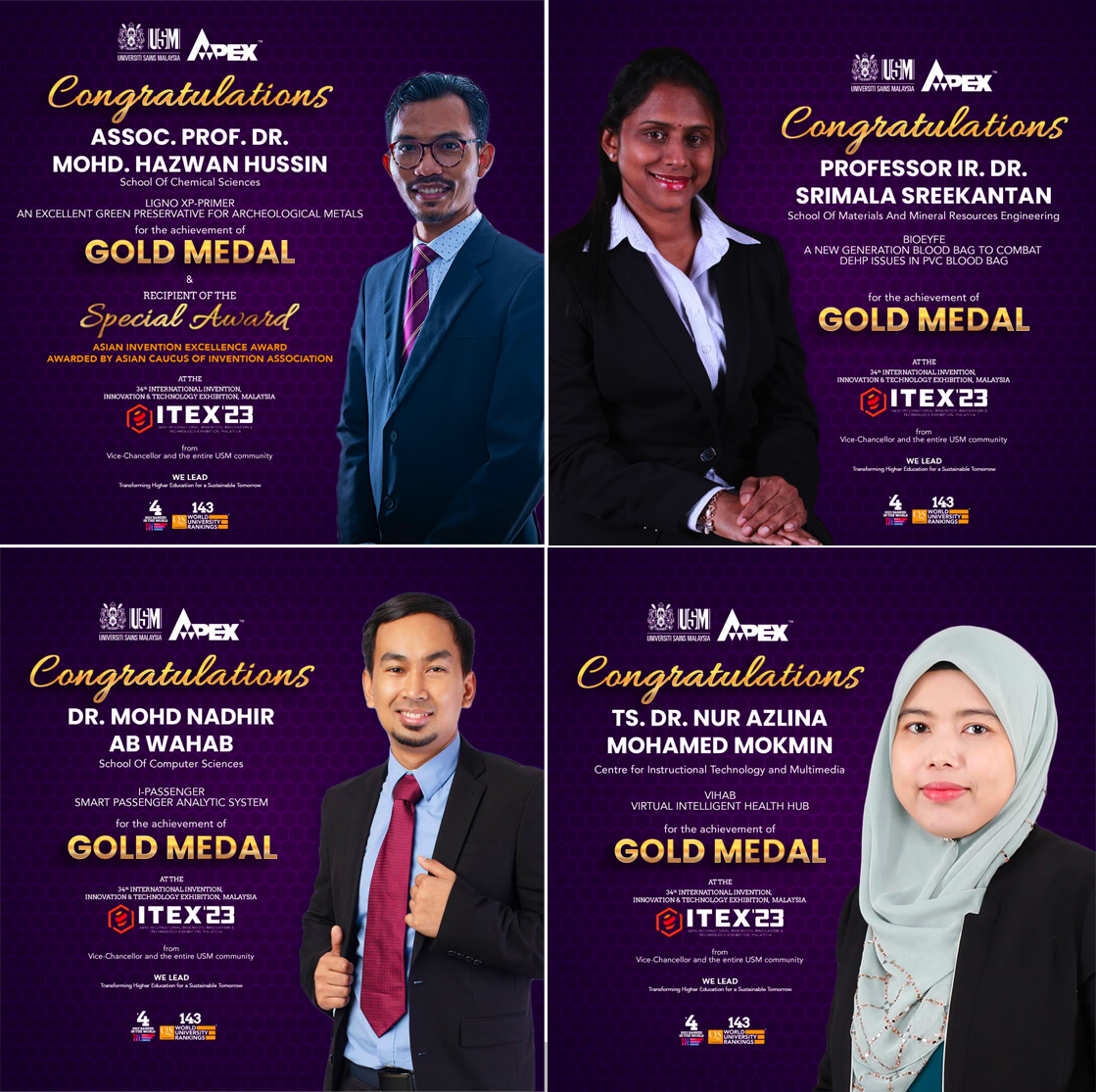 5. Associate Professor Dr. Badrul Hisham Yahaya (Advanced Medical and Dental Institute) -- The 3D-Techta for Tracheal Tissue Placement
6. Dr. Citartan Marimuthu (Advanced Medical and Dental Institute) -- DELASA – An Enzyme-Linked Aptasorbent Assay for the Rapid Detection of Dengue
7. Dr. Muhammad Firdaus Akbar Jalaludin Khan (School of Electrical and Electronic Engineering) -- VL DPM – Digital Production Management System
8. Associate Professor Dr. Bakhtiar Affendi Rosdi (School Electrical and Electronic Engineering) -- An Integrated Wood Defect Detection and Sorting System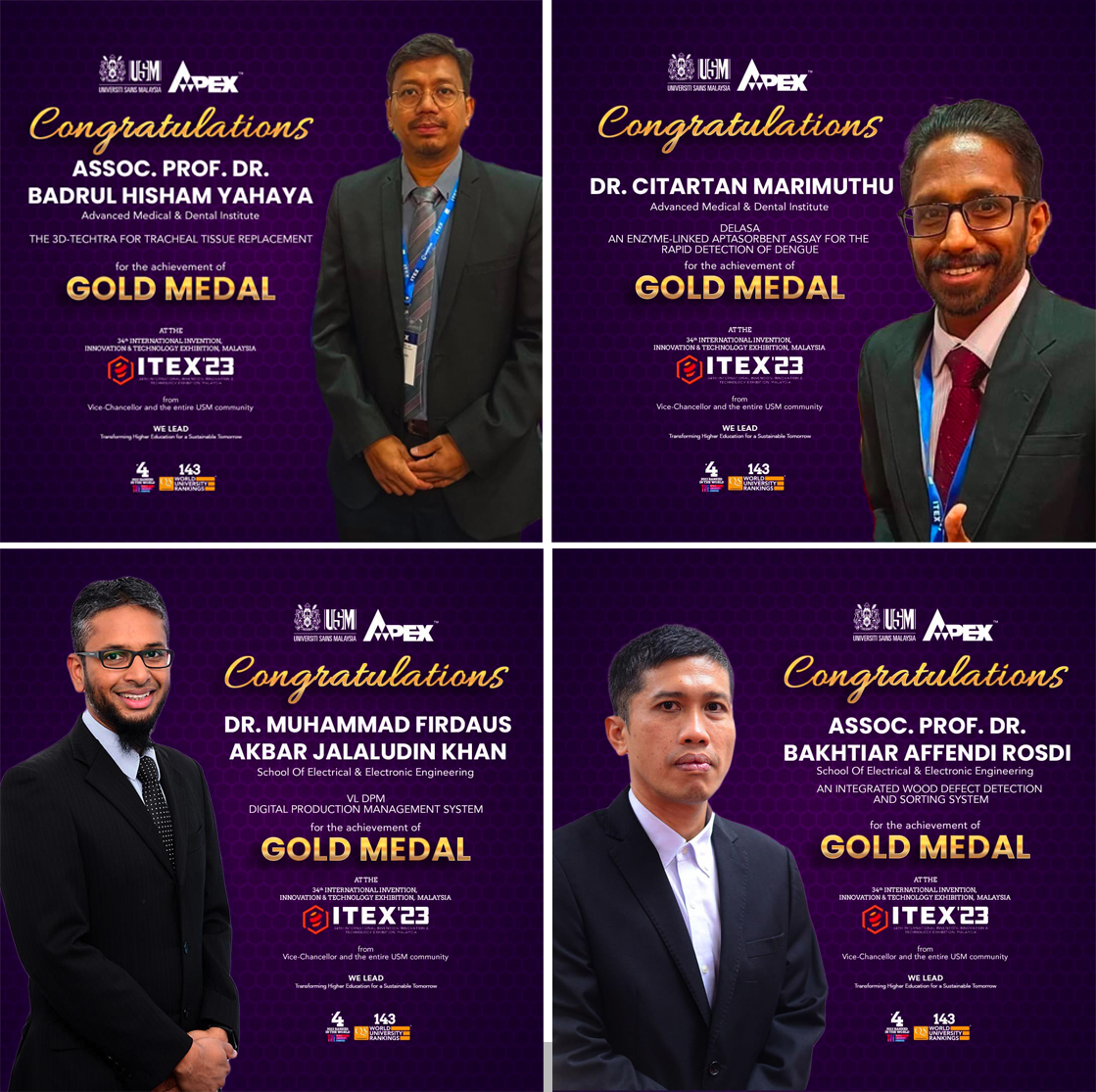 9. Associate Profesor Dr. Garry Kuan (School of Health Sciences) -- Golf Swing Path Trainer for Enhancing Swing Plane, Path and Contact in Golf
10. Dr. Leow Chiuan Herng (Institute for Research in Molecular Medicine) -- SALAMAB – An Advanced Thermostable Reagent for Malaria Diagnostic.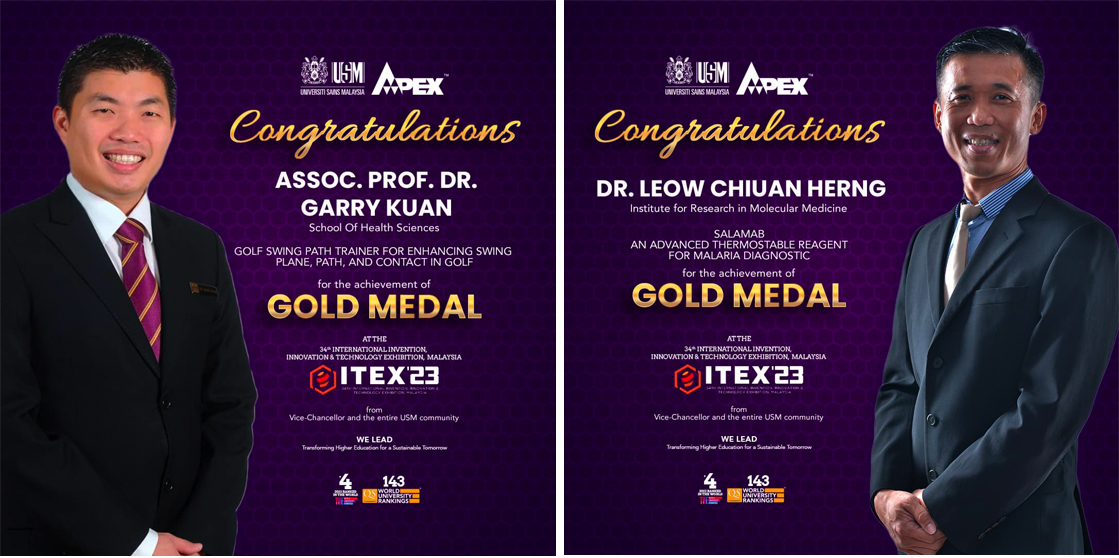 The International Invention and Innovation Exhibition (ITEX) is one of the largest invention exhibitions in the world, showcasing the region's best inventions from Asia and Europe. More than 20 countries took part in this exhibition.
ITEX is an annual exhibition which features 23 invention categories relating to innovation or technology in the sector of machinery, engineering, electronic components, manufacturing technologies, and information and communication technology, which aim to make everyday life easier.
A stellar line-up of 1,000 inventions by local and international inventors, research scientists, research institutions, individual inventors, young inventors and corporations were showcased.
Text: Nur Farrah Ezlin Mohd Suhaimi/Infographic: Ebrahim Abdul Manan