USM-RENESAS INK MoU TO ENHANCE THE QUALITY OF EDUCATION AMONG STUDENTS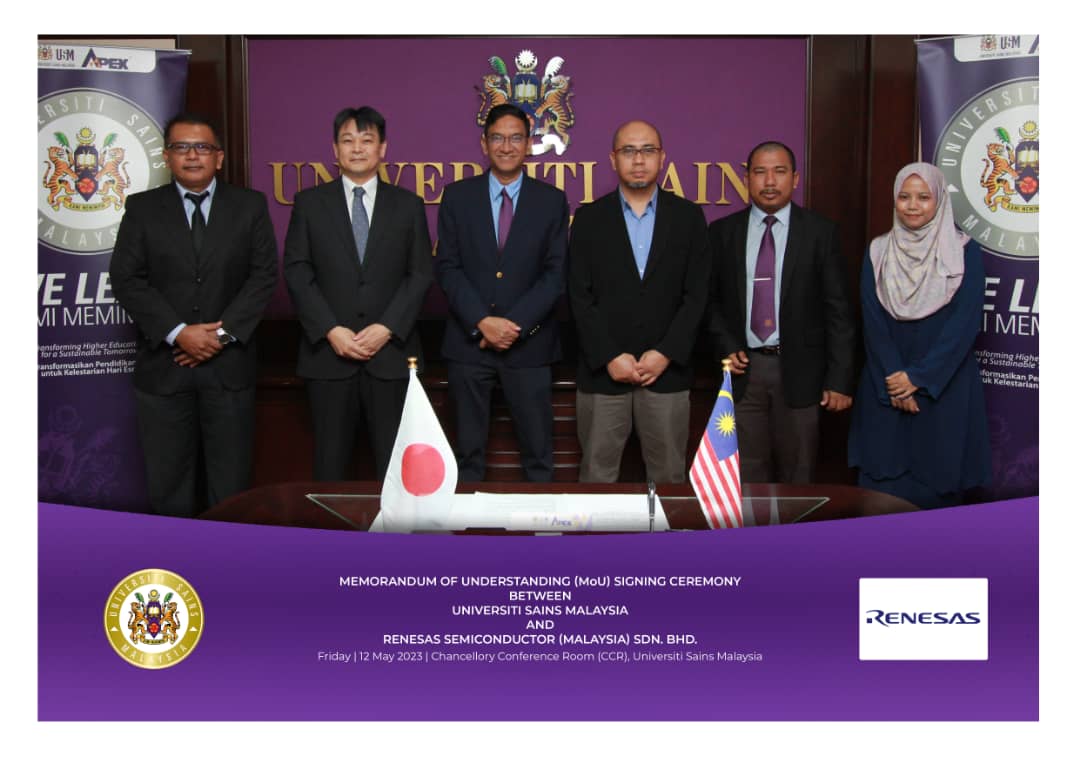 USM PENANG, 12 May 2023 – Universiti Sains Malaysia (USM) via the School of Social Sciences (PPSK) today has entered into a partnership with Renesas Semiconductor (Malaysia) Sdn. Bhd. through the signing of a Memorandum of Understanding (MoU).
This signing event marks an important step towards enhancing the quality of education by providing valuable industry experience to the students and exposure to the Japanese work culture, which includes student internship programme, on-the-job training and other industry-related activities which will equip them with practical knowledge and skills that will help them succeed in their careers.
Signing on behalf of USM was the Vice-Chancellor, Professor Dato' Ir. Dr. Abdul Rahman Mohamed and on behalf of Renesas was its President, Mitsuru Ota, and witnessed by PPSK Dean, Associate Professor Dr. Mohamad Shaharudin Samsurijan and Renesas Semiconductor Human Resource Department Manager, Junaidi Mohamad.
At the same ceremony, another MoU was also signed with Soka University, Japan.
Abdul Rahman in his speech said that USM has already developed strong ties with Renesas Semiconductor (Malaysia) Sdn. Bhd. and Soka University, through a series of meetings for the newly-proposed programme, the Bachelor of Japanese Liberal Studies.
"This programme provides exemplary experiential learning and liberal education that follows the current national and international interdisciplinary studies trend," said Abdul Rahman.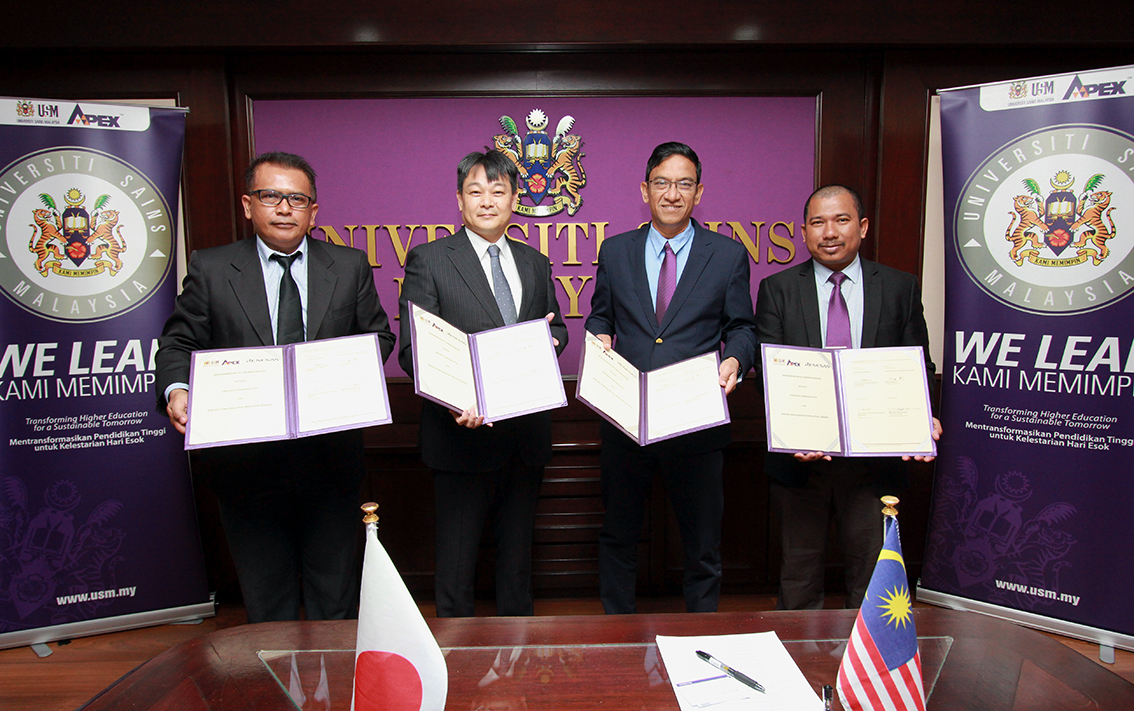 He also said that the development of this programme is very much in line with the APEX university agenda and its core values, all based on academic involvement, research and industrial collaboration as well as student participation.
Meanwhile, Mitsuru Ota in his speech said that, "We are proud to be working with USM, a highly respected institution that shares our commitment to excellence and innovation, whereby this partnership is a testament to the importance of industry-academia collaborations that will benefit both parties".
"With the knowledge and skills acquired through this collaboration, it is hoped that students can succeed in their future undertakings and contribute to the talent workforce which is much required in Penang State," he added.
It is hoped that both parties could explore more fields of study to further develop this collaboration for mutual benefit and bring great success.
Also present were the Soka University, Vice-Dean, Faculty of International Liberal Arts and Representative Centre for Malaysian Studies, Professor Dr. Ichiro Sugimoto; USM Deputy Vice-Chancellor (Industry, Community Network & Institutional Sustainability), Professor Dr. Azlan Amran; Soka University, Manager of Faculty of International Liberal Arts, Koji Oda; University Malaya Department of East Asian Studies, Faculty of Arts and Social Sciences, Associate Professor Dr. Md Nasrudin Md Akhir; principal officers of Renesas Semiconductor, Soka University and USM.
Text: Nur Farrah Ezlin Mohd Suhaimi/Photo & Infographic: Mohd Fairus Md Isa & Muhamad Ihsan Abu Bakar