USM-SACHA INCHI MANUFACTURING EMBARK ON CLINICAL RESEARCH COLLABORATION
USM PENANG, 24 March 2023 – In line with the Malaysian Education Blueprint 2015-2025 (Higher Education), Universiti Sains Malaysia (USM) has been encouraging academia and industry collaboration through the utilisation of scientific expertise to benefit both the industry and the nation as a whole.
This has prompted USAINS Infotech Sdn. Bhd. (UISB), a wholly-owned subsidiary of USAINS Holding Sdn. Bhd., the commercial arm of USM to sign a Clinical Study Agreement with Sacha Inchi Manufacturing Sdn. Bhd., a company based in Pasir Gudang, Johor which is well-known for the manufacturing of sacha inchi products, here at the USM main campus today.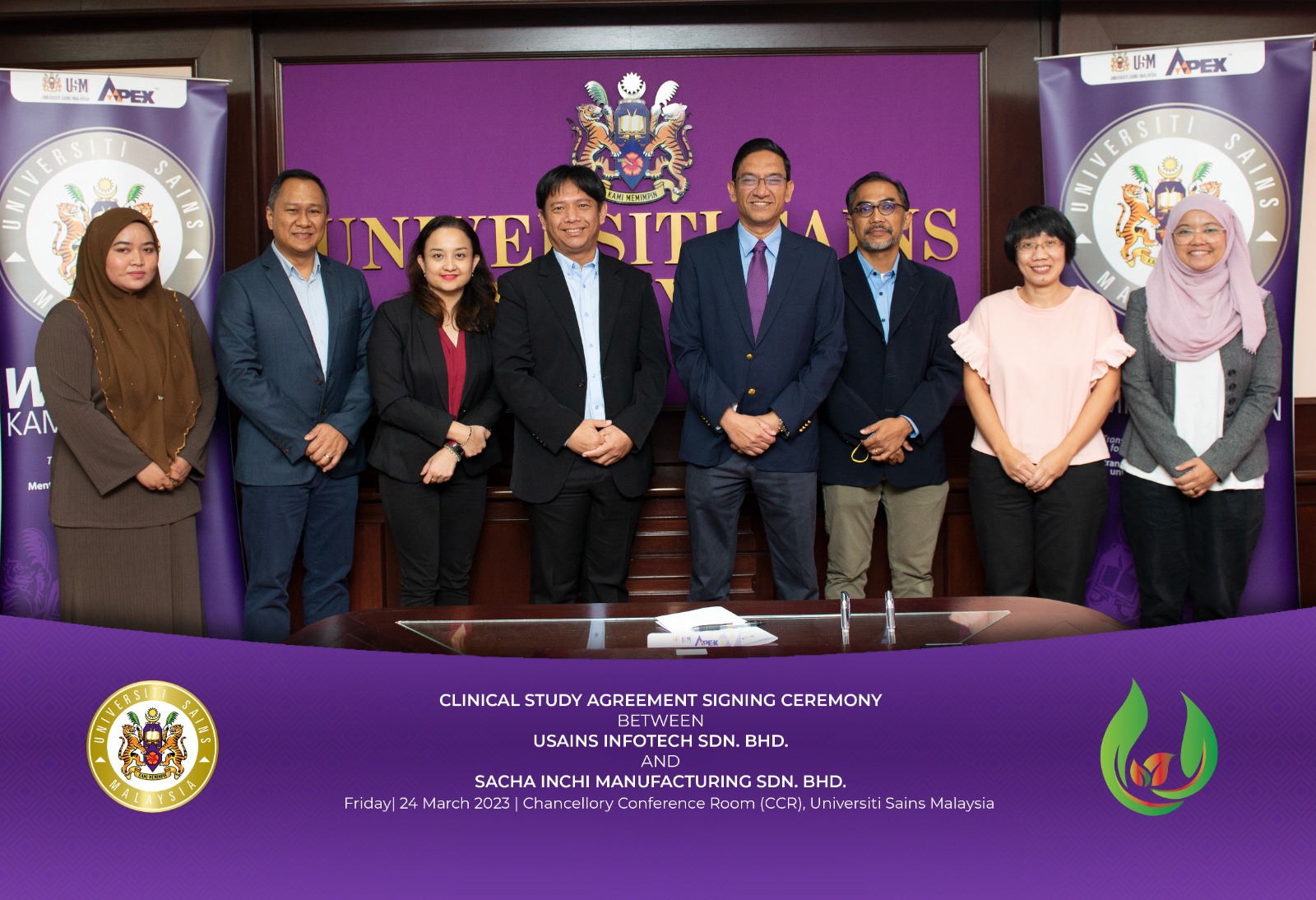 Signing on behalf of USM was its Vice-Chancellor, Professor Dato' Ir. Dr. Abdul Rahman Mohamed; Group Managing Director, USAINS Group of Companies, Farid Wajidi Mat Yusoff; Principal Investigator from the School of Industrial Technology, Dr. Lee Lai Kuan; while on behalf of Sacha Inchi Manufacturing Sdn. Bhd. was its Managing Director, Owen Lem Kean Tai.
Both parties will embark on a clinical trial study entitled 'Unrevealing the roles of Sacha Inchi Oil Supplementation on Cognitive Function, Mental Health and Academic Performance in Higher Grades Primary School Children: A Randomized, Double-Blinded, Placebo-Controlled Human Clinical Trial'.
Abdul Rahman, in his speech, said that he is pleased and thankful that USM researchers are involved in such a collaboration, and this augurs well with the University's effort in intensifying clinical research.
"I am confident that the USM research team will contribute their optimum effort to make the trial successful and get the desired results, as the USM research team comes from a multidisciplinary background.
"It is hoped that the results of the evidence-based clinical trials will play a key role in advancing human health, especially in testing the latest complementary medicine from nutraceutical and pharmaceutical industries," he added.
Meanwhile, Owen Lem in his speech said that, Sacha Inchi Manufacturing Sdn. Bhd. has stepped forward to collaborate with USM, a renowned APEX University in Malaysia, with the aim to study the effectiveness of Sacha Inchi oil supplementation for the improvement of cognitive function, mental health and academic performance among primary school children in the higher grades in Malaysia.
"This project is solely funded by Sacha Inchi Manufacturing Sdn. Bhd. as part of its continuing efforts to improve healthcare, and we strongly support the industry-university collaboration for the benefit of mankind's well-being," he said.
The two-year Clinical Study Agreement with the total value amounting to RM467,400 will be led by Dr. Lee Lai Kuan, along with other researchers as the joint research collaboration are focusing on potential expertise-sharing in research, consultancy and engagement projects between university and industry.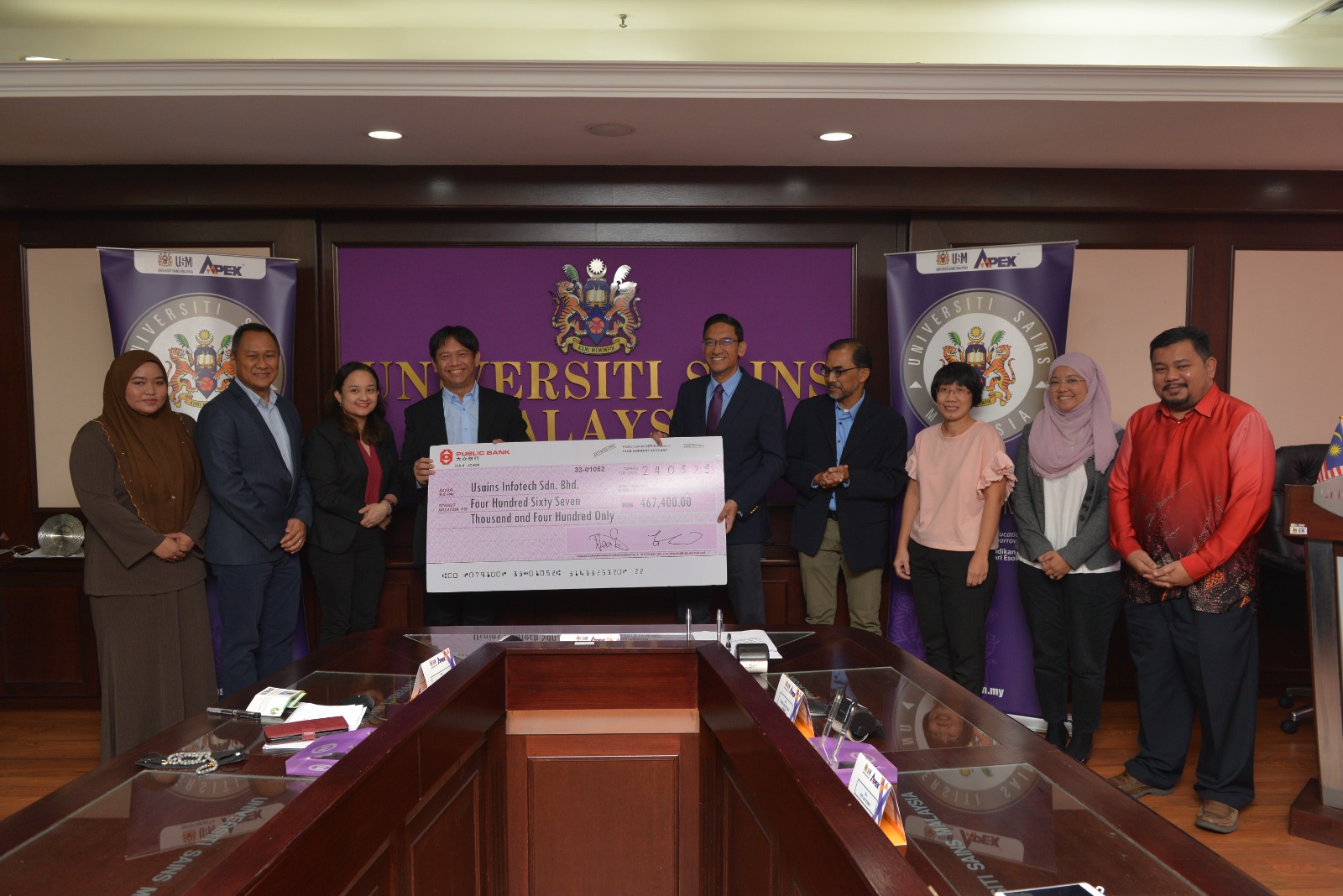 Also present were the research team members from Advanced Medical and Dental Institute (IPPT), Dr. Nur Arzuar Abdul Rahim; School of Educational Studies, Dr. Yasmin Othman Mydin; and principal officers of USM, Sacha Inchi Manufacturing Sdn. Bhd. and USAINS Holding Sdn. Bhd.
Text: Nur Farrah Ezlin Mohd Suhaimi/Photo: Mohd Fairus Md Isa