AMBASSADOR OF UZBEKISTAN TO MALAYSIA PAID COURTESY VISIT TO USM VC TO DISCUSS ON FUTURE PARTNERSHIP AND COLLABORATION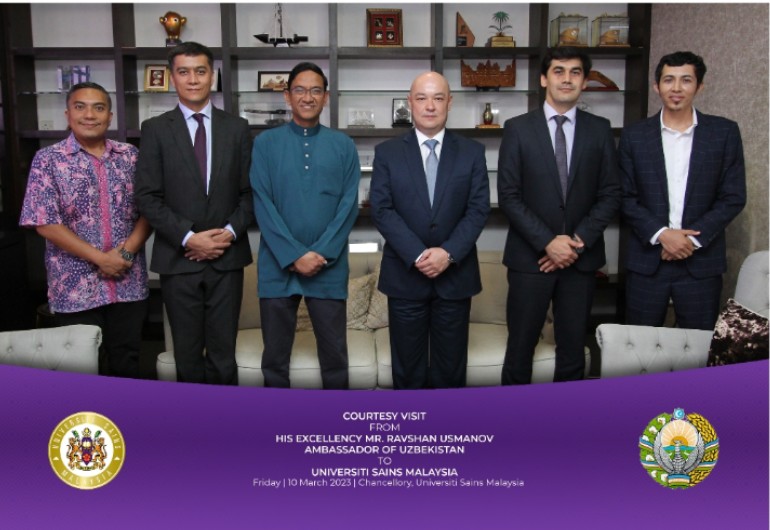 USM PENANG, 10 March 2023 – The Universiti Sains Malaysia (USM) Vice-Chancellor, Professor Dato' Ir. Dr. Abdul Rahman Mohamed today received a courtesy visit from the Ambassador of Uzbekistan to Malaysia, His Excellency Mr. Ravshan Usmanov at the USM Chancellory Building.
The aim of the visit was to provide insights into the collaboration in areas of mobility and exchange programmes, the academic field along with research and innovation as among the pathways to enhance and to increase the enrolment of students from Uzbekistan at USM.
Abdul Rahman was pleased to welcome His Excellency and to receive the courtesy visit from the Ambassador of Uzbekistan to Malaysia, and the discussion between both parties was very fruitful.
During the meeting, Abdul Rahman gave a brief overview regarding the university profile and background.
Following that, H.E. Ravshan also extended an opportunity to explore more potential collaboration regarding academic programmes between USM and some public universities in Uzbekistan, in the form of offshore programmes, research and innovation, mobility programmes, and other initiatives.
Meanwhile, the Director of USM International Mobility and Collaboration Centre (IMCC), Aizat Hisham Ahmad suggested for more mobility programmes to be held, by working with more higher institutions in Uzbekistan, in areas such as the staff mobility programme, by sending USM scholars for an attachment at Uzbekistan higher education institutions under the Imam Bukhari Scholarship in Uzbekistan.
Among other items discussed with His Excellency were on extending an opportunity with USM in areas of Islamic Development Studies, as there were many Islamic studies done in Tashkent and Samar, Uzbezkistan.
Therefore, their future planning is to exhibit works of Islamic art at the Muzium & Galeri Tuanku Fauziah (MGTF), USM. As it is, the Uzbekistan Culture will be exhibited within the scope of Islamic art in USM.
Also present at the meeting were the Counsellor of the Embassy, Suhrob Vaseev; First Secretary of the Embassy, Elbek Saidov and PhD student from Uzbekistan, currently attached to the National Higher Education Research Institute (IPPTN), Bobir Muratov.
Text: Nur Farrah Ezlin Mohd Suhaimi/Poster: Muhamad Ihsan Abu Bakar/Photo: Mohd Fairus Md Isa