USM-B. BRAUN MEDICAL INDUSTRIES SEAL MoU TO UPGRADE SKILLSET AND KNOWLEDGE OF B. BRAUN PERSONNEL
USM PENANG, 10 March 2023 – Universiti Sains Malaysia (USM) via the Graduate School of Business (GSB) today has entered into a partnership with B. Braun Medical Industries Sdn. Bhd. (BMI) through the signing of a Memorandum of Understanding (MoU) to strengthen their collaboration and further explore opportunities to develop, support and enrich the educational and training programmes in the fields that will be beneficial to both parties.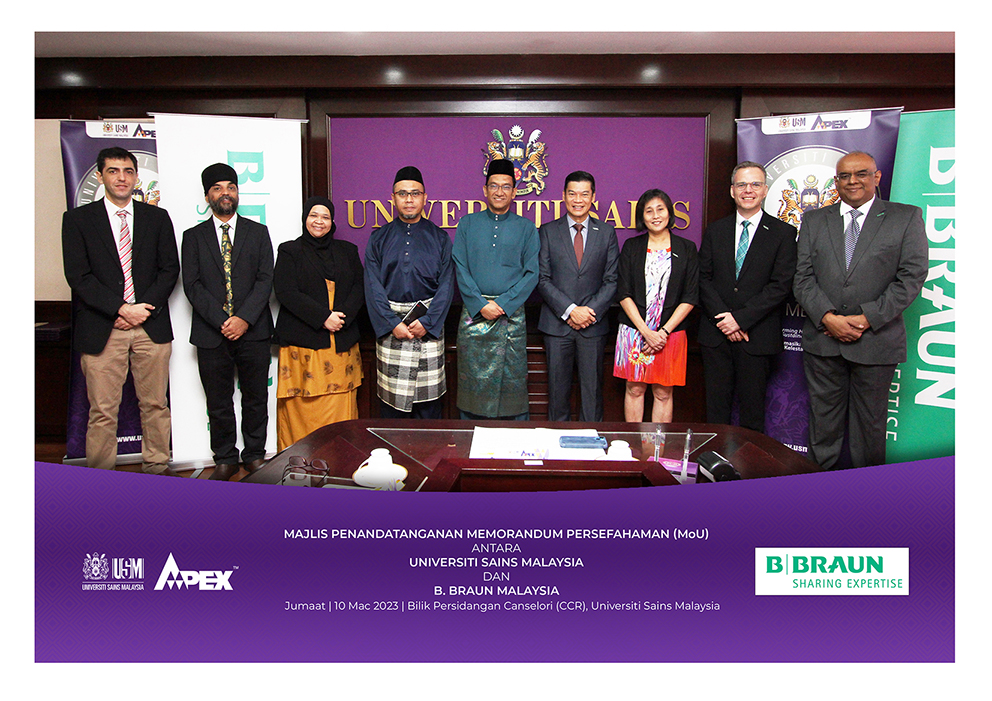 Based on the principles of equity and reciprocity, this MoU sets out the general framework for the establishment of academic programmes - Professional Certificate in Applied Operations and Management (Operators) and Professional Advanced Certificate in Applied Operations and Management (Line Leaders) - specifically tailored for BMI's People Development Programme, targeting the production operators and line leaders.
Through this collaboration, USM as a premier research university in the country has the expertise to help craft the modules for the students from a holistic educational approach to upgrade their skillset and knowledge.
Signing on behalf of USM was its Vice-Chancellor, Professor Dato' Ir. Dr. Abdul Rahman Mohamed and on behalf of B. Braun was its President, Lam Chee Hong.
Also present as witnesses were GSB Dean, Associate Professor Dr. Fatyah Hashim and Vice-President of Human Resources, BMI Compliance and Legal, Asia Pacific, Khoo Bee Lin.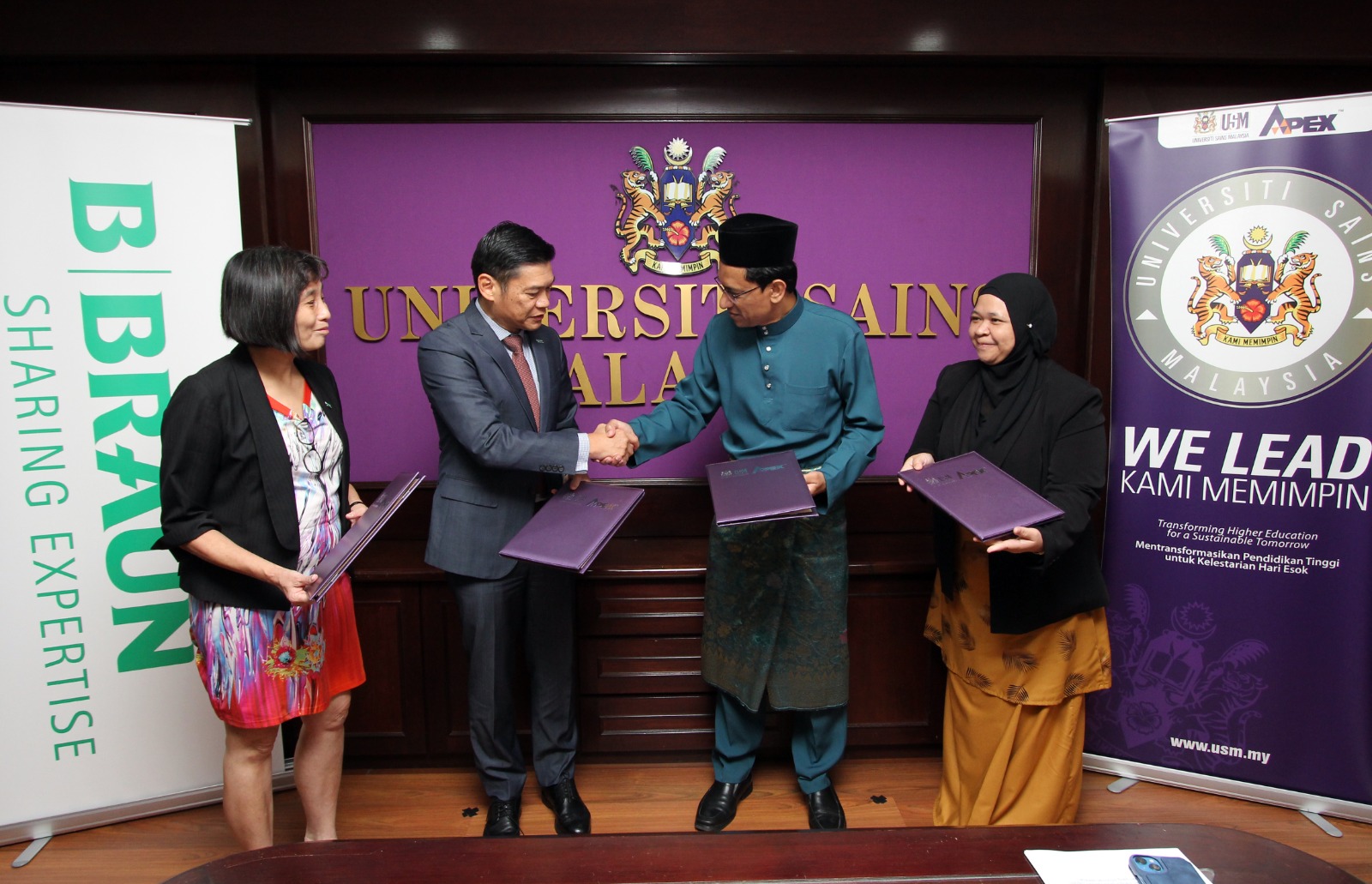 Abdul Rahman, in his speech, said he is confident that the collaboration involving the offering of Professional Certificate and Professional Advanced Certificate programmes by GSB USM will be a catalyst for the professional development of the BMI personnel in their lifelong learning journey.
"The programme, which targets the Production Operators and Line Leaders at BMI, aims to equip them with the necessary skills to function efficiently and effectively at the production level, and at the end of the programme, they will receive a certification that will raise their career development potentials," he said.
Abdul Rahman also added that one aspiration of USM is to empower the lifelong learning process, and he is happy that GSB USM has taken the initiative to develop professional programmes that cater to the needs of the industry or workers in industries who would like to continue raising their competency levels.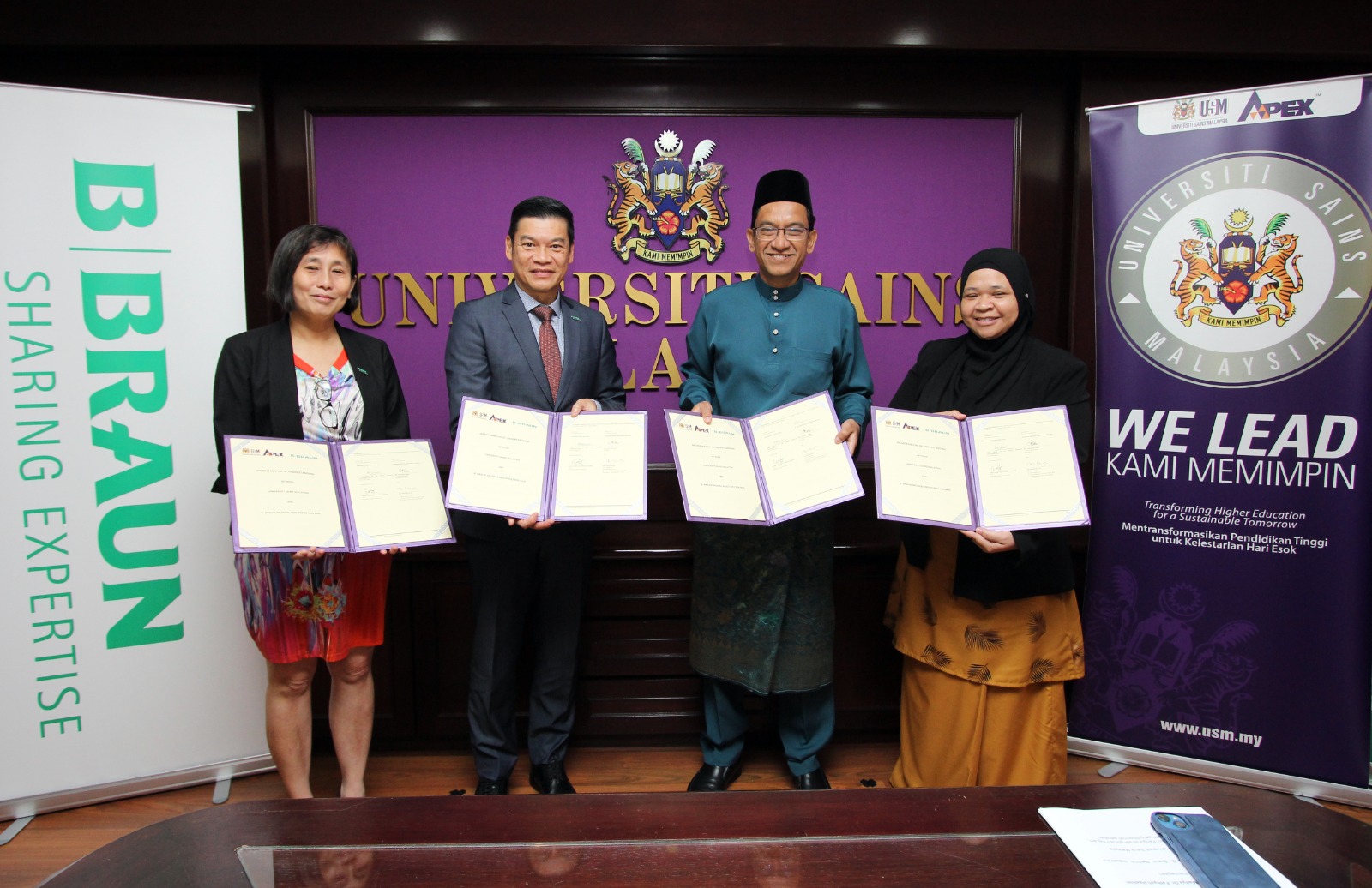 Meanwhile, Chee Hong in his speech said that as an organisation, BMI is committed in protecting and improving the health of people around the world and they are proud to work with institutions especially USM, who share the same commitment to excellence in healthcare and research.
"We are grateful for the opportunity to work alongside such dedicated and talented individuals as we look forward to progress alongside each other for many years to come," said Chee Hong.
Also present were the USM Deputy Vice-Chancellor of Industry and Community Network, Professor Dr. Azlan Amran and principal officers of USM and BMI.
Text: Nur Farrah Ezlin Mohd Suhaimi/Photo: Mohd Fairus Md Isa