SOLAR PV PANEL SYSTEM HELPS REDUCE CARBON DIOXIDE POLLUTION, STRENGTHENS SUSTAINABLE CAMPUS CONCEPT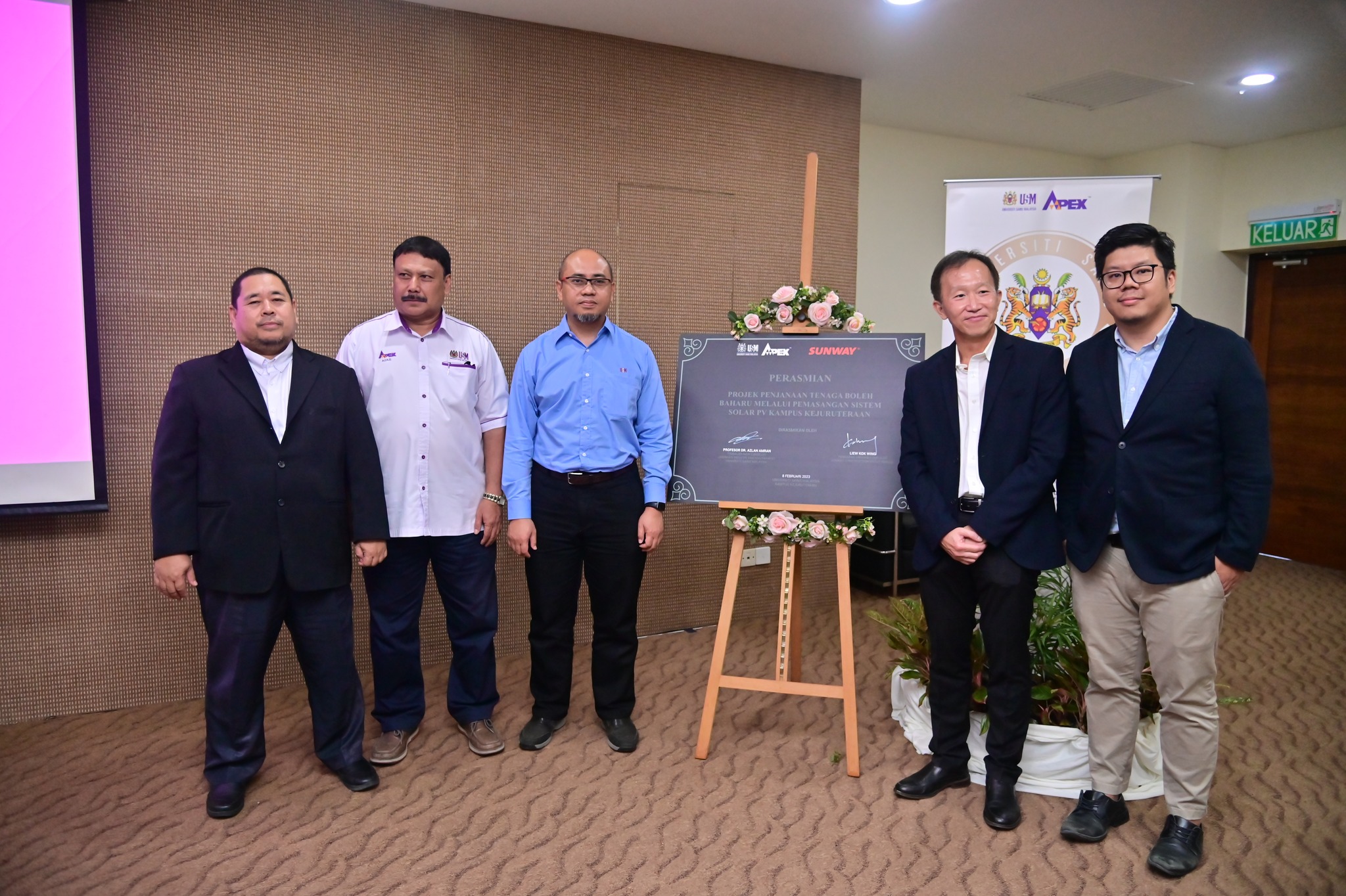 NIBONG TEBAL, 3 March 2023 – Universiti Sains Malaysia (USM) continues its initiative of using solar energy to generate sustainable electricity through the installation of solar photovoltaic (PV) panel system, here at the Engineering Campus.
USM Deputy Vice-Chancellor of Industry and Community Network, Professor Dr. Azlan Amran said, with the installation of the solar panel system which has a maximum capacity of 4.3 MWp (Megawatt peak), the USM Engineering Campus is expected to be able to reduce the level of carbon dioxide (CO2) pollution by up to 97,000 metric tons for the next 25 years.
In addition, he said, the project which costs RM14 million through the Request for Proposal (RFP) method, can meet up to 45 per cent of the annual power consumption of the campus.
"By using power generated by the PV system, the USM Engineering Campus is expected to be able to save up to 30 per cent in its electricity bills. Furthermore, the electricity generated through solar PV can reach up to 75% of the maximum load at any one time," he said.
Azlan said these during the inauguration of the Renewable Energy Generation Project through the installation of Solar PV Systems at the USM Engineering Campus, held on 8 February 2023.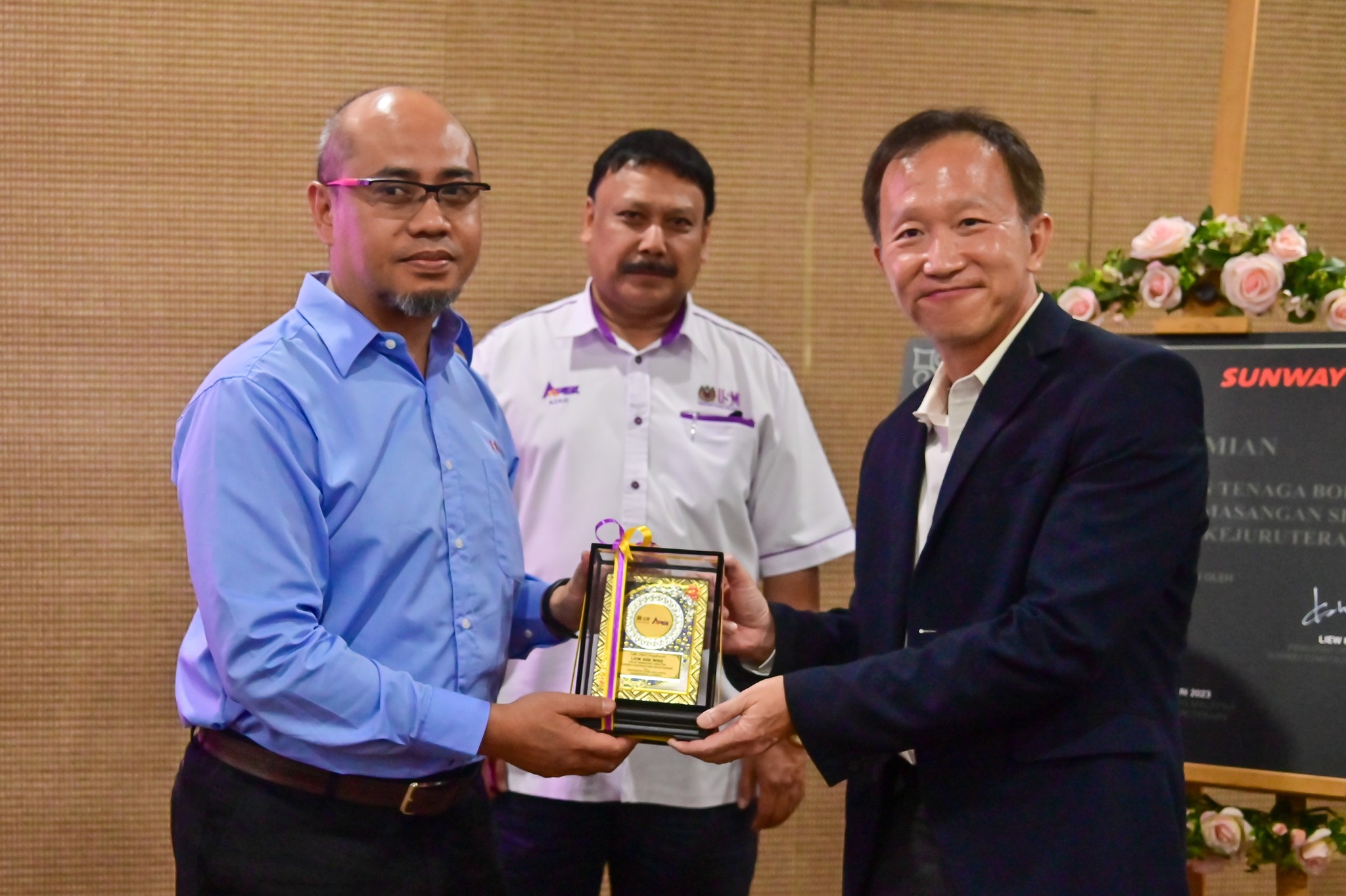 According to Azlan, by using renewable energy, the Engineering Campus will indirectly also be able to achieve one of the sustainable campus concepts which is Sustainability@USM, and this is very much in line with USM's mission to transform higher education for a sustainable future.
"The project implemented through the Request for Proposal (RFP) method, started on 10 June 2022 and was fully completed on 19 December 2022," he said.
He added that renewable energy is energy produced from various sources that can be regenerated such as solar energy, wind, waves, hydro energy, biogas and biomass.
"As we know, solar energy is the cleanest energy and the most abundant and easily available energy source, and is produced by using photovoltaic (PV) panels, which then converted into electricity," he said.
Azlan further explained that due to the high installation cost, USM decided to cooperate with industry players, and Sunway Engineering Sdn. Bhd. has been appointed as the main contractor for the solar PV systems installation project under the purview of USM Development and Asset Management Department (JPPA).
This is the first project of such a nature implemented at USM and the first of its kind among institutes of higher learning (IPT) in Penang, which involved the installation of solar PV systems at 19 identified locations throughout the Engineering Campus.
Also present at the ceremony were the USM Engineering Campus Director, Professor Dato' Dr. Nor Azazi Zakaria; Group Managing Director, Sunway Construction Group Berhad, Liew Kok Wing; Assistant General Manager – Sustainable Energy, Sunway Engineering Sdn. Bhd., Foong Jin Xiang; and Deputy Director of USM Engineering Campus JPPA, Ismail@kamalshani Osman.
Text: Tan Ewe Hoe