CHINESE NEW YEAR GREETINGS FROM USM VICE-CHANCELLOR AND TOP MANAGEMENT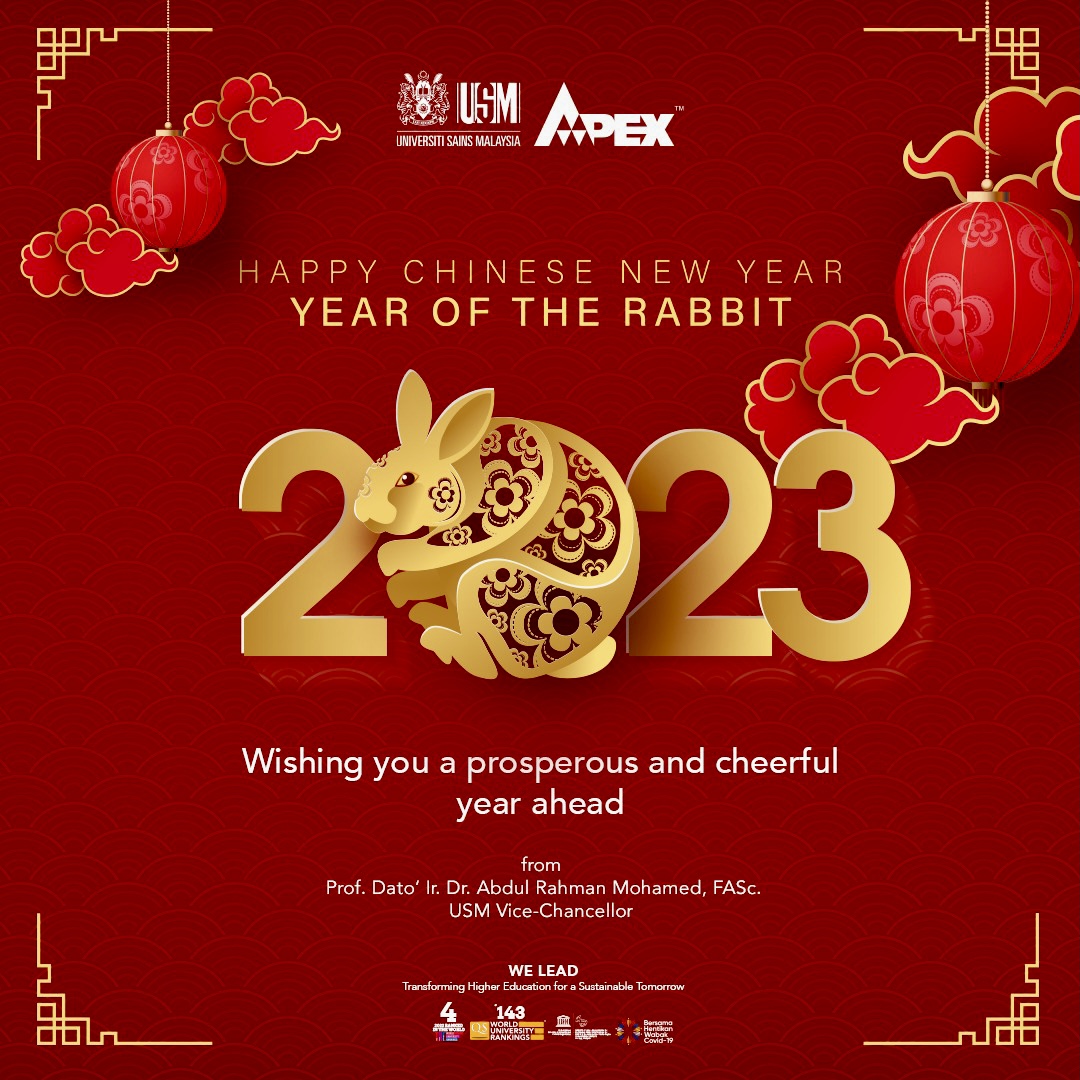 USM PENANG, 21 January 2023 – The Universiti Sains Malaysia (USM) Vice-Chancellor, Professor Dato' Ir. Dr. Abdul Rahman Mohamed and the university's top management have extended their festive greetings to all USM communities, alumni, key stakeholders and friends celebrating the Chinese New Year which begins tomorrow.
"Happy Chinese New Year to all from me and the entire top management of USM in the spirit of goodwill, mutual respect, tolerance, close unity and mutual understanding.
"A festival or celebration such as this offers us an opportunity to appreciate and participate in the rich cultural diversity that we have in our midst, thereby enhancing inter-community understanding and acceptance.
"Therefore, let's celebrate the cultural diversity that exists with excitement and well-being as we continue to strengthen national unity," said Abdul Rahman.
He added, this is also the time to strengthen cooperation with each other and work hand in hand with one another as one big family in our country in general and USM in particular.
"We are truly blessed to be living in a peaceful country such as Malaysia, where people live together in harmony and understand each other.
"I pray and hope that we would always be blessed with peace, happiness and prosperity," he added.
The Vice-Chancellor also reminded those travelling to be careful on the roads and ensure that safety is always maintained, especially during this festive season.
**Chinese New Year marks the beginning of a new year according to the traditional Chinese lunar calendar, and this year is the Year of the Rabbit. The Rabbit is the fourth animal in the Chinese zodiac sequence of 12 animals. People born in the year of the Rabbit are believed to be vigilant, witty, quick-minded and ingenious. The animal is also said to signify mercy, elegance and beauty.
Happy Chinese New Year!
GONG XI FA CAI!