USM, SUT POLAND TO COLLABORATE IN ACADEMIC, RESEARCH AND INNOVATION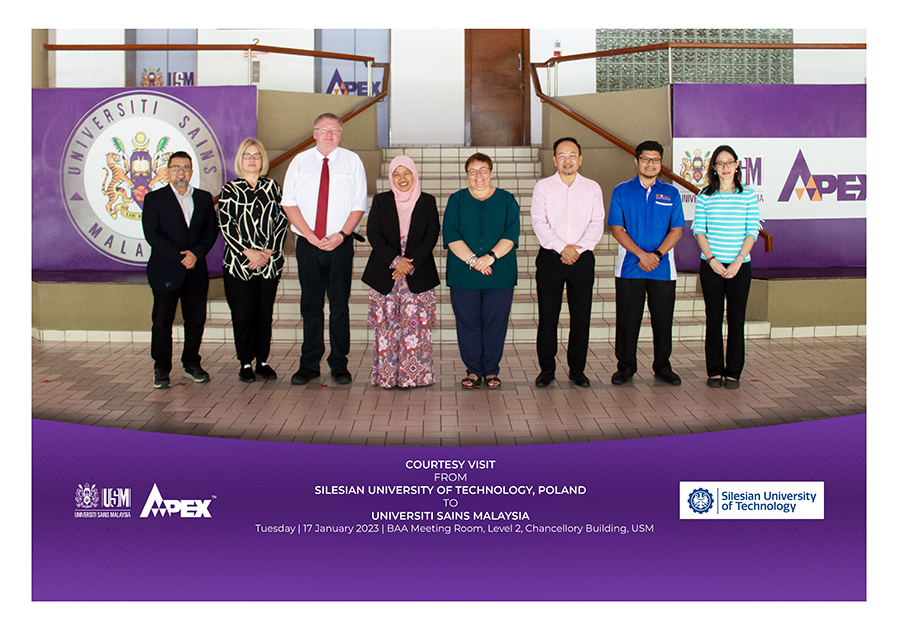 USM PENANG, 17 January 2023 – Universiti Sains Malaysia (USM) Deputy Vice-Chancellor (DVC), Academic and International, Professor Dato' Gs. Dr. Narimah Samat, who is exercising the function of DVC Research and Innovation, today welcomed delegates from the Silesian University of Technology (SUT), Poland who arrived for a courtesy visit at the Academic and International Meeting Room here at USM.
The aim of the visit was to provide insights into potential collaborations with USM in the areas of academic, research and innovation in the fields of science and technology, mobility programmes, scholarship programmes, internship of PhD students funded by ERASMUS+ grant as well as other opportunities.
The scope of the discussion proposed to be initiated was mainly related to the field of geoengineering, safety engineering, geomechanics, physics, rock mass physics, including the numerical modelling in geomechanics and geotechnics, investigation of strength and deformation properties of rock and soils, materials engineering and earth sciences.
The SUT team planned to hold a workshop on the 4th Educational Study Visit and the 5th Transnational Meeting of the ERASMUS+ Programme 2023.
During the meeting, Narimah gave a brief introduction regarding the university profile and achievements and said that USM has always prioritised the growth of science and technology as well as practicing sustainability in research and innovation.
"Our initiative is to enhance the research ecosystem, to support national development and to achieve the global prominence in the capacity as an APEX university, whereby USM is looking at the people and planet, on how to groom the talents and at the same time ensuring a more sustainable tomorrow," said Narimah.
Following that, the representative of SUT Department of Geoengineering and Raw Materials Extraction, Associate Professor Dr. Krzysztof Tomiczek who also has been cooperating with USM under the ERASMUS+ project, 'Geomatics for Disaster Risk Reduction,' presented on SUT university profile, background, achievements and discussed how both institutions can work closely in relation to research, innovation and development involvement through the future mobility concept.
Meanwhile, on behalf of the SUT Department of Safety Engineering, Associate Professor Dr. Katarzyna Tobór-Osadnik said that SUT is expecting a student exchange collaboration to begin this coming October and to identify the source of any upcoming projects between both institutions in possible areas for international research.
Also present were the USM International Strategic Coordinator, Professor Dr. Hazizan Md Akil; representative of SUT Department of Management and Safety Engineering, Associate Professor Dr. Anna Bluszcz; Director of USM Strategic Corporate Development Office, Muhammad Sabri Said and principal officers of the university.
Text: Nur Farrah Ezlin Mohd Suhaimi