FORMER USM VC LISTED IN FORBES MAGAZINE FOR 50 OVER 50: ASIA 2023
USM Penang, 13 January 2023 - Former Universiti Sains Malaysia (USM) Vice-Chancellor, Professor Emerita Datuk Dr. Asma Ismail has been listed in the Forbes 50 over 50: Asia 2023.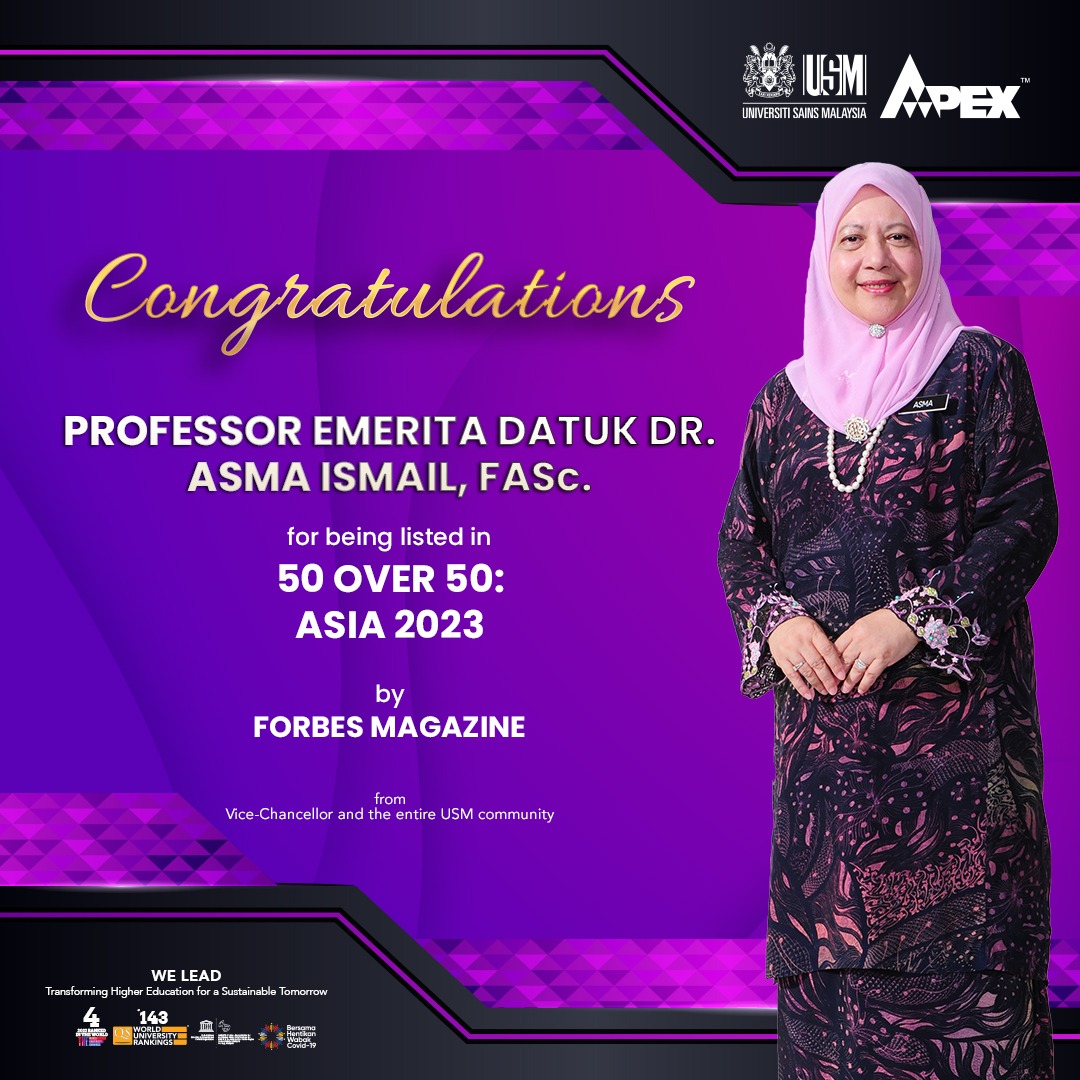 The list celebrates women from the Asia-Pacific region who have reached new heights in their respective industries and area of expertise.
She has earned her spot on the prestigious list through her many achievements and contributions towards the STI ecosystem in Malaysia, especially in academics and microbiology.
Forbes is a global media company, focusing on business, investing, technology, entrepreneurship, leadership and lifestyle.
Asma Ismail had been appointed as the first female Vice-Chancellor of USM on 4 October 2016 for three years, taking over from Professor Dato' Dr. Omar Osman, who had been in office since 27 September 2011.
Her expertise is in the field of Medical Microbiology and "Medical Biotechnology and Rapid Diagnostics of Infectious Diseases", and she headed the Higher Education Department, Ministry of Higher Education Malaysia from 1 June 2014.
Read the full list of inductees here: https://www.forbes.com/sites/ranawehbe/2023/01/11/50-over-50-asia-2023/?sh=712402a07c68
Text : Hafiz Meah Ghouse Meah / Photo : Ebrahim Abdul Manan