THE 11th ICMR 2023 PROMISES A GOOD OUTCOME IN FOSTERING MULTIDISCIPLINARY SCIENCES
USM PENANG, 12 January 2023 - The 11th International Conference on Multidisciplinary Research 2023 (iCMR 2023) will be held through hybrid mode at Universiti Sains Malaysia (USM), Penang, (Malaysia) from the 20th - 22nd September 2023.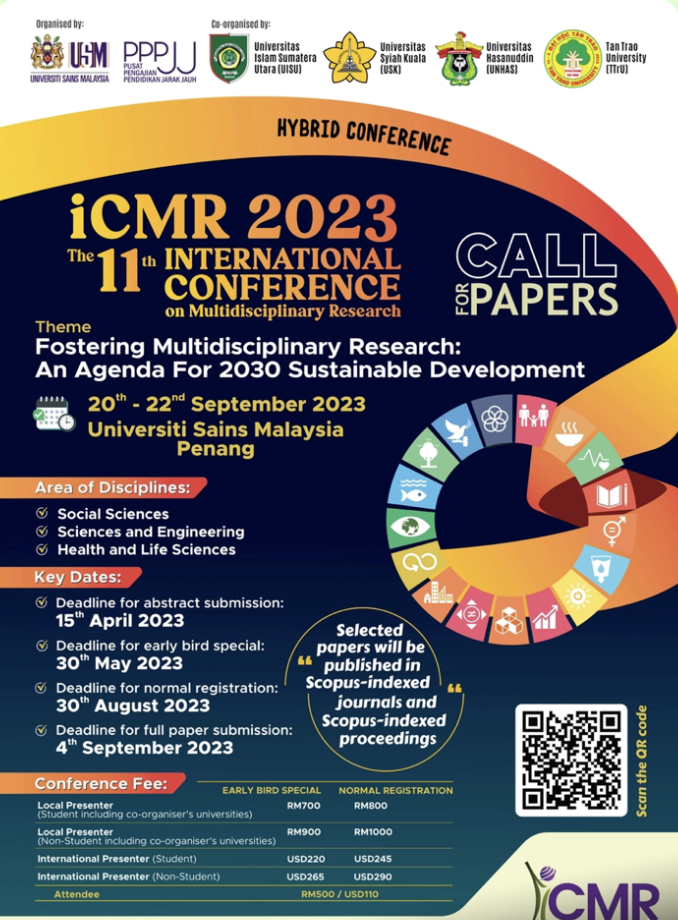 According to iCMR 2023 Chairperson, Ts. ChM. Dr. Sumiyyah Sabar, iCMR is an annual event and is dedicated to the advancement of theories and practices in multidisciplinary sciences.
This year's theme is "Fostering Multidisciplinary Research: An Agenda for 2030 Sustainable Development".
Furthermore, the conference will serve as a platform for students, academician and industries from various fields to share their findings and provide insights to explore current ideas and technologies.
"Sharing of research findings can be channelled into discoveries for improving the quality of life," she added.
More information about this conference can be found at (https://sites.google.com/view/icmr2023/home) Or email This email address is being protected from spambots. You need JavaScript enabled to view it.
This conference will be hosted by USM School of Distance Education and co-organised by Universitas Islam Sumatera Utara, Universitas Syiah Kuala, Universitas Hasanuddin and Tan Trao University.
Text: Hafiz Meah Ghouse Meah