USM LECTURER AMONG THE RECIPIENTS OF OMA AWARDS
PENANG, 11 January 2023 – A lecturer from the Universiti Sains Malaysia (USM) Advanced Medical and Dental Institute (IPPT), Dr. Teoh Soo Huat was recently conveyed the Dr. Peter G. Lindner Award by the USA-based Obesity Medicine Association (OMA).
According to Teoh, he was the only non-American so far to have been conferred the award at the yearly Overcoming Obesity 2022 Conference in Anaheim, California. The award recognizes a clinician who has done the most in advancing the field of obesity medicine and OMA.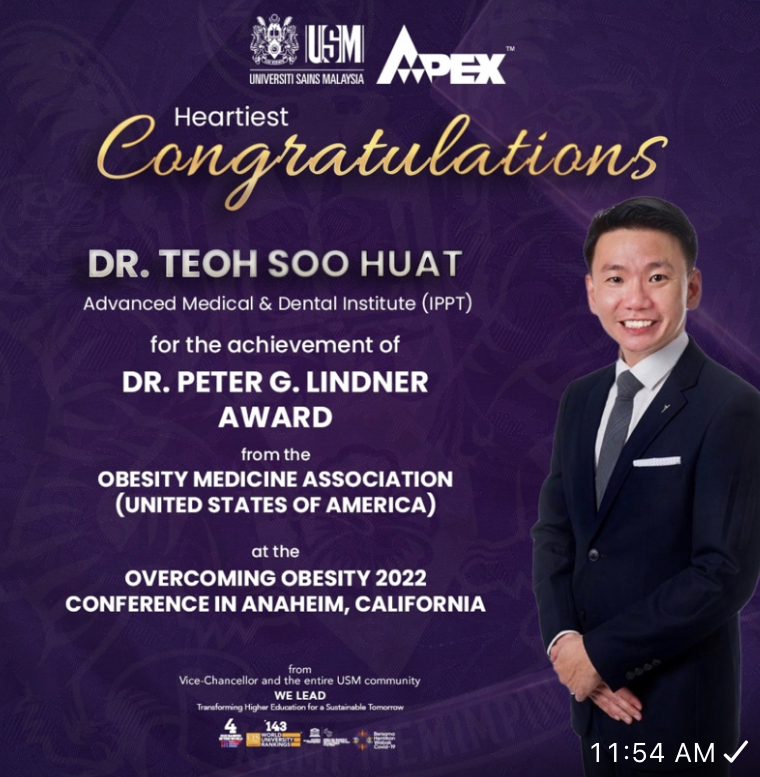 "Having the support and announcement for this achievement from USM is important to show my foreign counterparts that I have strong support from my organisation in developing the field of obesity medicine and thus, more opportunities will come in the future," said the Obesity Medicine Physician, Family Medicine Specialist and Medical Lecturer Department of Clinical Medicine at AMDI, located in Bertam, Penang.
Furthermore he said, this could also help to promote USM, in having someone who specialises in this field and to tap various potentials, be it for the purpose of medical treatment (income-generation), research collaboration (grant and publication potential) and postgraduate supervision opportunities.
The Obesity Medicine Association (OMA) is the largest organisation of physicians, nurse practitioners, physician assistants, and other health care providers working every day to improve the lives of patients affected by obesity.
OMA members are the clinical experts in obesity medicine and they use a comprehensive, scientific, and individualized approach when treating obesity, which could assist patients to achieve their health and weight goals.
OMA offers resources, education, and community to physicians and other health care providers in the field of obesity medicine.
OMA offers four types/pillars of clinical obesity treatment, namely regarding nutrition, physical activity, behaviour, and medication. These four pillars are represented in the four colours of its logo. When combined and personalised, treatment plans involving the four pillars would help patients to lose weight and achieve better overall health.
Text: Hafiz Meah Ghouse Meah