USM RESEARCHERS EXCEL IN PECIPTA 2022 ONCE AGAIN; WINNING 19 GOLDS, 1 SILVER, MyTECH PITCH 1st RUNNER UP & 3rd PLACE, 2 BEST CLUSTER AWARDS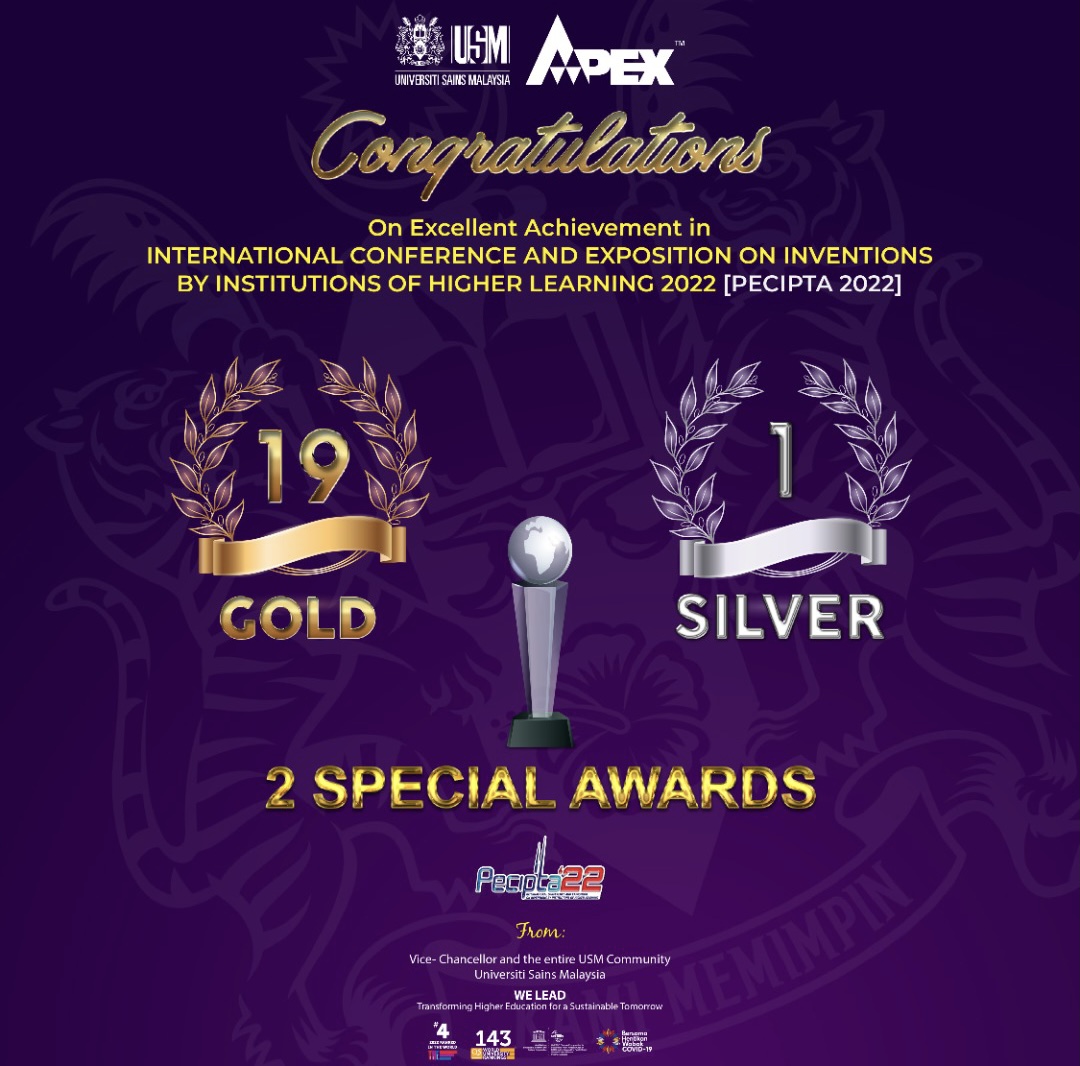 USM PENANG, 9 Nov. 2022 – Universiti Sains Malaysia (USM) researchers excelled once again in the International Conference and Exposition on Inventions by Institutions of Higher Learning (Persidangan dan Ekspo Ciptaan Institusi Pengajian Tinggi Antarabangsa, PECIPTA) 2022 by clinching 19 Golds and 1 Silver from the 20 entries that USM had contested in the various categories.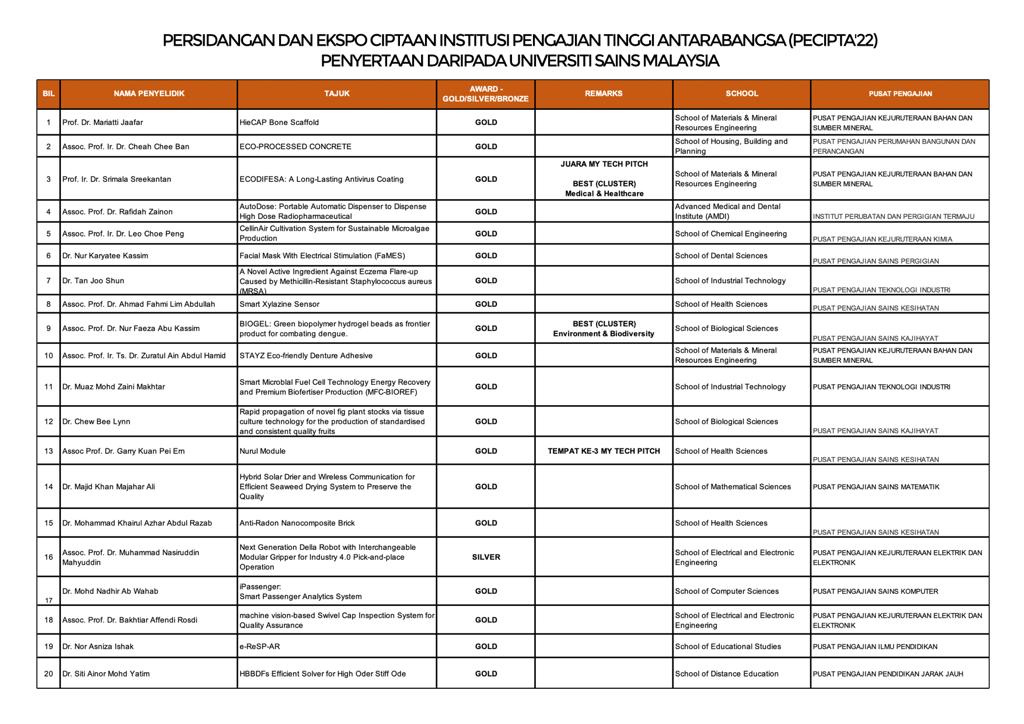 Besides garnering another 100% achievement in terms of medals won, USM also bagged the following awards:
MyTECH PITCH
1st Runner up: Professor Ir. Dr. Srimala Sreekantan (School of Materials and Mineral Resources Engineering).

3rd Place: Assoc. Professor Dr. Garry Kuan Pei Ern (School of Health Sciences).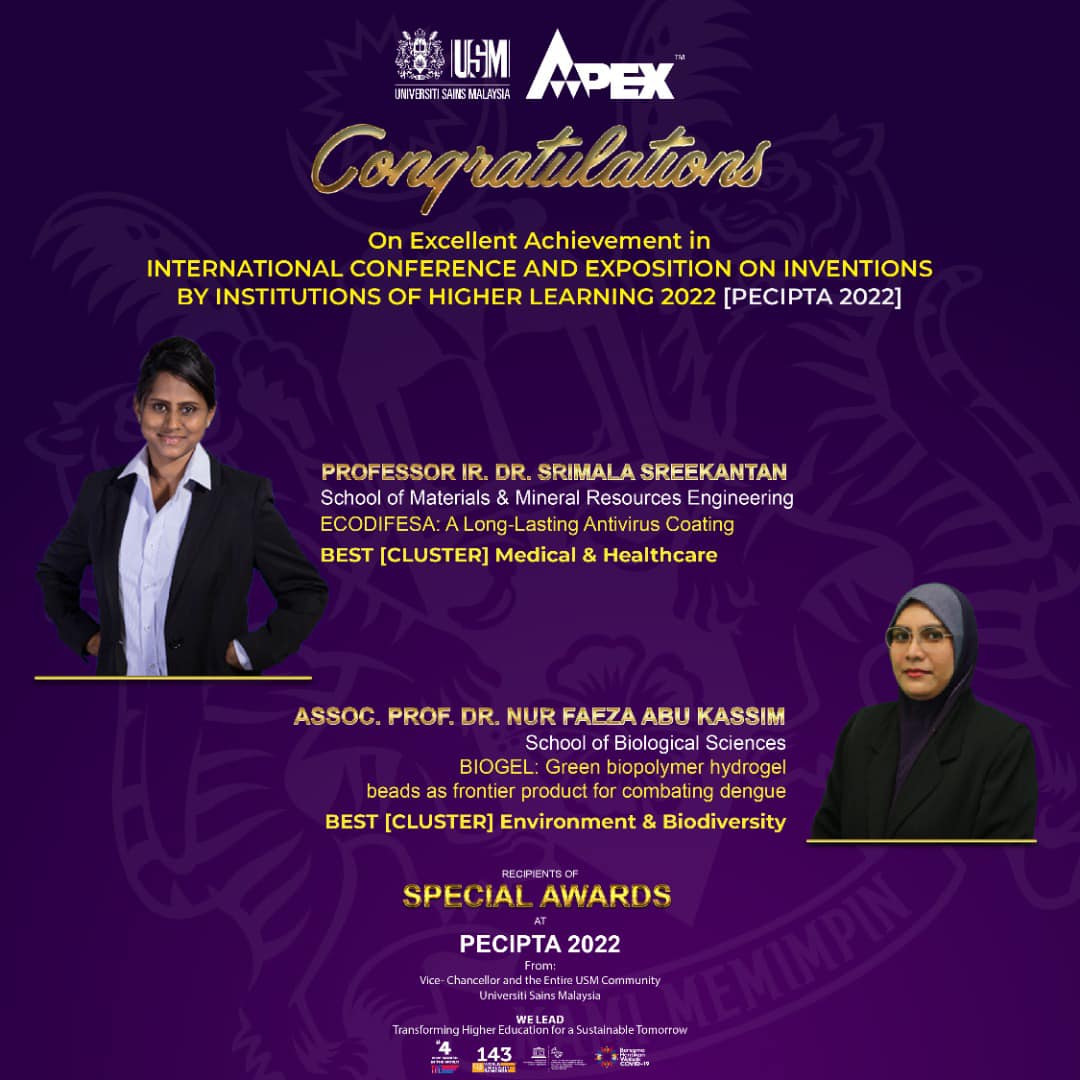 BEST CLUSTER AWARD
Medical & Healthcare: Professor Ir. Dr. Srimala Sreekantan (School of Materials and Mineral Resources Engineering).

Environment & Biodiversity: Assoc. Professor Dr. Nur Faeza Abu Kassim (School of Biological Sciences).
PECIPTA 2022 which took place from November 1-3, 2022 in hybrid mode at Dewan Tuanku Canselor, Universiti Malaysia Kelantan (UMK), Campus Bachok, Kelantan, received approximately 430 submissions, across public and private varsities nationwide.
The prize-giving ceremony was graced by the Deputy Secretary General (Management and Development), Ministry of Higher Education, Datuk Dr. Mohd Zabri Yusoff.
Professor Ir. Dr. Srimala Sreekantan, who is also the Director of USM Centre for Innovation and Consultation (CIC), was very proud of the latest achievement of her colleagues, said, "Once again USM researchers continued its tradition of excellence with outstanding achievements recorded, and hoped that they will continue to come up with more innovations and ideas that are ready for commercialisation."
She added that USM remains committed to building a strong network of alliances and advancing partnerships with the industry sector to ensure its innovation and technology would achieve its desired impact, especially to the society at large.
PECIPTA 2022 is a biannual event organised by the Ministry of Higher Education, together with its partner institutions of higher learning with the main objective of bringing together researchers from all institutions to celebrate the innovation of the country's research results from various clusters.
Themed, 'Innovation, Creativity, Technology, Entrepreneurship, and Society', PECIPTA 2022 brings together industry players and researchers to strengthen industry networks and provide platforms and markets for the latest ideas and innovations globally.
PECIPTA 2022 marks its 11th anniversary with UMK hosting the event this time. The hybrid entry mode includes online and physical judging sessions and the shortlisted innovations competed physically for a final round at UMK, Campus Bachok.
Text: Tan Ewe Hoe