USM, ITEBA AND 25 STARTUPS INK MOU FOR STRATEGIC PARTNERSHIP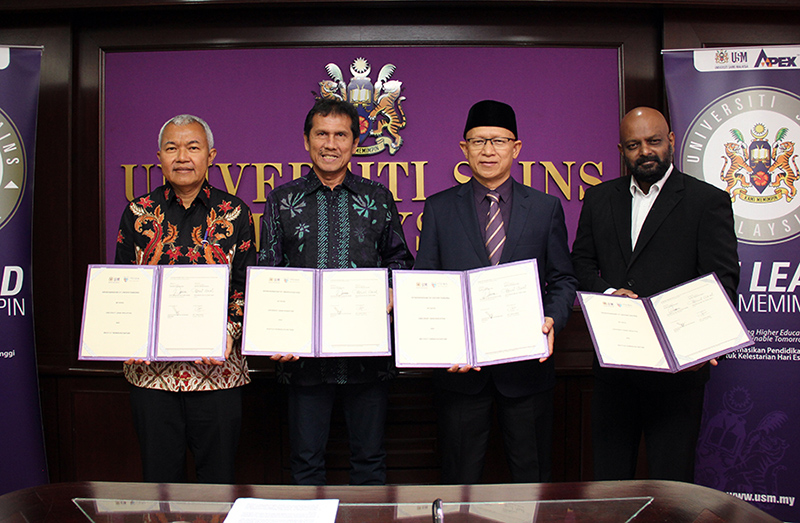 USM PENANG, 31 Oct. 2022 – Universiti Sains Malaysia (USM) via the National Advanced IPv6 Centre (NAv6) has entered into two separate new strategic partnerships with Institut Teknologi Batam (ITEBA), Indonesia and with Karuna Khoshee Venture Capital Sdn. Bhd. (25 Startups) to establish collaborations and opportunities to develop, support and enrich research, educational and training programmes in the fields beneficial to all the parties involved.
The collaborations were sealed through a Memorandum of Understanding (MoU) signed today and through this collaboration, NAv6 USM will work hand in hand with its new partners in promoting, developing and establishing research, educational and training programmes, including the exchange of academic lecturers, exchange of students visit and exchange of sources of information.
This smart collaboration witnesses the cooperation between academic institutions (USM and ITEBA) as the knowledge provider and 25 Startups, a digital technology incubator, that will equip the future talents with entrepreneurial skills, leadership, management, innovation and design-thinking knowledge with hands-on experiences.
These MoUs shall remain in effect for a period of 2 years with ITEBA, and 3 years with Karuna Khoshee Venture Capital Sdn. Bhd. (25 Startups).
Signing on behalf of USM was the USM Deputy Vice-Chancellor of Sustainability and Institutional Development, Professor Dr. Md Roslan Hahim representing the USM Vice-Chancellor and on behalf of ITEBA is the founder, Dr. H. Asman Abnur, meanwhile on behalf of Karuna Khoshee is its Chairman, Senator Datin Hajah Ros Suryati Alang.
Also present was the NAv6 Director, Associate Professor Dr. Selvakumar Manickam.
Text: Nur Farrah Ezlin Mohd Suhaimi/Photo: Mohd Fairus Md Isa