USM TO EXPAND INTERNATIONAL COLLABORATION NETWORK WITH HTWG-KONSTANZ GERMANY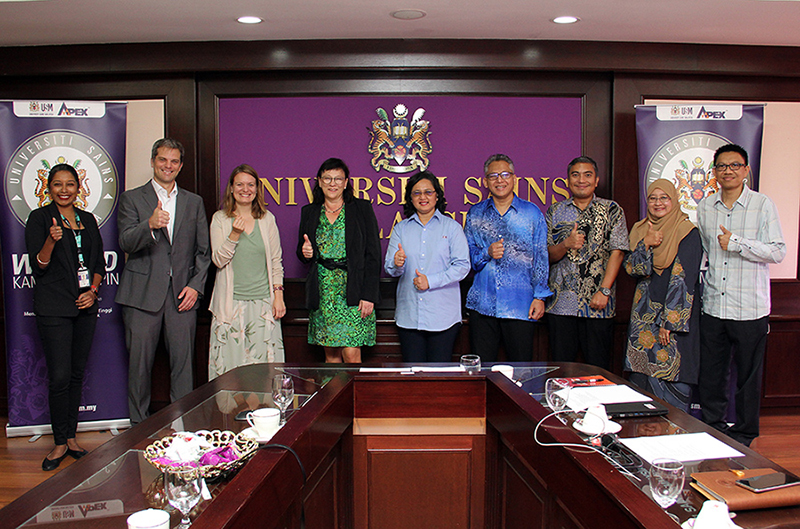 USM PENANG, 27 Oct. 2022 – Universiti Sains Malaysia (USM) Deputy Vice-Chancellor of Student Development Affairs and Alumni, Professor Dr. Azlinda Azman today welcomed delegates from the HTWG Hochschule Konstanz Technik, Wirtschaft und Gestaltung Konstanz University of Applied Sciences, who arrived for a visit to USM at the Chancellory Conference Room (CCR).
Among those present were the HTWG President, Professor Dr. Sabine Rein; Professor for Concrete Structures and Computing in Engineering (Faculty of Civil Engineering) and Chairman of the Senate Committee for Internationality, Professor Dr. Heiko Denk; and Director of HTWG International Office, Verena Gründler.
The aim of the visit was to share insights and to explore potential collaboration in areas of academic (Erasmus Plus grant), international internship programme, research and innovation, sustainability, staff exchange programme and in increasing the enrolment of students from Konstanz at USM.
At the same meeting, Senior Lecturer at the USM Advanced Medical and Dental Institute (IPPT), Dr. Kumitaa Theva Das who is also the Project Director of LIFE programme, introduced the LIFE programme modules, activities and the purpose of the programme, and how the programme could help students to develop a life-long friendship and obtain traits and skills that will empower them to excel personally and professionally.
Also present were the Dean, USM School of Housing, Building and Planning, Associate Professor Dr. Ts. Mohd Rodzi Ismail; Director of USM International Mobility and Collaboration Centre (IMCC), Aizat Hisham Ahmad; and principal officers of the university.
Text: Nur Farrah Ezlin Mohd Suhaimi/Photo: Mohd Fairus Md Isa