ICAEW RECOGNISES ACCOUNTING PROGRAMME AT USM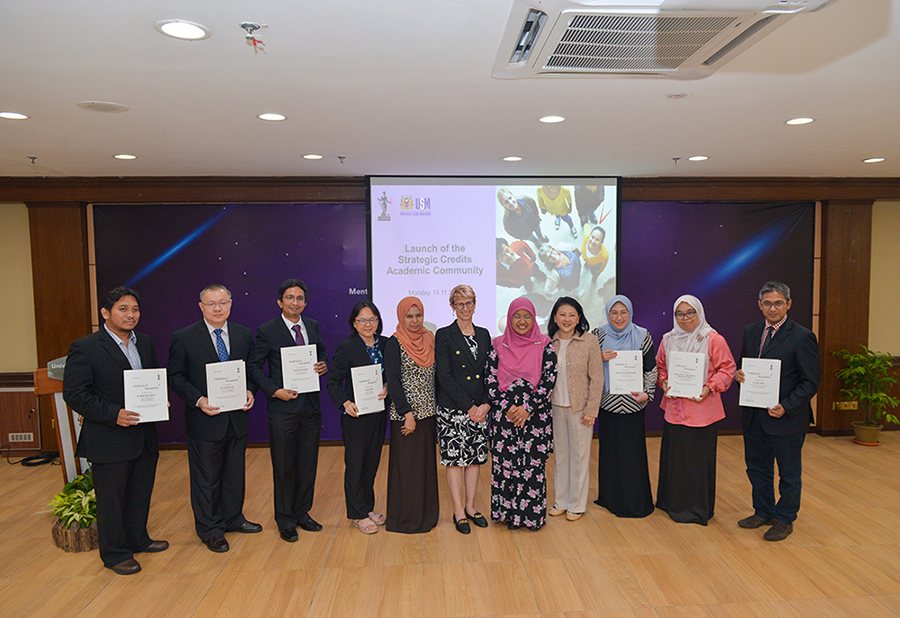 USM PENANG, 17 Nov. 2022 – As quality education is the ultimate objective, Universiti Sains Malaysia (USM) is continually looking into ways to further improve its academic programmes.
Hence, various professional accounting bodies were invited to assess the curricula and instructional strategies of the Bachelor of Accounting (Hons) programme offered by the USM School of Management.
This was mentioned by Professor Dato' Gs. Dr. Narimah Samat, who currently Exercises the Function of the USM Vice-Chancellor, in emphasising on the outcome whereby graduates of this accounting programme are exempted from specific papers offered by the Association of Chartered Certified Accountants (ACCA); the Chartered Institute of Management Accountants (CIMA); the Malaysian Institute of Accountants (MIA); the Malaysian Institute of Certified Public Accountants (MICPA); Chartered Accountants Australia & New Zealand (CAANZ) and CPA Australia.
"In 2012, USM was recognised as a 'Partner in Learning' for the Institute of Chartered Accountant in England and Wales (ICAEW). This recognition allows the Bachelor of Accounting graduates of the USM School of Management to be exempted from 8 papers for the ACA qualification," she said during the Commemoration of USM's Strategic Credits (SC) Partnership Status with ICAEW ceremony recently in USM.
She added, in 2020, USM embarked on another strategic collaboration with ICAEW and obtained the ICAEW ACA Strategic Credits status and this initiative now allows the Bachelor of Accounting students at the School of Management to be awarded additional four strategic credits at the Professional Level.
"In other words, the students can complete 12 papers for ACA qualification at USM. As of October this year, more than 340 accounting students have registered for this pathway. In June this year, three of our students won the prizes with the highest score for the ICAEW strategic credit for examinations taken in 2021," she said.
Meanwhile, the President of ICAEW, Julia Penny said, through the exchange of knowledge and experience by lecturers across universities within the programme, this community will help enhance the joint efforts to attract talent and build new routes into the Accountancy profession in Malaysia.
She said that this is particularly important to ICAEW, as attracting talent and building diversity is one of ICAEW's strategic themes, in working to strengthen the profession around the world.
"We are grateful for all of the hard work by USM, including the contributions by lecturers and personnel in the development of the strategic credits modules as well as the student leaders at this University.
"And we look forward to further enhance our relationship with USM, as we continue to collaborate in developing the next generation of Chartered Accountants that would enable strong and sustainable economies of the future," she said.
"In addition, these are the business and finance leaders who would embrace emerging technologies, and play a critical role in the sustainability agenda, whilst upholding reporting standards to safeguard public interest in Malaysia and around the world.
"The COVID pandemic has emphasised the critical role that the profession plays, with the responsibility to support economies and sustain livelihoods, and the trust that is placed in us to do that," she added.
ICAEW has a long and proud history working with other Malaysian partners. Whilst it is headquartered in the UK, it is a truly global body and Malaysia has fast become among its most important markets.
Recognition and appreciation awards were also extended to these USM lecturers:
Professor Dr. Noor Hazlina Ahmad – Dean, School of Management

Associate Professor Dr. Siti Rohaida Mohammed Zainal – Deputy Dean, Academic, Career and International

Dr. Zubir Azhar – Accounting Chairperson

Dr. Lok Char Lee – Senior Lecturer, Accounting

Dr. Amirul Shah Md Shahbudin – Senior Lecturer, Accounting

Dr. Phua Lian Kee – Senior Lecturer, Accounting

Dr. Kishan Krishnen – Senior Lecturer, Accounting

Mrs. Lim Tan Chin – Lecturer, Accounting

Mr. Ali Nawari Hasan – Senior Lecturer & Researcher

Dr. Afzal Izzaz Zahari – Senior Lecturer & Researcher
Recognition of ICAEW Student Leaders at USM:
Tan Xin Yan

Noratiah binti Abdullah

Ong Joe Yee

Serena Taherin A/P Siva-Muniandy
Also present were the Head of ICAEW Malaysia, Loh Wei Yuen; Dean, School of Management, USM, Professor Dr. Noor Hazlina Ahmad; and Chairperson of Accounting, School of Management, USM, Dr. Zubir Azhar.
Text: Hafiz Meah Ghouse Meah/Photo: Shahnizam Ab. Rahim