AWARD-WINNING INNOVATION: 'MA-PENCIL' TO ASSIST AUTISTIC CHILDREN GRIP A PENCIL CORRECTLY
USM PENANG, 7 Sept. 2022 – A developmental disability caused by differences in the brain, commonly known as Autism Spectrum Disorder (ASD) may come with common symptoms. As such, people with ASD may have different ways of learning, moving, or paying attention.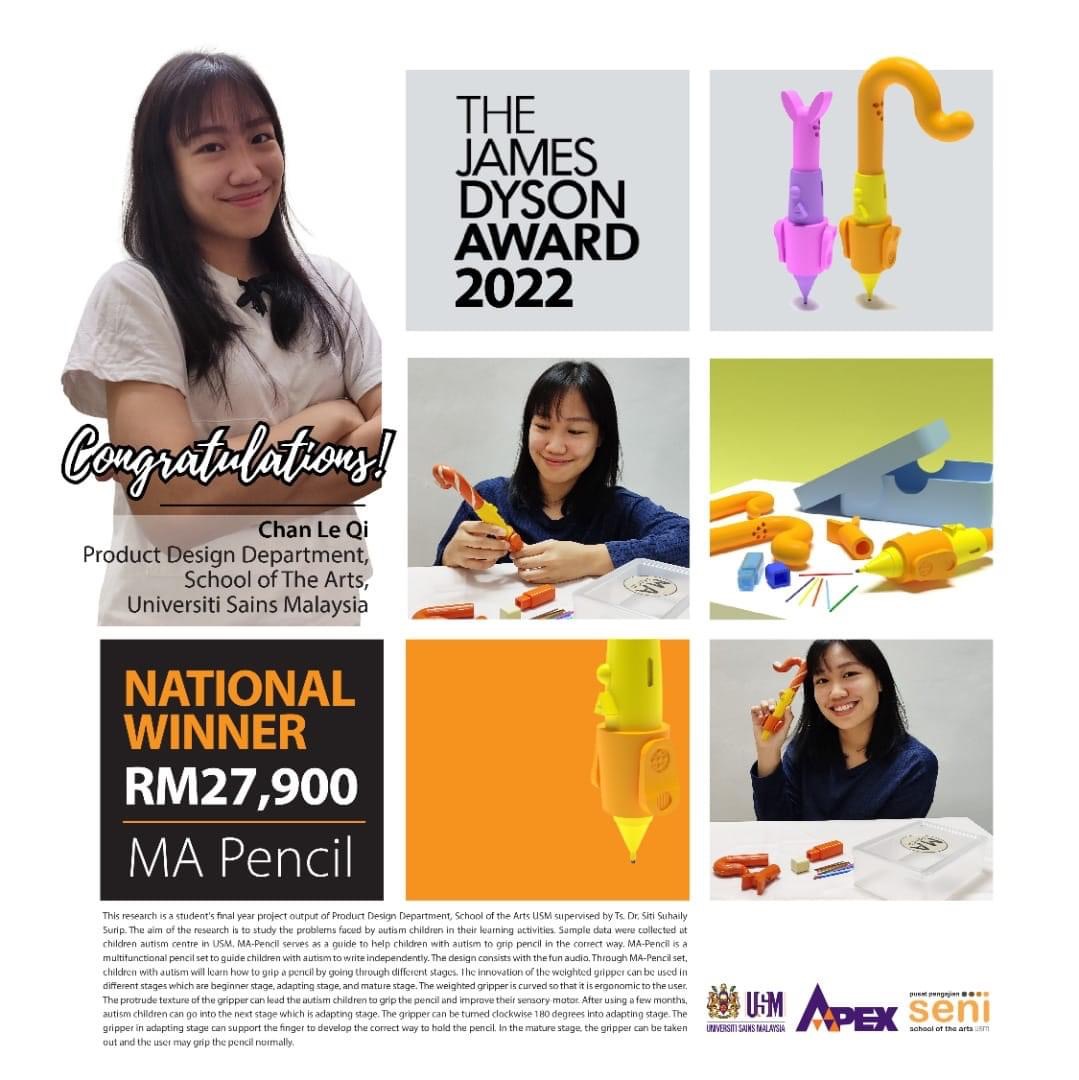 With the understanding to the facts, a final-year student from the School of the Arts, Universiti Sains Malaysia (USM), has come up with an ingenious innovation called the MA-Pencil, specially designed as a guide to help children with autism to grip a pencil in the correct manner.
This research is the outcome of Chan Le Qi's project, supervised by Ts. Dr. Siti Suhaily Surip from the Product Design Department, School of The Arts.
The outstanding innovation brought tremendous achievement to Le Qi, as she won the 'James Dyson Award 2022', which allowed Le Qi to bring back a sum of RM27,900 as a National Winner.
According to Le Qi, the aim of the research is to study the problems faced by autistic children in their learning activities.
"With sample data collected at the centre for children with autism at USM, MA-Pencil is also designed as a multifunctional pencil set to guide children with autism to write independently.
"The design comes with the fun audio function. Through the MA-Pencil set, children with autism will learn how to grip a pencil by going through the different stages," she said.
She added that, the innovation of the weighted gripper can be used in different stages, namely the beginner stage, adapting stage, and mature stage. The weighted gripper has a curved shape so that it will be ergonomic for the user.
"The protruding texture of the gripper can lead the autistic children to grip the pencil and improve their sensory-motor functions. After using it for a few months, autistic children could go into the next stage, which is the adapting stage.
"The gripper can be turned clockwise 180 degrees to be used for the adapting stage. In this stage, the gripper can support the development of the fingers correctly to hold the pencil.
"In the mature stage, the gripper can be removed and the user may grip the pencil normally," she said.
Editing: Marziana Mohamed Alias/Poster: School of The Arts, USM