MOU INKED TO BOOST UNIVERSITY-INDUSTRY COOPERATION
USM PENANG, 1 Sept 2022 – Universiti Sains Malaysia (USM) today has entered into a partnership with Hotayi Electronic (M) Sdn. Bhd. through the signing of a Memorandum of Understanding (MoU) to further boost the university-industry cooperation on both sides.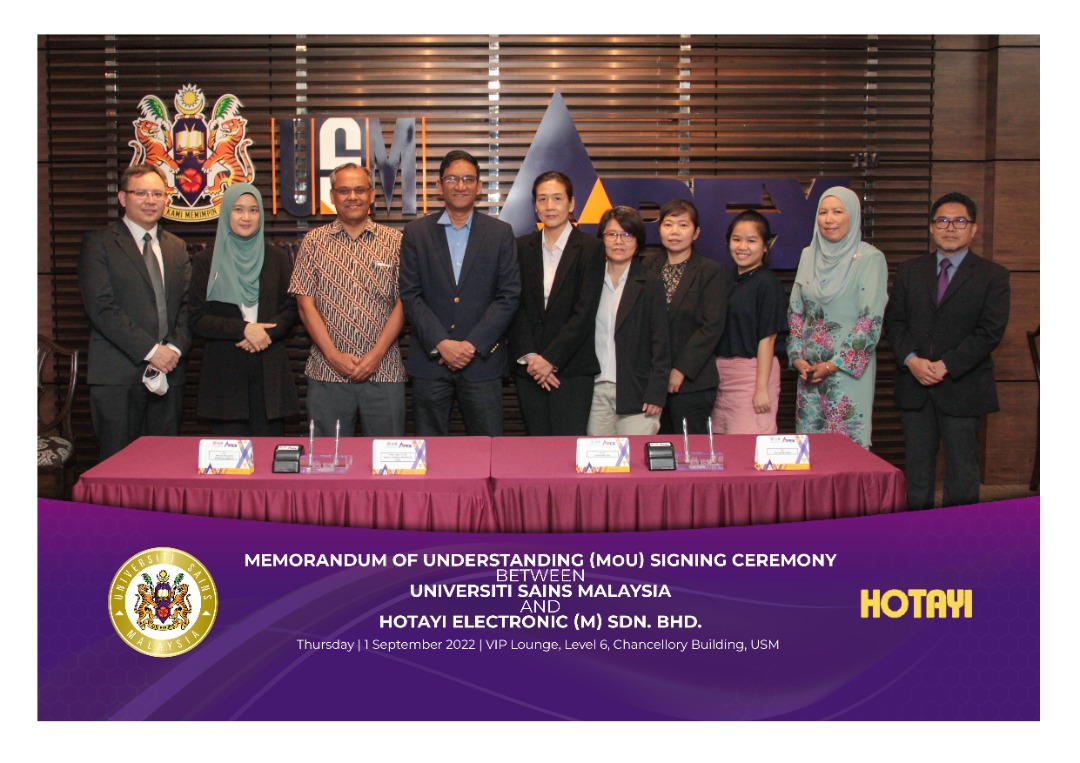 The aim of the MoU was to establish a collaboration and explore opportunities to develop, support and enrich the research, educational and training programmes in areas that will be beneficial to both parties.
Several schools were involved in the establishment of this MoU, namely the USM School of Computer Sciences; School of Mathematical Sciences; School of Electrical and Electronic Engineering; and School of Materials and Mineral Resources Engineering.
Among the scope and fields of linkages and cooperation are:
Research/industrial attachment for staff,

Student internship,

Graduate recruitments,

Summer camps/short camps at Hotayi for students,

Final year/industrial training projects,

Training/workshop under the Human Resources Development Fund (HRDF), and so forth.
Signing on behalf of USM was the Deputy Vice-Chancellor (Research and Innovation), Professor Dato' Ir. Dr. Abdul Rahman Mohamed, representing the USM Vice-Chancellor and on behalf of Hotayi is its Managing Director, Dato' Goh Guek Eng.
Also present as witnesses were Dr. Shaizatulaqma Kamalul Ariffin (Director of Industry Network, USM Division of Industry & Community Network) and Ng Shair Peen (HR Senior Manager of Hotayi Electronic (M) Sdn. Bhd.)
Hotayi Electronic (M) Sdn. Bhd. which operates from its business premise at Batu Kawan Industrial Park, is a leading global Electronics Manufacturing Services (EMS) company that provides a wide range of high value-added manufacturing solutions and services since 1992.
Text: Nur Farrah Ezlin Mohd Suhaimi/Photo & Poster: Mohd Fairus Md Isa & Muhamad Ihsan Abu Bakar