CELEBRATING THE 65TH NATIONAL DAY: 'KELUARGA MALAYSIA' TO REMAIN STRONG TOGETHER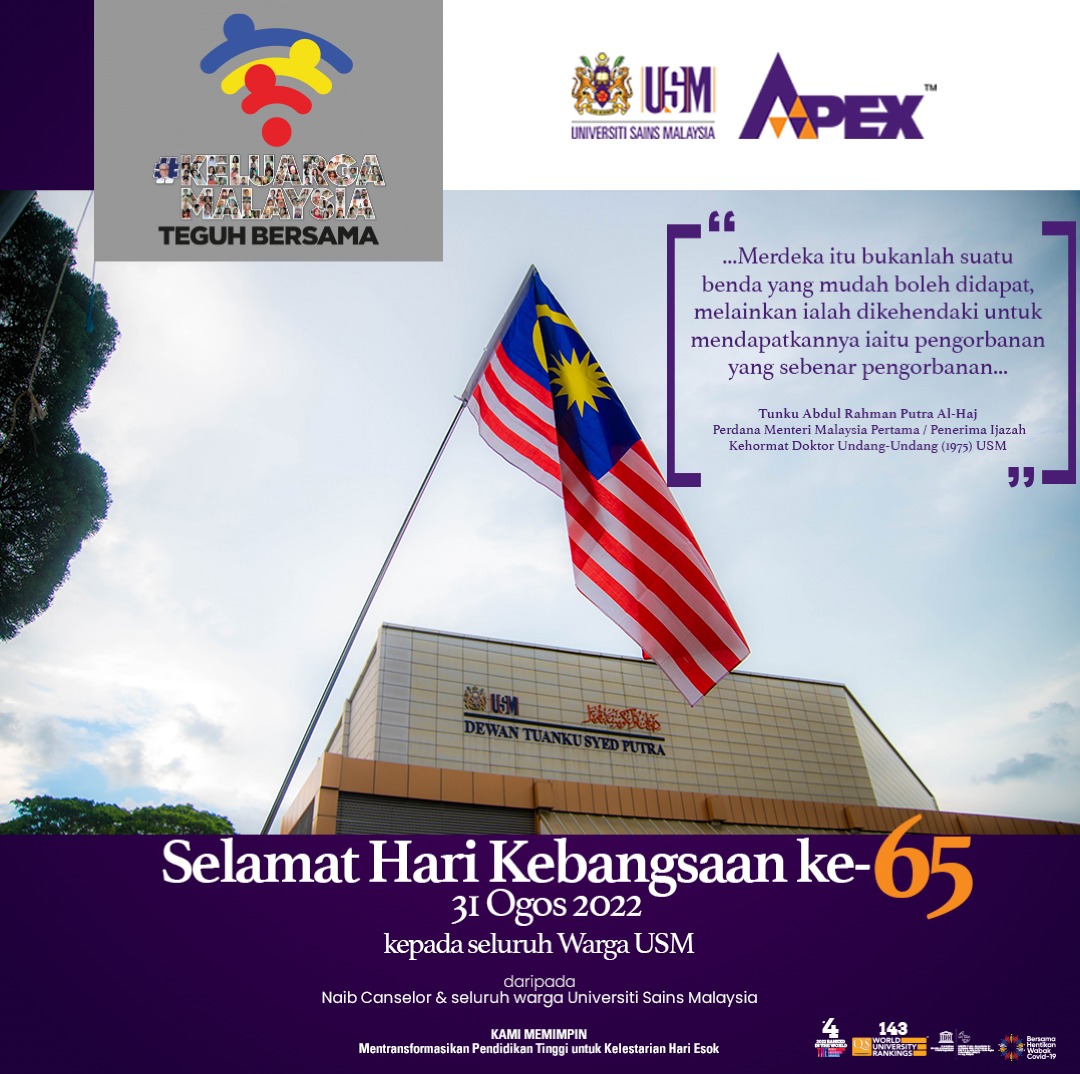 USM PENANG, 31 August 2022 – The Universiti Sains Malaysia (USM) community has been urged to be united, and to stand tall and strong together in facing future challenges.
This was stated by the USM Vice-Chancellor, Professor Dato' Dr. Faisal Rafiq Mahamd Adikan, for all members of the USM community to continue to uphold the spirit of togetherness in ensuring the growth of this 'Tower of Knowledge' by fully committing to their task for the betterment of the institution and in serving the nation.
"I would like to move ahead hand in hand with the USM community, to remain steadfast together and to understand the true meaning of 'independence' which is more than just a cheer, as it is about taking up challenges from the heart, and to preserve the nation's sovereignty," he said.
He added, all Malaysians need to imbue themselves with a sense of responsibility, more so among the USM community in their daily conducts that will be beneficial to many, and to cast aside or refrain from actions that would bring shame to the nation and the institution.
"The top management of USM and I are truly grateful for the commitment and dedication by all in executing their responsibilities, in addition to the high level of teamwork reflected by all USM staff in driving the University towards excellence in all aspects, simultaneously uplifting the higher education agenda of the country," he said.
Faisal Rafiq wishes a Happy 65th National Day to all Malaysians, especially the USM staff and student communities as well as its alumni members.
Meanwhile, aside from the understanding of the Logo and Theme, as Malaysians, we need to take the opportunity to fully understand the meaning of independence, as it is more than just an account in history or a rhetoric.
As we celebrate the 2022 65th National Day of Malaysia, it's also the time and place for us to fully embrace the true meaning of independence and to be patriotic as a display of the love for the country.
Translation: Mazlan Hanafi Basharudin/Poster: Ebrahim Abdul Manan