USM, ANGKASA-X COLLABORATES IN ENHANCING SPACE TECHNOLOGY DEVELOPMENT
NIBONG TEBAL, 1 June 2022 – Universiti Sains Malaysia (USM) Engineering Campus here recently played host to the Groundbreaking Ceremony of Angkasa-X Earth Station and State-of-the-Art Space Technology Centre, organised by Angkasa-X and the School of Aerospace Engineering.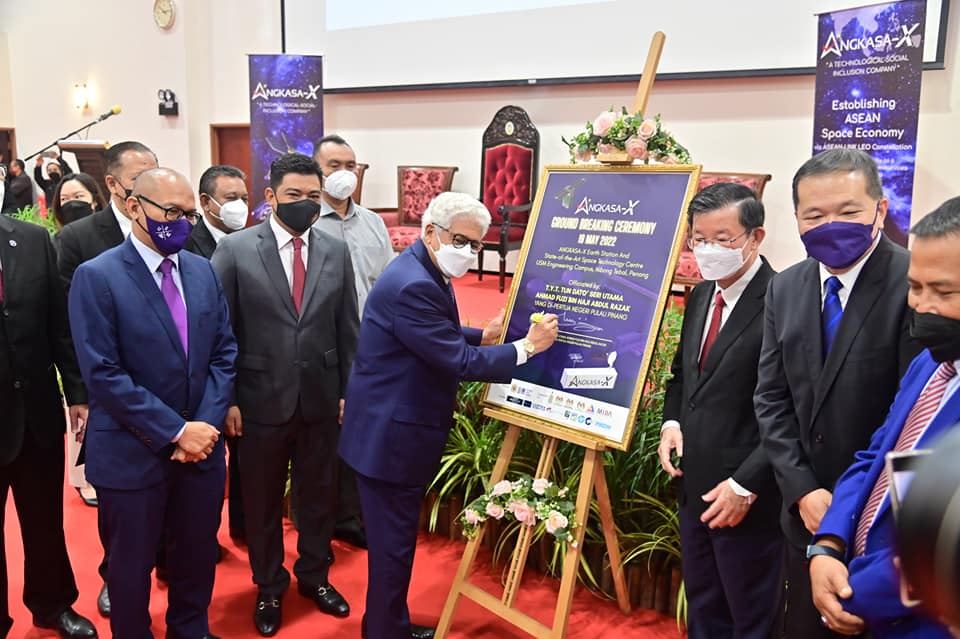 This partnership has become another milestone towards the development of the Earth station, as the ceremony is the outcome of the Memorandum of Agreement (MoA) signing between USM and Angkasa-X in April 2021.
The state-of-the-art centre will be used for research and development (R&D), and assembly, integration and testing (AIT) of Low-Earth-Orbit (LEO) satellites to form and operate the Angkasa-X A-SEANSAT LEO satellite constellations.
The ceremony was officiated by TYT Yang di-Pertua Negeri Pulau Pinang, Tun Dato' Seri Utama Ahmad Fuzi Haji Abdul Razak, and in the presence of the Chief Minister of Penang, Chow Kon Yeow.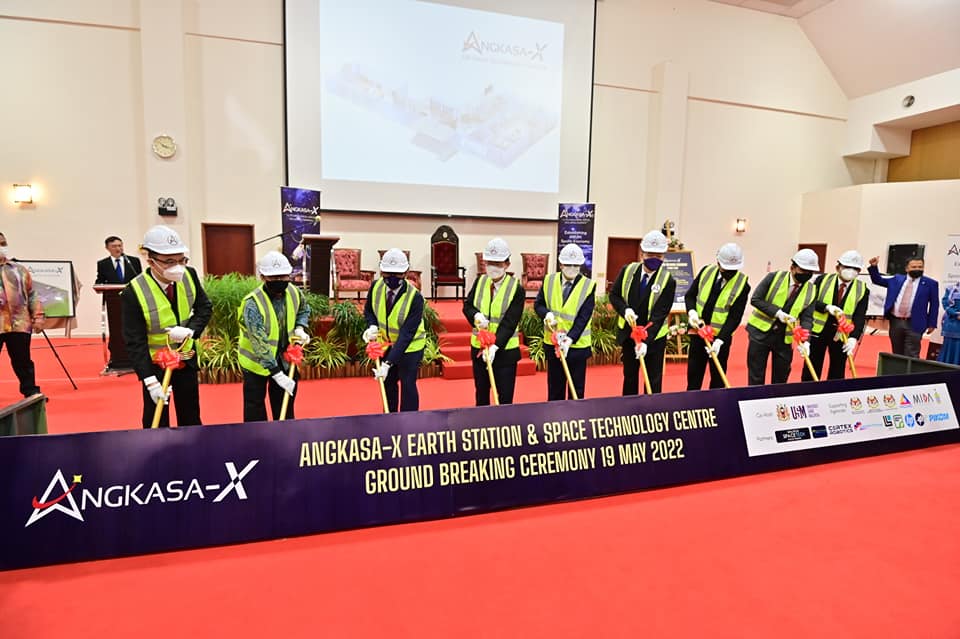 Kon Yeow in his opening speech said that the presence of the earth station and space technology centre will usher in a different dimension to Penang's industrial successes.
"There is no better time than now to embrace emerging trends and at the same time, maintain our competitive edge by expanding into high value-added activities and strengthening our existing industry clusters.
"And I am pleased to see Angkasa-X, USM and Digital Penang actively leading the state towards welcoming a new wave of strategic investments in SpaceTech Economy," he said.
Meanwhile, USM Vice-Chancellor, Professor Dato' Dr. Faisal Rafiq Mahamd Adikan in his speech, said that the USM Engineering Campus has been identified as the optimum location for the Earth Station, since it will provide the highest satellite re-visit time for near-equatorial orbit.
"To ensure the success of this initiative, USM has allocated a 2-acre land in the heart of the Engineering Campus to develop the Earth Station, as USM is committed to continuously support Angkasa-X in conducting the satellite system research and development through the School of Aerospace Engineering," said Faisal Rafiq.
He added that this collaboration with Angkasa-X will allow USM to embark on and explore new frontiers in satellite development, particularly in satellite communication technology.
Angkasa-X Innovation Sdn. Bhd. Executive Chairman, Dr. Sean Seah said that, Angkasa-X mission is to provide internet connectivity as a basic necessity for the betterment of mankind where a world with affordable connectivity is created, in improving the standard of living and eradicate poverty for Asians living in rural areas.
"There are three countries in the world that excel in space technology; China, Russia and the United States, and we are talking to many players from these countries to partner with them and to welcome them to invest here and build their space technology centres here," he said.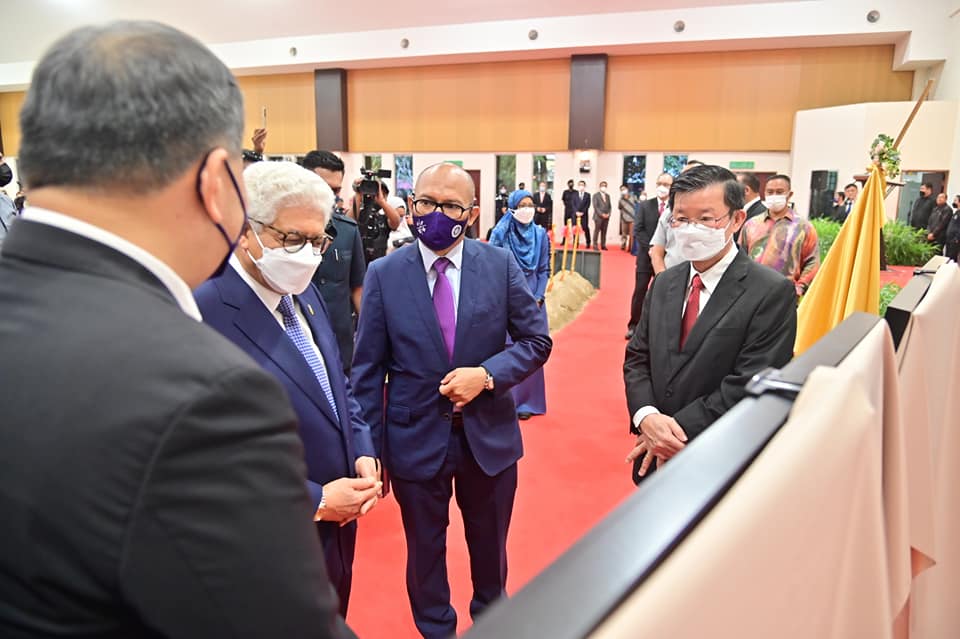 The Earth Station will serve to establish an ecosystem for Malaysia's space industry, beginning with the collaboration on the Angkasa-X satellite mission and USM Space System Lab research activities.
Also present at the ceremony held on 19 May 2022 were the Ambassador of the Russian Federation, His Excellency Naiyl Latypov; Chinese Consul General Penang, Her Excellency Lu Shi Wei; Chairman of Perbadanan Labuan, Dato' Sri Haji Amir Haji Hussein; Penang Police Chief Commissioner, Datuk Mohd Suhaily Mohd Zain; USM Deputy Vice-Chancellor of Research and Innovation, Professor Dato' Ir. Dr. Abdul Rahman Mohamed; USM Deputy Vice-Chancellor of Student Development Affairs and Alumni, Professor Dr. Azlinda Azman; Director of Engineering Campus, Professor Dr. Nor Azazi Zakaria; Dean of the School of Aerospace Engineering, Professor Dr. Farzad Ismail and Senior Lecturer, School of Aerospace Engineering, Dr. Siti Harwani Md Yusoff.
Text: Nur Farrah Ezlin Mohd Suhaimi/Photo: Mohd Fairus Md Isa